Travel Rewards Credit Card
Our premium rewards card is like traveling in first class
See more, do more, earn more
Our travel rewards credit card is the perfect companion for those who love to roam. We've made it easier than ever to earn extra points when you travel.
Get more to travel
Earn more points when you spend on airlines, hotels and other travel purchases.
Transfer a balance
Get 0% intro APRD on balance transfers within the first 12 monthsD as a special offer.
Travel Card Rewards
Get rewarded so you can travel more
Redeem your points for credit card rewards including airlines, hotels, car rentals and other travel experiences.
For every $1 you spend, earn an unlimited 3 points

D

on travel, 2 points on dining and 1.5 points on all other qualifying purchases

D

Points post to your rewards account daily
Use points to get reimbursed for travel you book on your own terms or a recent purchase with our exclusive Pay Me Back® redemption option

D

Enjoy a $100 annual ancillary travel credit
See how much you can earn with your rewards
Travel Card Information
Card details and transaction fees
Balance transfers
0% introductory APRD for first 12 monthsD on balance transfers, then variable purchase rate of 17.49% to 26.49% based on creditworthiness applies
Annual fee
$95, waived for the first yearD
No foreign transaction fee
0% fee on transactions outside the US
Pay your bills
Automate your bill payments with Digital Banking for extra peace of mind.
Find the features you want with our card comparison table
Manage Your Cards
Access any of our card services from your phone
Temporarily lock your card
Report a lost or stolen card
Notify us if you're traveling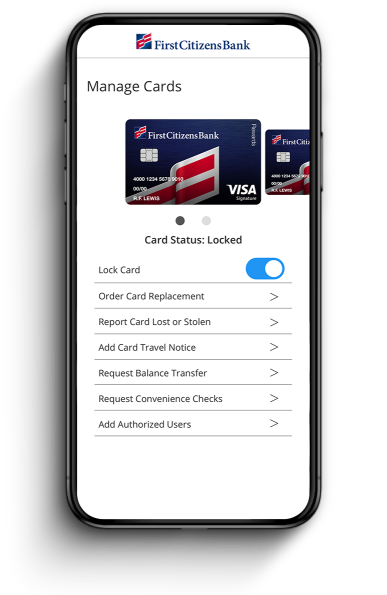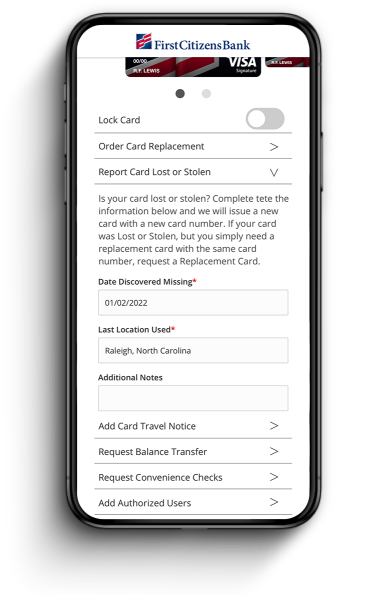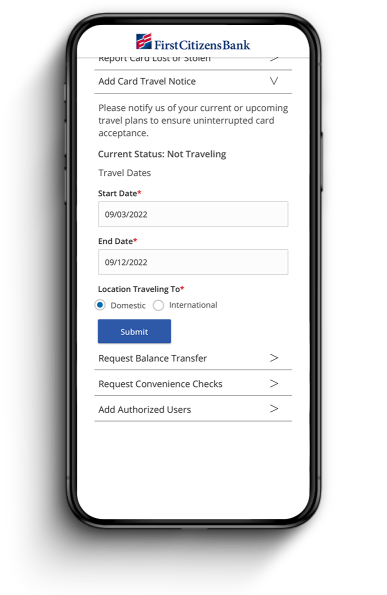 Manage Your Cards
Access any of our card services from your phone
Temporarily lock your card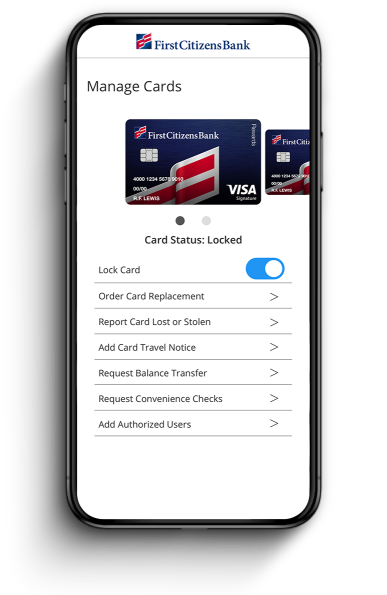 Manage Your Cards
Access any of our card services from your phone
Report a lost or stolen card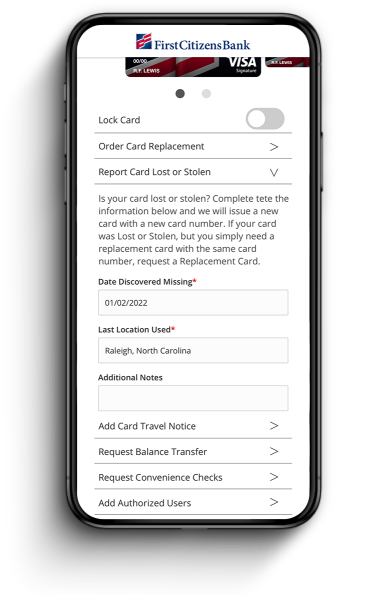 Manage Your Cards
Access any of our card services from your phone
Notify us if you're traveling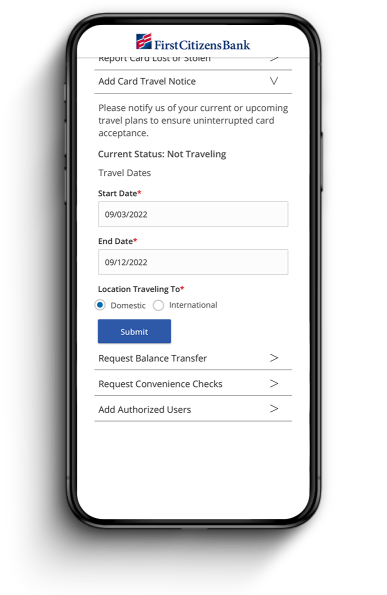 Get protection and more with Visa
Our credit cards offer a wealth of great benefits, from contactless payments to porch piracy protection.
Manage and redeem your rewards online
What will you earn with credit card rewards? Choose cash back, travel perks, gift cards and more.
With the Travel Rewards credit card, you earn additional points on travel-related purchases. You also receive a $100 annual ancillary travel credit that can be applied toward baggage fees, TSA PreCheck® fees, airline club memberships and more. Plus, there are no foreign transaction fees when using this card outside the US, making it a great travel companion for your wallet.
No. There's no limit on the number of points you can earn with your Travel Rewards credit card.
No. Your points won't expire as long as your credit card account remains open and in good standing.
Because air travel costs vary by flight time, destination and departure city, the number of points required will vary from flight to flight. If you know the cost of a flight, you can estimate how many points you'll need—simply multiply the cost by 100. For example, you'd need 17,766 points to cover a flight costing $176.66.
Redemption fees also apply. Airline tickets booked by calling the First Citizens Rewards Center have a redemption fee of $20 or 2,000 points. Airline tickets booked online through the Rewards website have a redemption fee of $15 or 1,500 points.
Please note you don't have to cover the entire cost of your flight with points. If you don't have enough points to pay for a flight in full, you can use your points to pay a portion of the cost and use your Travel Rewards card for the remaining balance.
Yes. You can earn and redeem points for a variety of credit card rewards. Use your points for rewards including travel, cash as a statement credit or as a deposit into your First Citizens checking or savings account, donations to Teen Cancer America, gift cards, and merchandise.
Yes. You can transfer some or all of the points in your Rewards account to another First Citizens Rewards account. Point-gifting is limited to consumer cardholders and must be completed online.
Points are posted within 3 business days of your purchase, except for holidays.
Your credit score is an important factor in determining your creditworthiness. Learn more about credit scores and how they impact lending decisions in our guide to credit scores.
Insights
A few financial insights for your life
Purchases are defined as gross retail purchases less any returns or credits.
APR (annual percentage rate). The Prime Rate used to determine your APR is the Prime Rate as published in The Wall Street Journal on the last business day of the preceding calendar month. The current Prime Rate as of February 28th, 2023, is 7.75% and may vary in the future. The transaction fee for cash advances is $10 or 5% of the amount of the cash advance, whichever is greater. The transaction fee for foreign transactions is 3% (0% for Travel Rewards) of each transaction after conversion to US dollars.
Balance transfer must occur within the first 90 days of account opening to qualify for the 0% APR (annual percentage rate) introductory offer and will be subject to a balance transfer fee of $5 or 3% of the amount of each transfer, whichever is greater. After the 12 billing cycle period, your APR will default to your purchase APR.
Pay Me Back redemptions must be made within 60 days of original qualifying purchases of $100 or greater. Some exclusions apply to certain categories of transactions. No statement credit card will be applied against any monthly minimum payment due.
The $95 initial Annual Fee will be waived the first year but charged to your Travel Rewards Credit Card Account every 12 months thereafter.
Merchants who accept Visa credit cards are assigned a merchant code, which is determined by the merchant or its processor in accordance with Visa procedures based on the kinds of products and services they primarily sell. We group similar merchant codes into categories for purposes of making reward offers to you. We make every effort to include all relevant merchant codes in our rewards categories. However, even though a merchant or some of the items that it sells may appear to fit within a rewards category, the merchant may not have a merchant code in that category. When this occurs, purchases with that merchant won't qualify for rewards offers on purchases in that category.
Links to third-party websites may have a privacy policy different from First Citizens Bank and may provide less security than this website. First Citizens Bank and its affiliates are not responsible for the products, services and content on any third-party website.
Bank deposit products are offered by First Citizens Bank. Member FDIC and an Equal Housing Lender. icon: sys-ehl.