Digital Banking
Bank with us wherever you are
See for Yourself
Explore everything Digital Banking has to offer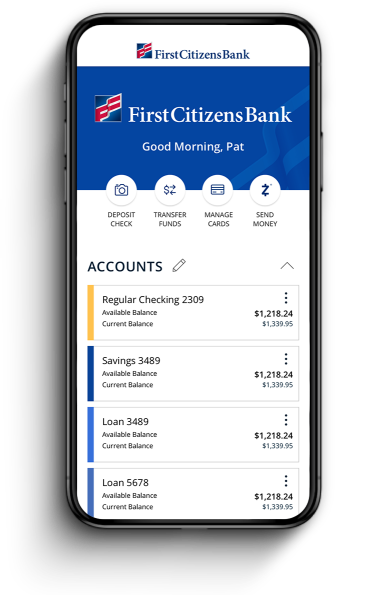 See how Digital Banking works in real life
[Music]
Dad: Kids you gotta listen to this!
Daughter: One second, Dad!
Son: What about a weed trimmer?
Daughter: We should get him something special this year.
Son: Let's hear it.
[Silence]
Daughter: What about fixing up his old guitar.
Son: The one he used to play in college? That thing is destroyed.
Mom: He is always talking about dusting it off.
Son: True.
Daughter: So, I'll open a separate account for family projects and we all can contribute however we want.
Son: You can do that?
Mom: I think it's a great idea.
Daughter: Come on. Are you going to send me money?
Son: If you're good to do that, I'll send money over now.
Daughter: Cool. Alright, so I'll text you the last four digits of the account as soon as it's up. And I'll include grandma.
Son: Cool.
Father's friend: Wow, I haven't seen that axe since our last tour!
Daughter: You think we can fix it?
Father's friend: With a little luck, absolutely. I'll text you the number for my friend's shop.
Daughter: Thanks, Macon.
Father's friend: Course, I can send some money now if you're on Zelle?
Daughter: Yep, don't forget it's linked to my phone number.
Father's friend: Awesome. Incoming!
Daughter: Ah! I'm so excited!
[Music over muted voices]
Dad: Letter from Grandma.
Daughter: Oh, thanks.
Dad: How's the research project going?
Daughter: It's good.
Dad: Alright.
[Music over muted voices]
Daughter: [Laughs] I hope so too.
Daughter: Happy birthday, Dad.
Dad: You got me.
Son: Lets see what you got old man!
Dad: Alright
[Music]
Mom: I remember this one!
Dad: [Laughs]
Son: There we go.
[Music]
Manage
Manage all your accounts in one place
Easily set up and manage your budgets.
Update your profile, see your statements and order checks.
See where your money goes each month and how your spending changes over time.
Move Money
Transfer money and make payments
Transfer money between your accounts.
Pay your bills and set up recurring payments.
Send money to friends, family and people you trust with Zelle®.
Mobile
Access everything on your phone
Manage your accounts through your mobile device.
Log in quickly with Face ID®, Touch ID® or your secure 4-digit passcode.
Deposit checks from home or on the go.
Security & Alerts
Stay alert and keep your accounts secure
Lock your card and change your debit PIN.
Set up text or email alerts to monitor your transactions and cards.
Get notified of login attempts or other signs of fraudulent activity.
Get the details on Digital Banking fees
Read our Digital Banking Agreement
Meet Our Bankers
We're here for you when it matters most
Life seems to get more complex despite all the technologies designed to simplify it. That's why we're still here for you in person. Sit down with one of our bankers and let us help you feel more confident in your financial decisions.
You'll get immediate access to begin using Digital Banking once your enrollment is complete.
Generally, yes. Your transaction history and balances for your First Citizens accounts are real-time. Balances and history for non-First Citizens accounts that have been added may be 1 to 2 business days behind due to how the data is made available from that bank.
Yes. You can update your phone number, email address and mailing address within Profile and Preferences. From the left navigation menu select Profile and Preferences, then select Profile and Contact Info.
Yes. You can access your personal accounts are through Digital Banking, including the mobile and tablet apps, if they are tied to your Digital Banking profile.
Each account holder should enroll individually in First Citizens Digital Banking. You should never share your login ID and password. However, both account holders will see the joint account on digital banking. Because the Bill Pay service is associated with an individual, both customers may use the same checking account to pay their bills but can only see pending payments they schedule individually. Once the payments post, both customers can see them in the list of posted transactions on the account.
Please see our Digital Banking Fee Schedule and Digital Banking Agreement.
First Citizens does not charge fees to download or access First Citizens Digital Banking, including the First Citizens mobile banking app or First Citizens Text Banking. Mobile carrier fees may apply for data and text message usage. Check with your carrier for more information. Fees may apply for use of certain services in First Citizens Digital Banking.
iPhone, Touch ID and Face ID are a registered trademark of Apple, Inc.  Apple is a trademark of Apple, Inc., registered in the US and other countries. App Store is a service mark of Apple, Inc.
Zelle and the Zelle related marks are wholly owned by Early Warning Services, LLC and are used herein under license.
Links to third-party websites may have a privacy policy different from First Citizens Bank and may provide less security than this website. First Citizens Bank and its affiliates are not responsible for the products, services and content on any third-party website.
Bank deposit products are offered by First Citizens Bank. Member FDIC and an Equal Housing Lender. icon: sys-ehl.