Payments & Transfers
Move your money where you need it quickly and securely
Move your money between your accounts
Move money between your accounts from your mobile phone, tablet or computer.
Transfer money from one First Citizens account to another, or to an account at another bank

D

Make payments toward your First Citizens credit card or loan
Send money directly to other First Citizens customers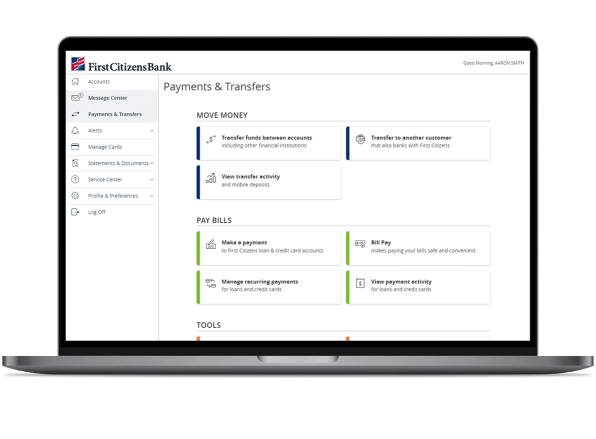 Pay bills or make loan and credit card payments on your terms
Schedule payments for all your bills, including your First Citizens loans and credit cards.
Use Bill Pay to schedule payments to any business or person of your choosing, set up bill reminders, and view payment history
Make single or recurring payments toward your First Citizens loan or credit card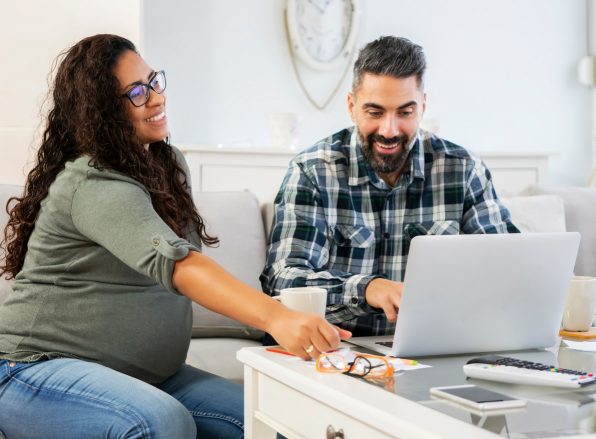 The fast, safe and easy way to send money
Send and receive money with Zelle® between friends, family and people you trust no matter where they bank in the US.D
All you need is the mobile number of your recipients
Recipients receive payments directly in their bank account—typically within minutes
You can even schedule future and recurring payments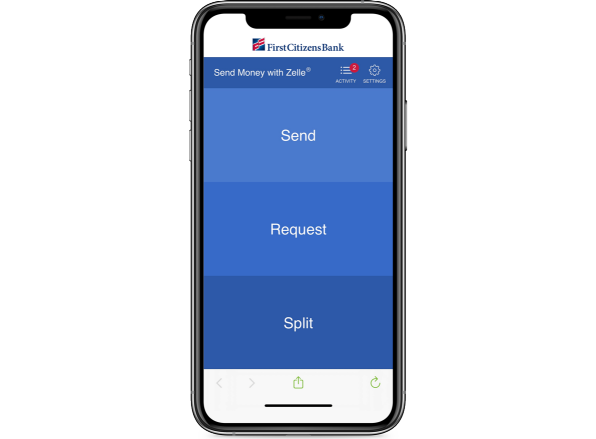 You can transfer from any of your checking, savings, equity line or money market accounts.
You can transfer money between your First Citizens checking accounts, savings accounts or money market accounts—including accounts at other financial institutions.
You can also transfer to another First Citizens banking customer using our Pay Bank Customer feature, or our Transfer to Another Customer feature.
Yes. You're able to make outbound or inbound transfers within Digital Banking. To make an external transfer to another financial institution, you'll have to add the external account information and verify the account before it appears in your list of accounts.
Yes. First Citizens offers Bill Pay, which is secure, convenient and free. With Bill Pay, you can pay anyone in the United States from any device on a single page. You can also:
Pay a single bill or multiple bills at once, in seconds
Set up recurring payments and reminders
Receive bills electronically with eBills
Receive protection in the event of unauthorized transactions or processing delays
A checking account is required for Bill Pay. If it's a joint checking account, each account holder can use the same account for Bill Pay. However, each account holder should enroll in Digital Banking and Bill Pay independently—meaning that both account holders may use the same checking account to pay their bills, but will only see pending payments they schedule individually. Once the payments post, both customers will see them in the list of posted transactions on their account.
Please see our Digital Banking Fee Schedule and Digital Banking Agreement.
First Citizens does not charge fees to download or access First Citizens Digital Banking, including the First Citizens mobile banking app. Mobile carrier fees may apply for data and text message usage. Check with your carrier for more information. Fees may apply for use of certain services in First Citizens Digital Banking.
Zelle® and the Zelle® related marks are wholly owned by Early Warning Services, LLC and are used herein under license.
To send payment requests or split payment requests to a US mobile number, the mobile number must already be enrolled with Zelle®.
A transaction fee of $2.99 applies when transferring funds from your First Citizens account to an account at another financial institution.
A US checking or savings account is required to use Zelle®. Transactions between enrolled consumers typically occur in minutes and generally do not incur transaction fees.
Links to third-party websites may have a privacy policy different from First Citizens Bank and may provide less security than this website. First Citizens Bank and its affiliates are not responsible for the products, services and content on any third-party website.
Bank deposit products are offered by First Citizens Bank. Member FDIC and an Equal Housing Lender. icon: sys-ehl.