Personal Credit Cards
Apply for a credit card that works for you
Travel Rewards Card
Earn more points on travel and get exclusive travel rewards, including an ancillary $100 annual travel credit.D
3 points

D

for travel, 2 points for dining and 1.5 points for every $1 spent on qualifying purchases

D

No earnings cap and points never expire
No foreign transaction fees
$95 annual fee, waived the first year

D
Rewards Card
Earn more points on everyday purchases.
3 points

D

for gas and select streaming services, 2 points for groceries and drugstores, and 1 point for every $1 spent on qualifying purchases

D

Redeem rewards points for cash back,

D

gift cards and merchandise
Pay no annual fee
Cash Rewards Card
Seamlessly transform everyday purchases into unlimited cash back with this personal credit card.
1.5% cash back on every $1 spent on qualifying purchases

D

Redeem for a statement credit or transfer your earnings to your other First Citizens accounts

D

Pay no annual fee
Smart Option Card
Get our lowest available rate and transfer balances to consolidate your debt.
0% intro APR

D

on balance transfers for first 12 months, then a 9.99% to 18.99% variable APR

D

Consolidate higher interest rate balances
Pay no annual fee
Secured Cash Back Card
This personal credit card can help you earn unlimited cash back while you build your credit.
1% cash back on every $1 spent on qualifying purchases

D

Establish or rebuild your credit
Monitor your credit with your free monthly FICO

D

D

score within Digital Banking
Answer a few quick questions to find the right credit card for you
Manage Your Cards
Access any of our card services from your phone
Temporarily lock your card
Report a lost or stolen card
Notify us if you're traveling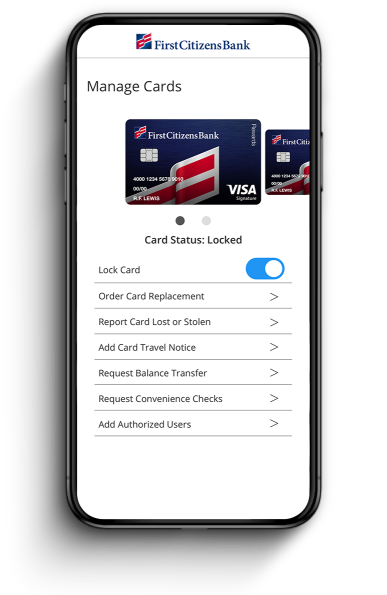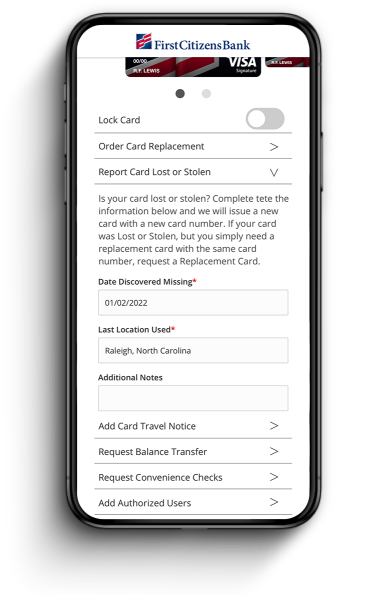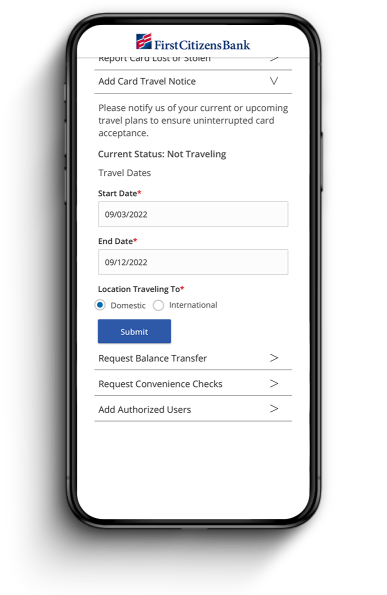 Manage Your Cards
Access any of our card services from your phone
Temporarily lock your card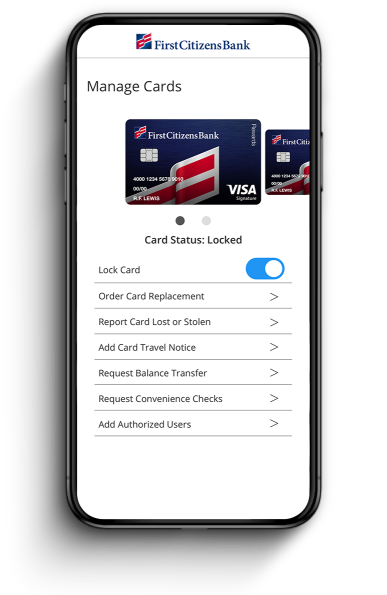 Manage Your Cards
Access any of our card services from your phone
Report a lost or stolen card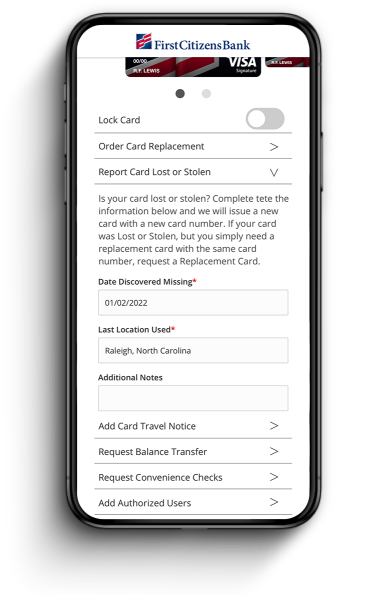 Manage Your Cards
Access any of our card services from your phone
Notify us if you're traveling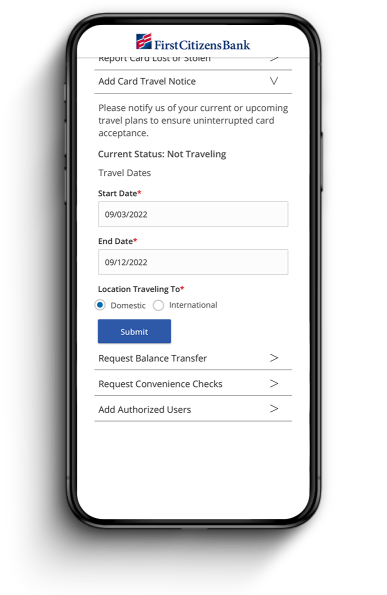 Fast access to funds for your remodel project
A quick and easy application process to remodel without using your home as collateral.
Prestige Checking Account
Your money deserves more, and so do you
Get exclusive benefits and preferred rates with our Prestige checking account.
First Citizens Rewards® consumer cardholders who have a credit line of $5,000 or more, are automatically upgraded to Visa® Signature status and have access to enhanced benefits.
An APR, or annual percentage rate, represents the cost of credit on a yearly basis.
Yes. You can access your First Citizens credit card information online through Digital Banking. You can view your current account status and review 6 months' worth of transaction history. You can also access account information and view recent transactions in Mobile Banking.
If you see a suspicious charge, call 800-543-9000 then select the Report Fraud option. For your awareness, pending transactions do not have an impact on your current account balance because they have not been processed yet. Please continue to monitor your account and notify us immediately for any unauthorized posted transactions.
It's easy. We provide several convenient payment options:
Use Digital Banking or Mobile & Tablet Banking to transfer money from another First Citizens account to your credit card account
Call 888-FC DIRECT (888-323-4732) to make a payment over the phone
Drop off your payment at your local branch
Send your payment to:
First Citizens Bank
PO Box 63001
Charlotte, NC 28263-3001
Insights
A few financial insights for your life
APR (annual percentage rate). The Prime Rate used to determine your APR is the Prime Rate as published in The Wall Street Journal on the last business day of the preceding calendar month. The current Prime Rate as of September 30, 2021, is 3.25% and may vary in the future. The transaction fee for cash advances is $10 or 5% of the amount of the cash advance, whichever is greater. The transaction fee for foreign transactions is 3% (0% for Travel Rewards) of each transaction after conversion to US dollars.
Qualifying purchases are defined as gross retail purchases less any returns or credits.
Balance transfer must occur within the first 90 days of account opening to qualify for the 0% APR (annual percentage rate) introductory offer and will be subject to a balance transfer fee of $5 or 3% of the amount of each transfer, whichever is greater. After the 12 billing cycle period, your APR will default to your purchase APR.
Cash back rewards can be redeemed as a statement credit or as a deposit into your First Citizens checking or savings account.
FICO® and "the score lenders use" are registered trademarks of Fair Isaac Corporation in the United States and other countries.
The FICO® Score and associated educational content are provided solely for your own non-commercial personal review, use and benefit. First Citizens Bank and Fair Isaac are not credit repair organizations as defined under federal and state law.
Certain terms, conditions, and exclusions apply. For complete details, refer to your Program Rules or firstcitizens.com/travel-rewards.
Merchants who accept Visa credit cards are assigned a merchant code, which is determined by the merchant or its processor in accordance with Visa procedures based on the kinds of products and services they primarily sell. We group similar merchant codes into categories for purposes of making reward offers to you. We make every effort to include all relevant merchant codes in our rewards categories. However, even though a merchant or some of the items that it sells may appear to fit within a rewards category, the merchant may not have a merchant code in that category. When this occurs, purchases with that merchant won't qualify for rewards offers on purchases in that category.
The $95 initial Annual Fee will be waived the first year but charged to your Travel Rewards Credit Card Account every 12 months thereafter.
Links to third-party websites may have a privacy policy different from First Citizens Bank and may provide less security than this website. First Citizens Bank and its affiliates are not responsible for the products, services and content on any third-party website.
Bank deposit products are offered by First Citizens Bank. Member FDIC and an Equal Housing Lender. icon: sys-ehl.