Digital Banking for Business
Tools to manage your business
See For Yourself
Explore everything Digital Banking has to offer your business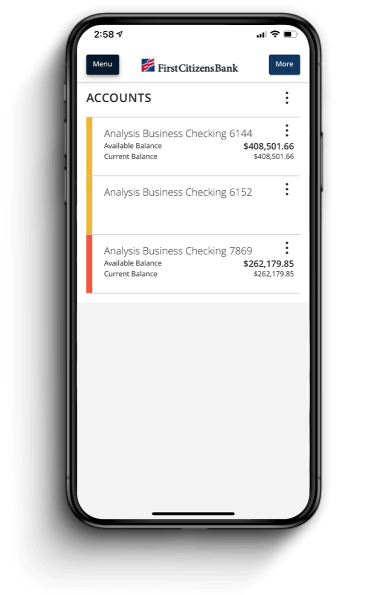 Manage
Manage your business online
View account transactions, balances and monthly statements anywhere, from any device.
Create user accounts and set permissions for daily spending limits and approval requirements.
Keep your money safe by using alerts, notifications and card management tools.
Move Money
Transfer money and make payments
Transfer money and make loan and credit card payments from the convenience of your device.
Pay employees and vendors, or draft your customers securely with ACH and wire services.
Pay bills, view scheduled payments and see your history.
Security
Protect your business with advanced fraud services
Review and approve ACH transactions before they post.
Protect against check fraud and receive alerts for suspicious check payments.
Get notified whenever a check posts to your account, and have the opportunity to pay or return it.
Mobile
Access everything from your mobile device
Log in quickly with Face ID®, Touch ID®D or your secure 4-digit passcode.
Deposit checks from the office or on the go.
Receive automatic alerts to monitor your account and approve transactions from your phone.
Get the details on Digital Banking fees
Read our Digital Banking Agreement
You can easily enroll in Digital Banking for business by visiting your local branch or giving us a call. You'll need an active First Citizens business account to get started.
You'll get immediate access to begin using Digital Banking once your enrollment is complete.
When logging in to Digital Banking for the first time, visit our homepage and select First Time Log In from the login box or select the New User Log In link from the mobile app login screen. Enter the login ID you selected when you opened your account and follow the steps to receive and enter your one-time Secure Access Code.
If you'll be using the device regularly, we recommend selecting the option to Register Device to avoid entering a temporary Secure Access Code every time you log in.
You can change your login ID and password by selecting the Forgot ID/Password? link in our login box or by selecting the Forgot Password or Forgot Login ID links from the mobile app login screen. When changing your login ID or password, please follow these guidelines.
Login IDs must be 6 to 14 characters.
Your login ID can't be the same as your password.
Passwords are case sensitive and must be between 8 and 14 characters. They also must include at least one uppercase letter, one number and one special character.
If you've forgotten your user ID and password, you can reset these yourself.
To reset your password, select the Forgot ID/Password link and follow the prompts. If you're using your mobile device, you'll select the Forgot Password link from the mobile app login screen.
To reset your login ID, select the Forgot ID/Password link and follow the prompts. If you're using your mobile device, you'll select the Forgot Login ID link from the mobile app login screen.
You'll need your account number, Social Security number or Tax ID number, as well as the email address we have on file for you in Digital Banking.
At this point, if you still can't log in, you can have your credentials reset by giving us a call.
To log in for the first time or register your device, you'll need to have access to at least one of your preferred contact methods (phone number or SMS text number) to receive a one-time secure access code. If you don't have access and need immediate assistance, please give us a call or visit your local branch.
It's recommended that you review your profile and contact information on a regular basis to ensure that your preferred method of contact is provided within the system.
Please see our Business Digital Banking Fee Schedule and Digital Banking Agreement.
First Citizens does not charge fees to download or access First Citizens Digital Banking, including the First Citizens mobile banking app. Mobile carrier fees may apply for data and text message usage. Check with your carrier for more information. Fees may apply for use of certain services in First Citizens Digital Banking.
iPhone, Touch ID and Face ID are a registered trademark of Apple, Inc.  Apple is a trademark of Apple, Inc., registered in the US and other countries. App Store is a service mark of Apple, Inc.
Links to third-party websites may have a privacy policy different from First Citizens Bank and may provide less security than this website. First Citizens Bank and its affiliates are not responsible for the products, services and content on any third-party website.
Bank deposit products are offered by First Citizens Bank. Member FDIC and an Equal Housing Lender. icon: sys-ehl.