Hemp Business
Scalable solutions customized for your financial needs
We know your business from the ground up
We're a hemp-friendly bank with market specialists who have a deep understanding of the financial challenges you and your industry face.
With years of experience, our dedicated hemp banking team helps navigate the complex nuances of the current regulatory environment.
Proactive account monitoring optimizes stability by reducing the risk of interrupted banking service.
We provide quality banking services with fair and transparent terms and pricing.

D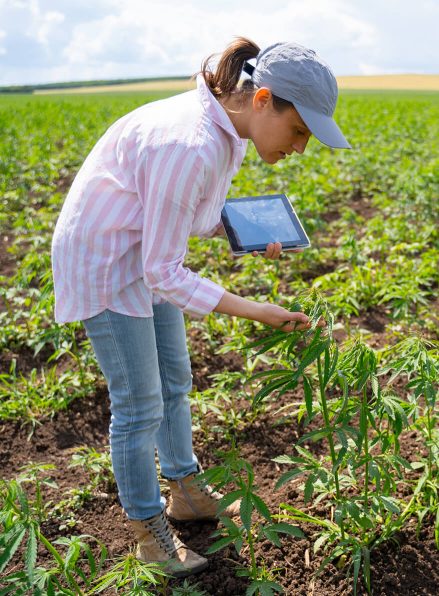 Hemp businesses
Hemp growers and farmers
Industrial hemp processors
CBD hemp processors
Industrial hemp manufacturers
CBD manufacturers
Please take note of the following prohibited products under federal law:
Marketing health benefits that claim to prevent, diagnose, mitigate, treat or cure a disease
Connect with a hemp banking specialist to get started
Why we're pursuing hemp business banking
Our roots have a strong foundation in agricultural lending. For more than 100 years, we've helped family farms and suppliers grow their businesses.
When the Farm Bill passed in 2018, our team quickly built a robust hemp banking program and a best-in-class, internal compliance program to help growers and farmers succeed in this rapidly expanding industry.
We believe in the future of hemp markets and actively pursue quality relationships.
Products and Services
Customizable solutions for your industry
Checking
Our Premier Business Checking accounts offer a balance-based maintenance fee and are a great option for businesses of all sizes. We also offer Analysis Checking accounts for larger companies.
Lending
We offer flexible lending solutions for equipment and owner-occupied commercial real estate.
ACH Direct Deposit
Deposit funds with safe, convenient and secure Automated Clearing House, or ACH, services.
Wire Transfers
Move funds where you need them—when you need them—with same-day wire transfers.
Merchant Services
Whether you're catering to other businesses or directly to customers, get customized payment processing services that scale with the size of your business.
Remote Deposit Capture
Save time by depositing checks remotely using our desktop scanner.D
Commercial Advantage
Quickly access and manage your business accounts on the go with 24/7 mobile access.
Risk Management
We offer advanced loss prevention services, like Payment Fraud Protection and Business Insurance,D to help protect your company from every angle—every day.
How it works
Banking with us
It's fast and easy to get started. Our experts guide you through the entire process—from beginning to end.
Consultation
An experienced hemp banking specialist helps you collect all required documentation and addresses any questions you may have.
Submit Application
We work closely with you to ensure you submit a fully documented and supported application, allowing for an efficient review and account acceptance process.
Approval
Upon approval, a hemp banking specialist completes your account setup and ensures all of your services are established.
Ongoing Partnership
Our hemp banking team provides continuous, personalized service to help support your short and long-term business goals.
Areas we serve
We're positioned to partner with many hemp businesses in our footprint,D which spans the nation.
Let's start a conversation—we're here to help
We understand the inherent challenges of establishing a banking relationship in the hemp industry. With this in mind, we've built a knowledgeable team of product and industry experts to make the establishment of your relationship as simple and quick as possible.
Hemp specialists that know your industry
A powerful combination of lending and merchant services
A large, national hemp-friendly bank that offers a full suite of banking products and services to meet your needs
The support of an expansive branch network
A bank with a robust digital platform, that will be able to accommodate your company's growth
A bank that possesses a knowledgeable team that knows your industry and can help protect your best interests
Per the 2018 Farm Bill hemp is, "the plant Cannabis sativa L. and any part of that plant, including the seeds thereof and all derivatives, extracts, cannabinoids, isomers, acids, salts, and salts of isomers, whether growing or not, with a delta-9 tetrahydrocannabinol concentration of not more than 0.3% on a dry weight basis."
Hemp has been around for centuries and was first introduced into America in the early 1600's as an industrial crop, where it was used for products such as paper and rope. By the early 20th century the American hemp industry began to decline as manufacturers began to import synthetic fibers, which decreased the demand for high-quality domestic hemp.
In addition, the Marijuana Tax Act of 1937 was enacted which hindered domestic farmers by adding a $100 transfer tax on sales. During World War II, the Federal Government temporarily lifted the Marijuana Tax Act and launched a pro-hemp campaign to encourage American farmers to grow hemp, which was used to produce products, such as rope, for the Navy.
In 1970, the US government passed the Controlled Substances Act, which regulated all cannabis, including hemp. In 2014, with the passage of the 2014 Farm Bill, states implemented laws to allow the Department of Agriculture and universities to grow hemp for research or pilot programs. With the passage of the 2018 Farm Bill, hemp was removed from the Controlled Substances Act and farmers were legally able to grow hemp.
Hemp and marijuana both come from the same species, Cannabis sativa. Hemp, however, is defined as a Cannabis plant that contains 0.3% or less THC—where marijuana contains more. The federal government has legalized hemp under the 2018 Farm Bill. However, marijuana remains illegal at the federal level.
Industry Insights
Expand your expertise
First Citizens does not charge fees to download or access First Citizens Digital Banking, including the First Citizens mobile banking app or First Citizens Text Banking. Mobile carrier fees may apply for data and text message usage. Check with your carrier for more information. Fees may apply for use of certain services in First Citizens Digital Banking.
There is a $150 monthly compliance fee associated with Hemp/CBD relationships. This fee will be charged to a designated checking account. Account openings and credit are subject to bank approval. Individual state licensing and registration requirements apply. All accounts are subject to the terms and conditions included in our Depositors Agreement and Fee Schedules.
Insurance products are not insured by the FDIC or any federal government agency and are not a deposit or other obligation of, or guaranteed by, any bank affiliate. Not available in all areas. Consult with your local banker.
First Citizens Bank footprint includes the following states: Arizona, California, Colorado, Florida, Georgia, Kansas, Maryland, Missouri, New Mexico, North Carolina, Oklahoma, Oregon, South Carolina, Tennessee, Texas, Virginia, Washington, West Virginia and Wisconsin.
Remote Deposit Capture is subject to contractual terms and conditions.
Links to third-party websites may have a privacy policy different from First Citizens Bank and may provide less security than this website. First Citizens Bank and its affiliates are not responsible for the products, services and content on any third-party website.
Bank deposit products are offered by First Citizens Bank. Member FDIC and an Equal Housing Lender. icon: sys-ehl.