Auto Loans
Financing your new or used vehicle has never been easier
Let's accelerate your funding
Whether you're looking to buy a new car or refinance your existing auto loan, our auto financing team can help. We'll guide you through the lending process, lock in your interest rate and get you back into the driver's seat.
Fixed rates
Get a low monthly payment thanks to our competitive interest rates.
Flexible terms
Up to 84-month terms available for new auto loans.
Quick and easy access
Access your auto loan funds in as little as 24 hours.
Let's get you back on the road
We're here to help you finance your vehicle with an auto loan
Rates as low as
5.59% APRD
Auto Loan Benefits
Make it easier than ever to get a new ride
Whether you're buying new or simply a new-to-you car, we've got the car loan you need.
Pay for new and used vehicles
Get access to competitive fixed rates
Secure your financing and auto insurance in the same transaction
Funding options include dealer purchase, private purchase and refinance
How to get started
Buying a new or used vehicle is easier when you understand how to get an auto loan. Even if you're buying a new car from a dealership, you can choose where to get your financing—which can lead to substantial savings.
Shop for a car
The first step toward getting an auto loan is finding the car you'd like to buy. This could mean a new or used car from a dealership or a private seller. Shopping around and comparing prices will help you find the best deal.
Apply for an auto loan
Contact us or visit a local branch to apply for an auto loan. One of our friendly lending experts will gather information about you and the vehicle you'd like to purchase.
Prepare for closing
As we prepare to finalize your loan, we may reach out to you for more information. Feel free to ask any questions about the loan process—we're here to be your guide.
Close your loan to receive your funds
Lastly, you'll sign closing documents to finalize your auto loan. After closing, you'll receive your funds, which could arrive in as little as 24 hours. Then you can return to the seller to buy and enjoy your new ride.
Use our simple calculator to estimate your monthly auto loan payment
Digital Banking
Bank from anywhere with your mobile devices
Track your spending habits
Seamlessly move your money
Set alerts for transactions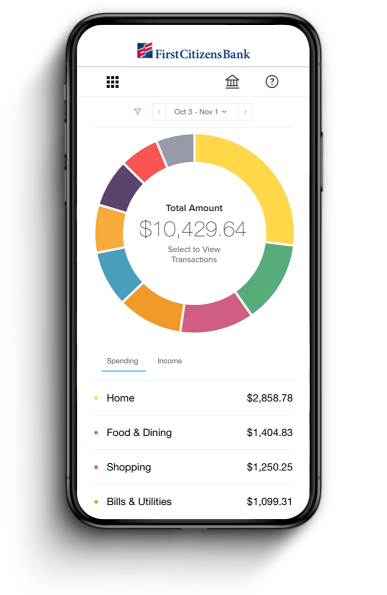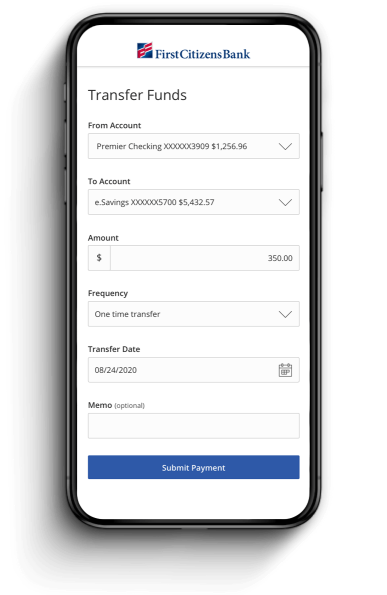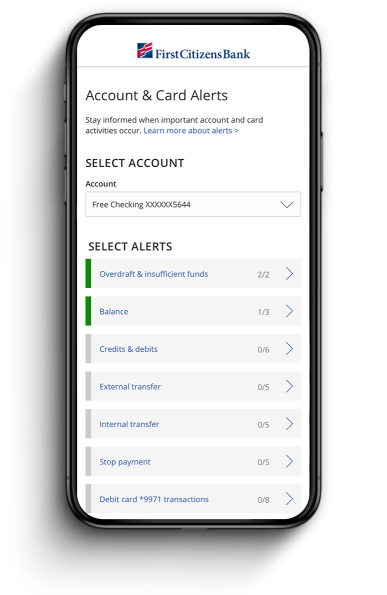 Digital Banking
Bank from anywhere with your mobile devices
Track your spending habits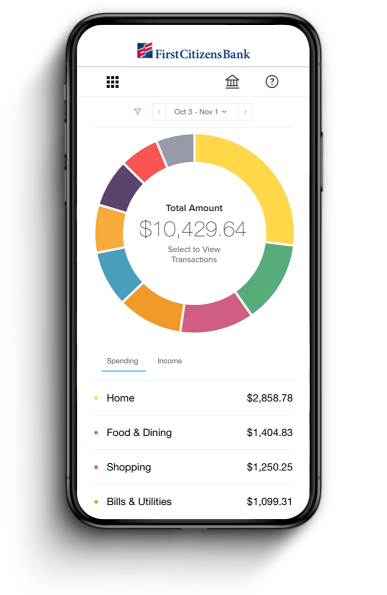 Digital Banking
Bank from anywhere with your mobile devices
Seamlessly move your money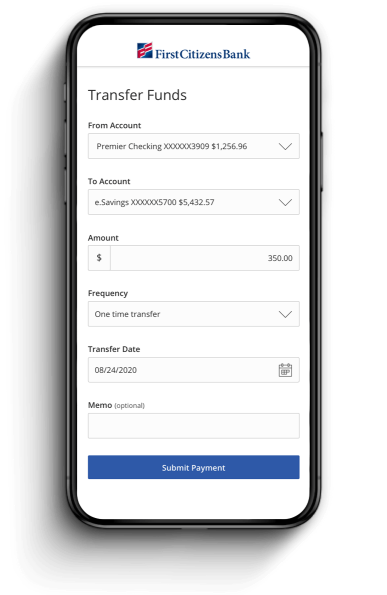 Digital Banking
Bank from anywhere with your mobile devices
Set alerts for transactions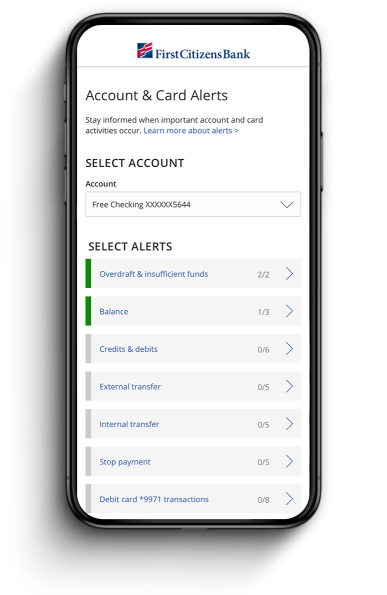 Protect all your vehicles
Find the right combination of coverage for your vehicle and its passengers.
Save online, simply and conveniently
Open an online savings account with a low minimum opening deposit of $50.
Auto Loans FAQ
People often ask us
Anyone who's purchasing a car or light truck can apply for an auto loan at First Citizens.
To get the quickest turnaround on your funds, we recommend that you find the car you want to purchase before applying for an auto loan.
For titled auto loans, the minimum amount is $2,500 and the maximum is $200,000. The maximum term is 84 months for loans greater than $50,000 and 72 months for loans less than $50,000.
For untitled auto loans, the minimum amount is $2,500 and the maximum is $50,000. The maximum term is 71 months.
You can talk to a banker for more information about titled and untitled auto loans.
Car owners should ensure they're complying with their state's auto insurance requirements. Your lender will collect your insurance information as part of the loan process. It's recommended that car owners carry a full range of auto insurance to protect their finances against damage or loss.
Insights
A few financial insights for your life
Account openings are subject to bank approval.
Subject to credit approval.
This application is not available for Wisconsin residents. Please call us to apply or visit your local branch.
Terms and conditions subject to change.
Annual Percentage Rate (APR) is 5.59% as of January 11, 2023, to applicants with an excellent credit score, for a fixed-rate auto loan amortized over 5 years, and includes discounts for autodraft from a relationship checking account. APR is based upon a rate of 5.45% and an origination fee of $100.
For example: An auto loan with an amount financed of $30,000 at a 5.45% fixed rate and including a $100 origination fee would have an APR of 5.59% and you would make 60 payments of $572 and pay total interest of $4,341.
Advertised APR is the lowest APR available and assumes excellent credit history and discounts for autodraft and relationship checking. Other rates and terms are available based on loan amount and customer credit profile.
Links to third-party websites may have a privacy policy different from First Citizens Bank and may provide less security than this website. First Citizens Bank and its affiliates are not responsible for the products, services and content on any third-party website.
Bank deposit products are offered by First Citizens Bank. Member FDIC and an Equal Housing Lender. icon: sys-ehl.