Career · January 28, 2021
How One Woman Is Helping First Citizens Live Its Commitment to IE&D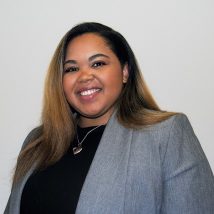 ---
When I joined the First Citizens family, my decision was driven by the company's values and its commitment to inclusion, equity and diversity—as well as a strong personal connection. My mom worked for First Citizens for nearly 20 years, and I grew up doing homework on the floor of her office. Now, I'm working for the same bank as part of the team driving its Inclusion, Equity and Diversity, or IE&D, initiatives.
It's exciting to be part of a company that knows diversity isn't a matter of checking boxes and saying the work is done. It's a journey to create a culture where all associates feel welcomed and valued—and that their voices aren't just heard, but respected.
Having recently been in the job market, I was looking for a place where I could do more than grow as an HR professional. I also wanted a company that would value who I am beyond my job title and appreciate the full picture of what I could bring to the table. These priorities are what led me to First Citizens.
When you choose a company to call home, you want to know that you'll feel welcome and connected. At First Citizens, our IE&D initiatives are focused on building a culture of inclusion. Diversity, equity and inclusion have always been values at First Citizens, but in late 2019 a designated team was put in place for increased emphasis and investment in this space. We're still early in this journey—we just celebrated our first year, which coincided with my own one-year anniversary with the company. But in that short time, we've made incredible strides to establish the foundation of the company's IE&D efforts, and we have a bright path ahead.
If you're curious about how First Citizens lives the values of equity, diversity and inclusion, I'll take you through what we've been able to accomplish in our first year, along with some personal reflections on the impact we've had.
Year one: Education and communication
In our team's first year, we built a strategy focused on education and communication. For me, that meant doing a lot of self-educating on trends and thought leadership in the diversity and inclusion space. It was important for me to build a strong foundation of understanding of different perspectives, values and cultures so I could be a valuable part of the team and help identify opportunities to support and celebrate our associates.
So far, we've built a dedicated internal website specifically for our IE&D efforts and educational materials. We've incorporated a calendar that recognizes various heritage, lifestyle and cultural occasions—which means there's a lot to celebrate year-round.
The spotlight articles we launched internally this year are one of the achievements I'm most proud of. These are feature articles where our team spotlights an associate's story or cultural event, sharing perspectives to help associates relate to others whose experiences may differ from theirs. In May 2020, we published a feature on Asian-Pacific American Heritage Month, and one of our associates commented that he'd never seen a company highlight this occasion before. It meant a great deal to that associate to see his heritage represented by the company he chose to make his career home—and it meant a great deal to me that I could shine a light on a celebration of the heritage he cherished.
I'm especially proud of how we created a business case for inclusion, equity and diversity. We presented it to our board of directors and leadership teams, illustrating how we intend to impact not just our current associates, but every aspect of how we do business. I love how we're laying the groundwork for the years ahead by developing talent attraction and retention strategies, innovating to create new products and services that better align with the needs of our customers, and focusing on supporting and strengthening the communities we serve.
The future: Building on a strong foundation
Agility sets First Citizens apart as a company leading the way in inclusion, equity and diversity. We can look to other companies and see what they're doing, but with our IE&D team being so new, we can create a set of intentions and initiatives that are truly unique to the First Citizens family. That's one of the reasons we recently changed our team's name from Inclusion and Diversity to Inclusion, Equity and Diversity. We list inclusion and equity first because we recognize that these two concepts directly drive diversity.
In the year to come, I'm excited about three new initiatives. Not only will these efforts foster empathy and understanding on a deeper level among our associates, but they'll also work toward ensuring that every associate knows their voice is included, valued, respected and heard.
Training: Knowledge is a catalyst for inclusion. That's why we're rolling out training for our managers on key IE&D concepts, so they can understand and put those principles into practice in their daily work across their respective teams.
Listening sessions: Starting in 2021, we'll host listening sessions to get a better understanding of what our associates need. These sessions will help us improve our initiatives and meet our associates where they really are instead of where we think they might be.
The IE&D Champion program: In the future, we'll look for representatives across the company who are interested in helping to create and communicate our IE&D initiatives. This means that associates at any level in any department can be involved in building a more inclusive, equitable and diverse place to work and serve the community. Our IE&D Champions will be a voice for other associates to communicate ideas and share concerns, ensuring associates feel heard and valued at the corporate and local levels.
With all these initiatives in motion, you can see we're doing a lot of walking to back up our IE&D talk at First Citizens. And while we're incredibly proud of the work we've done so far, I know there's so much more to do. My hope is that anyone who's curious about how First Citizens is approaching inclusion, equity and diversity will start a conversation with us. Whether you're considering us for your career home or already part of the First Citizens family, it's an honor for me to represent a team whose daily work is to make everyone feel included and respected.
Insights
A few financial insights for your life
Links to third-party websites may have a privacy policy different from First Citizens Bank and may provide less security than this website. First Citizens Bank and its affiliates are not responsible for the products, services and content on any third-party website.
This information is provided for educational purposes only and should not be relied on or interpreted as accounting, financial planning, investment, legal or tax advice. First Citizens Bank (or its affiliates) neither endorses nor guarantees this information, and encourages you to consult a professional for advice applicable to your specific situation.