Career · March 03, 2022
Online Job Scams: How to Protect Yourself and Your Finances
With the COVID-19 pandemic driving more demand for work-from-home positions than ever, online job scams are growing more prevalent. Preying on those seeking the flexibility and safety of remote work, scammers have perfected the art of tricking eager job seekers out of thousands of dollars.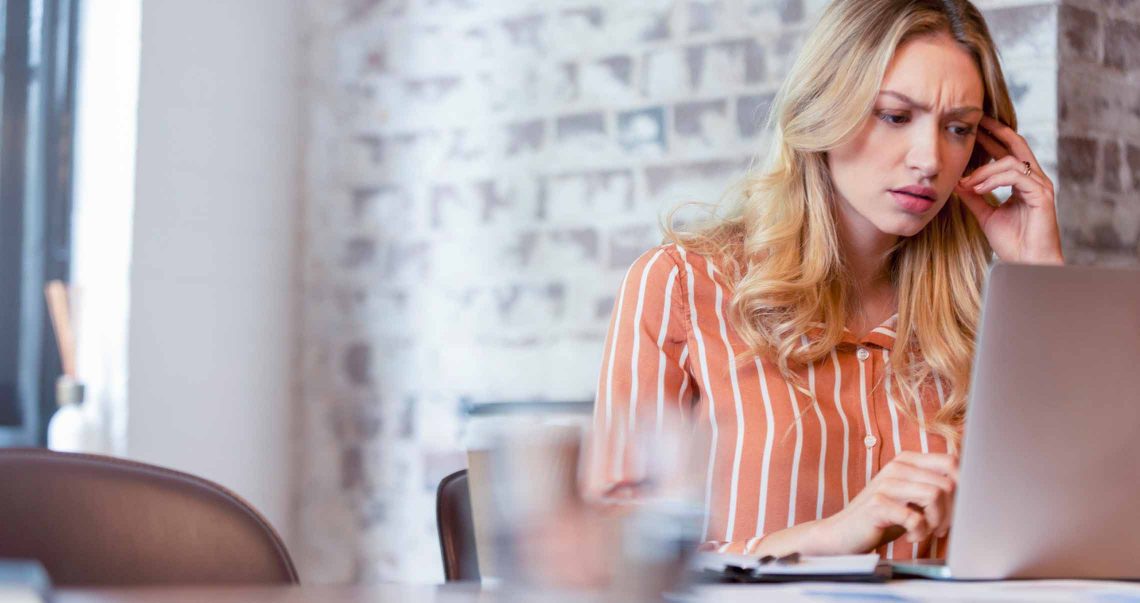 The FBI reports that more than 16,000 people were victimized by employment scams in 2020. Although this number might seem small on the surface, it gets worse when you know that those 16,000 suffered losses totaling $59 million. And employment scams didn't go away when 2020 ended, either. In the first quarter of 2021, more than 2,000 people reported $5 million in losses from online job scams, according to the FBI.
---
If you want to work from home, online job fraud should be on your radar. That's why it's important to learn how to identify potential phishing scams on job boards. By knowing what to look for throughout the job search process—from the job listing to onboarding—you can better avoid online job fraud, prevent online identity theft, and protect yourself and your finances.
What are common red flags of online job scams?
What makes online job scams so successful is that fraudsters make the entire process feel legitimate to job seekers. They can easily present a convincing disguise to fool candidates, from faking major company websites and email addresses to asking legitimate questions during an interview.
Here are some red flags that a remote work offer might be a scam.
The posting is on a job board but not on the company's website.
You're offered a job without an interview.
Your interview takes place entirely by a secure video call, through secure messaging channels or a teleconference application that uses email addresses and not phone numbers.
Potential employers reach out from non-company or personal email domains.
Interviewers require credit card information or upfront fees for things like start-up equipment and background screenings.
How to protect yourself from online job fraud
For online job and business phishing scams to work, fraudsters rely on your need for a job. They also assume you won't do any research if they give the job posting a whiff of legitimacy, using company logos and even faking company websites. This means you have to be willing to dig beneath the surface to ensure you're pursuing a real job opportunity.
Here are some tips to achieve that and protect yourself.
Compare URLs: Look at the company's website and compare it with the URLs a manager or recruiter sent you. If there's a difference, the job could be a scam.
Research the person who contacted you: If you can't find mention of the person who reached out to you—especially if the person claims to be a recruiter—the job could be a scam. Double-check by reaching out to the human resources department of the company to verify whether the person who contacted you is employed by or authorized to act on the company's behalf.
Protect your personal information: A company should only ask for sensitive information like your Social Security number and bank account information for direct deposit after you've been hired. If the process deviates from this norm, proceed with caution.
Pay nothing upfront: Legitimate companies don't make job applicants pay for their background checks or buy major equipment required to perform their job duties, such as computers or training programs. Never give a company your credit card information or send money via wire transfer.
Ask questions: Scammers hate when people ask questions, primarily because it may take only a few questions to uncover the truth about their scam. If an employer is legitimate, they won't be shy about providing information you request.
Searching for a remote job shouldn't put you at risk. You can learn to avoid phishing scams by recognizing red flags, doing research and asking questions. Legitimate companies are always looking for great candidates and won't think twice about providing the details you need to verify who they say they are. It can make all the difference between money entering your account and money leaving it.
Insights
A few financial insights for your life
This information is provided for educational purposes only and should not be relied on or interpreted as accounting, financial planning, investment, legal or tax advice. First Citizens Bank (or its affiliates) neither endorses nor guarantees this information, and encourages you to consult a professional for advice applicable to your specific situation.
Links to third-party websites may have a privacy policy different from First Citizens Bank and may provide less security than this website. First Citizens Bank and its affiliates are not responsible for the products, services and content on any third-party website.