Open an Account
Better banking starts here
Join First Citizens by opening a new Free Checking account
It's easy, fast and free to open an account online and become part of our First Citizens family. We've been helping folks lead better financial lives for more than a century, and we'd love to do the same for you.
Low minimum deposit
Get a new account started with a minimum opening deposit of $50
No monthly fee
Monthly fee of $0 when you enroll in paperless statementsD
Access anytime, anywhere
Enjoy free Digital Banking,D bill pay and 24/7 mobile deposits
Why choose First Citizens?
Because we've been helping families and businesses just like yours make more of their finances for more than 120 years. We've shared their dreams, helped make their budgets work harder and built solid financial plans to last them the rest of their lives. And in that time, we've built a solid track record of service, stability and reliability.
Dad's rock-n-roll birthday surprise
[Music]
Dad: Kids, you gotta listen to this!
Daughter: One second, Dad!
Son: What about a weed trimmer?
Daughter: We should get him something special this year.
Son: Let's hear it.
[Silence]
Daughter: What about fixing up his old guitar?
Son: The one he used to play in college? That thing is destroyed.
Mom: He is always talking about dusting it off.
Son: True.
Daughter: So, I'll open a separate account for family projects and we all can contribute however we want.
Son: You can do that?
Mom: I think it's a great idea.
Daughter: Come on. Are you going to send me money?
Son: If you're good to do that, I'll send money over now.
Daughter: Cool. Alright, so I'll text you the last four digits of the account as soon as it's up. And I'll include grandma.
Son: Cool.
Father's friend: Wow, I haven't seen that axe since our last tour!
Daughter: You think we can fix it?
Father's friend: With a little luck, absolutely. I'll text you the number for my friend's shop.
Daughter: Thanks, Macon.
Father's friend: Course, I can send some money now if you're on Zelle®?
Daughter: Yep, don't forget it's linked to my phone number.
Father's friend: Awesome. Incoming!
Daughter: Ah! I'm so excited!
[Music over muted voices]
Dad: Letter from Grandma.
Daughter: Oh, thanks.
Dad: How's the research project going?
Daughter: It's good.
Dad: Alright.
[Music over muted voices]
Daughter: [Laughs] I hope so, too.
Daughter: Happy birthday, Dad.
Dad: You got me.
Son: Let's see what you got, old man!
Dad: All right.
[Music]
Mom: I remember this one!
Dad: [Laughs]
Son: There we go.
[Music]
More to explore
Open a checking account to access all we have to offer
Savings
Explore new ways to save with Online Savings, Money Market and CDs
Credit cards
Find a credit card with features that work for you, like travel rewards and cash back
Mortgages
Buy or refinance a home with an adjustable or fixed-rate mortgage
Loans
Apply for an auto, home or personal loan to help you achieve your goals
Insurance
Insure what matters most and protect yourself from the unexpected
Digital Banking
Bank from anywhere with your mobile devices
Track your spending habits
Seamlessly move your money
Set alerts for transactions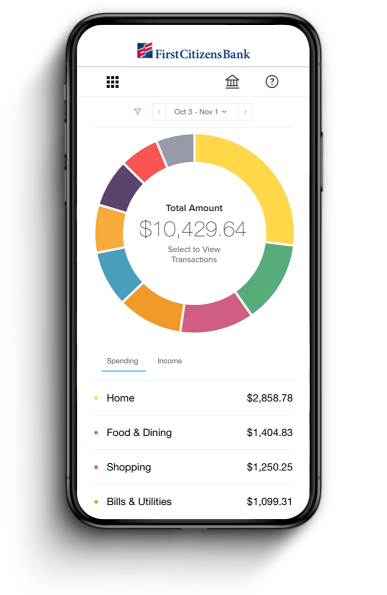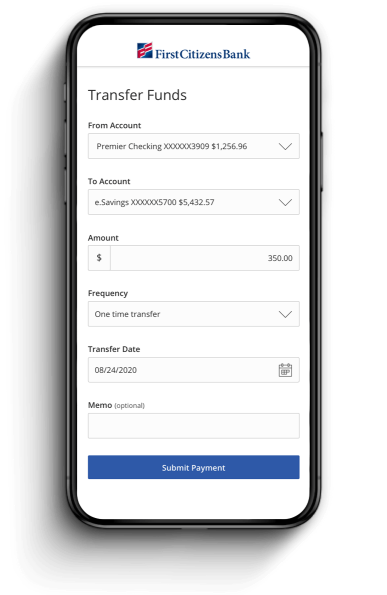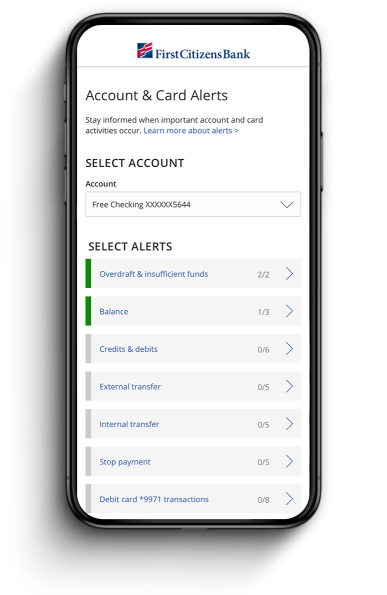 Digital Banking
Bank from anywhere with your mobile devices
Track your spending habits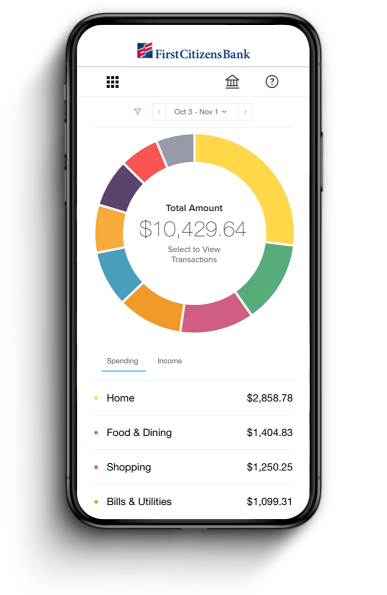 Digital Banking
Bank from anywhere with your mobile devices
Seamlessly move your money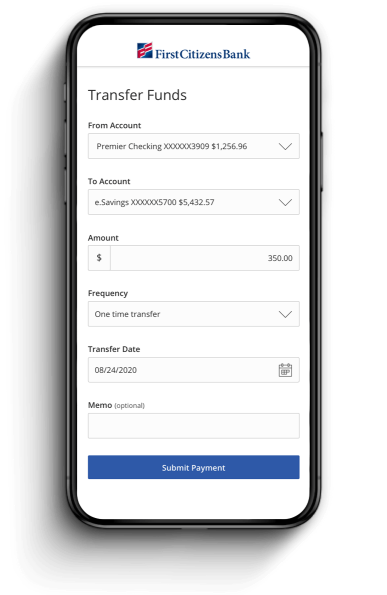 Digital Banking
Bank from anywhere with your mobile devices
Set alerts for transactions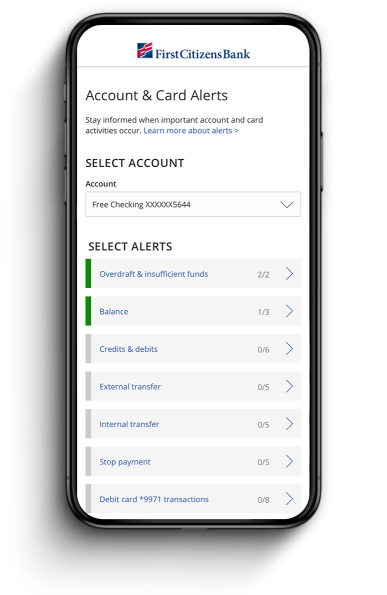 The same secure banking you expect in person, now online
Security Alerts
We'll automatically send you alerts if your account credentials change.
Card Freezes
Temporarily freeze or unfreeze your card if it's lost or stolen, or if you suspect fraud.
Advanced Security
Rest assured that all your confidential account information is protected.
Insured
Your money is insured by the Federal Deposit Insurance Corporation.
Bank on Customer Service
Open an Account Today
Yes. First Citizens direct deposit service offers you the convenience of recurring automatic deposits into your accounts with same-day access. Deposits can be distributed across multiple First Citizens accounts. Online alerts let you know when your money has been deposited. Learn more about direct deposits.
Qualifying deposits may include salary, pension, Social Security and Supplemental Security Income (SSI) benefits and other regular monthly income.
You'll get immediate access to begin using Digital Banking once your enrollment is complete.
Generally, yes. Your transaction history and balances for your First Citizens accounts are real-time. Balances and history for non-First Citizens accounts that have been added may be 1 to 2 business days behind due to how the data is made available from that bank.
Our app supports all iPhone® and iPad® devices with the current iOS operating system, as well as the previous two versions. Our app also supports Android™ mobile and tablet devices with the current Android operating system, as well as the previous two versions.
Note: Earlier versions of browsers and operating systems may still be able to access Digital Banking. However, certain features may not display or function correctly. Additional bug fixes and security enhancements may not be available on older versions.
Insights
A few financial insights for your life
Account openings and credit are subject to normal bank approval.
For complete list of account details and fees, see our Personal Account Disclosures.
Zelle® and the Zelle® related marks are wholly owned by Early Warning Services, LLC and are used herein under license.
Paperless statements are required. To be eligible for Free Checking, you must sign up to receive First Citizens paperless statements within 60 days of account opening. If you do not sign up and receive paperless statements, your account will be converted automatically and without prior notice to you to a Select Checking account and will be subject to the fees and charges applicable to a Select Checking account. The applicable fees and charges will be debited from your account without further notice to you and will appear on your account statement. If you overdraw your account, fees may apply. Refer to our Personal Account Disclosures for full details.
First Citizens does not charge fees to download or access First Citizens Digital Banking, including the First Citizens mobile banking app. Mobile carrier fees may apply for data and text message usage. Check with your carrier for more information. Fees may apply for use of certain services in First Citizens Digital Banking.
Links to third-party websites may have a privacy policy different from First Citizens Bank and may provide less security than this website. First Citizens Bank and its affiliates are not responsible for the products, services and content on any third-party website.
Bank deposit products are offered by First Citizens Bank. Member FDIC and an Equal Housing Lender. icon: sys-ehl.