Budgeting · September 13, 2022
A Guide to Personal Financial Planning
If you're looking to make the most of your money, you need to create a personal financial plan and set goals that align with both your budget and your ideals. You may imagine a certain version of yourself in the future—a homeowner, free of student debt, with an investment fund that carries you into a comfortable retirement. But how do you get from point A to point B?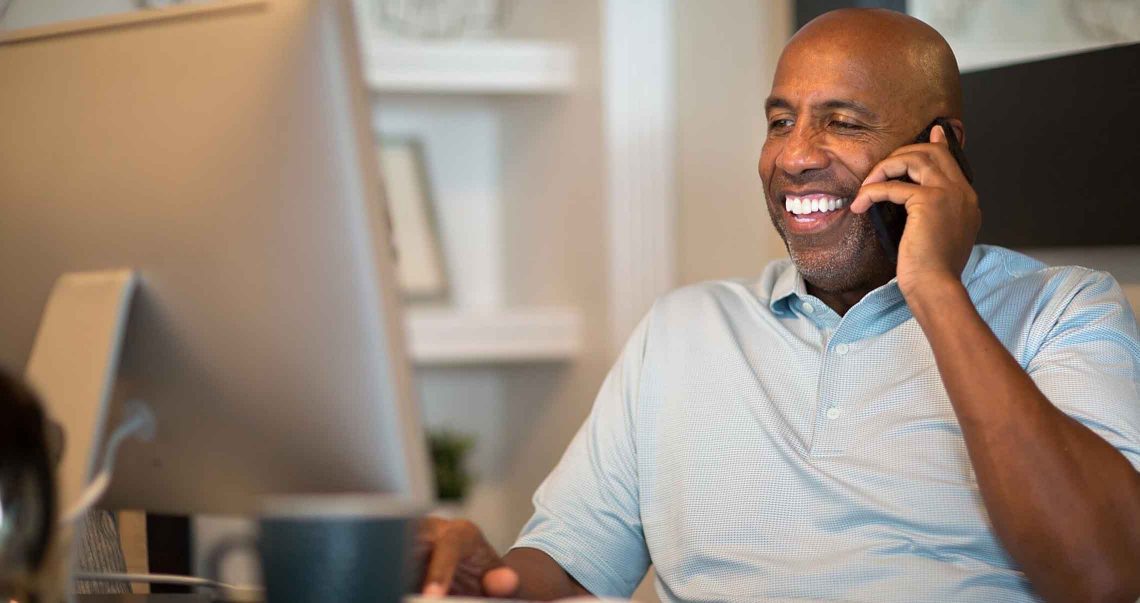 Personal financial planning can help you reach your goals by providing specific, actionable steps—and by arming you with the information you need to make the right money moves.
---
What is a financial plan?
A personal financial plan uses the concepts of budgeting, saving and investing to improve your financial health and overall money management. The strategies used in your plan should take your personal risk tolerance into account, along with the potential monetary effects of significant life events like starting a family or relocating across the country. Perhaps most importantly, it requires establishing clear goals.
How to create a financial plan
Your first attempt to create a financial plan doesn't need to be detailed or complicated, but you should begin with a basic understanding of your finances. Start by gathering information on all of your bank accounts, investments and other financial assets. Next, factor in your debt and how much you're paying in monthly expenses.
Once you have a clearer financial picture, you can begin to set goals and take steps to achieve them. Every financial plan should start with at least one goal. You may choose to focus on building wealth, saving for a large purchase or retirement, or simply paying down existing debt.
1

Set personalized financial goals

You'll want to set financial goals that reflect your healthiest values and ambitions. It's easy to be enticed by a neighbor's fancy car, friend's recent home purchase or coworker's designer wardrobe, but copying your peers' expenditures might not be the smartest idea. Instead, your goals should reflect your individual financial realities and resources.

Not sure where to start? Work to identify the goals you truly care about. Brainstorm a list of every possible goal you can imagine, then circle those that are most important to you and your values. To spark your creativity, here are a few questions to ask yourself.
If you were free from the expectations of others, which financial goals would you pursue?
Which goals reveal something about you and show who you truly are?
Which goals would make you feel most proud to accomplish?
Which goals would have a lasting, positive impact on your life?
If you're struggling to narrow it down, just imagine giving advice to someone with less life experience. What goals would you recommend they set? You may also want to think about past financial decisions that may have caused problems and consider what you would've done differently. Do you wish you'd saved up for a higher down payment before buying a house? What changes could you make to your budget that will allow you to invest more in the future?
2

Outline steps to achieve your goals

Now it's time to create specific steps to reach your goals. If you're unsure where to start, try ranking them from the most to least crucial, or from the shortest to longest time period. For example, your long-term goal could be to save for a down payment on a house, while your more immediate goal might be to pay off a particular debt. Here are some additional steps you can take to achieve your goals.
Create a budget
A budget lets you gain insight into your spending habits by tracking your income and expenses, and it presents a more realistic picture of what you can afford.
Let's say you want to make a $100 donation to a charity. You could take $100 out of your earnings all at once, but it may be difficult to redirect the entire amount if you're used to spending this money on other things. In this case, donating $25 each month for 4 months might work better for you.
You can use a household budget calculator to help you determine how money flows into and out of your accounts.
Build an emergency fund
The proverbial rainy day will come at some point, and being prepared for it can have a significant effect on your finances. Ideally, you'll always have 3 to 6 months' worth of expenses in a savings account in case you lose your job or can't work for an extended period of time.
Don't worry if you can't fill your emergency fund overnight. Set aside what you can, and make a plan to contribute to the account every paycheck or month. Any amount will provide a cushion if something unexpected happens.
Separate savings
Keep checking and savings accounts separate so you can avoid the temptation to dip into your savings and potentially overspend on a whim. Another strategy is to use an automatic savings plan, which sets up regular transfers directly from your paycheck or checking account to your savings.
Manage debt
Taking on the right amount of debt at the right time is an important element of financial planning. If you're overextended on credit, your credit score could be affected. As a result, you may not qualify for the best interest rates on a mortgage or car loan.
As part of your personal financial plan, you'll need to understand the difference between good and bad debt and how long-term loans like mortgages can help you reach your financial goals. One of your goals may even be to pay off an existing loan.
3

Stay on track with finance and banking technologies

Once you have a personal financial plan in place, you'll need to make sure you can follow through with it. Digital tools like personal finance and banking apps give you additional visibility into your finances and allow you to easily track your spending.

With this information, you can then determine if you're meeting short- and long-term financial goals or falling short in some areas. Personal finance apps can also track your overall financial health by linking bank accounts, car loans, mortgages and student loans.

Here are the most common types of digital tools you can use to keep your finances on track.
Online banking and mobile apps
Banks will often provide online account access with a wealth of financial tools. With mobile banking apps, you can set up automatic bill pay for recurring expenses so you never miss a payment or get charged a late fee. You can also check your balances, deposit checks and access a chart with monthly averages for spending divided into categories.
Budgeting apps
You can track spending in real time with budgeting apps to ensure you don't miss anything. When you're saving for large purchases, these apps can also help you pinpoint areas where you can cut spending—and potentially save hundreds of dollars each month.
Savings apps
Linking a bank account to a savings app will let you round up purchases to the nearest dollar and transfer the difference to a savings or investment account to help you grow your nest egg.
Debt management apps
You can use a debt payoff app to help you set a manageable debt reduction goal and identify how much of your budget you can devote to paying it down each month. You may also want to use debt payoff apps or other digital tools to help you create a personalized plan for tackling what you owe, whether it's paying off high-interest credit card debt or reducing your highest loan balances.
Strategizing for large purchases
If you're planning to make a significant purchase in the future, include it in your financial plan and start your research well ahead of time. Making a large purchase is an important decision and should be influenced by many factors, including personal finances, current needs and your long-term goals.
Ultimately, planning for large purchases should include some or all of the following strategies.
Include the amount in your budget. Remember, buying a large item may mean paying for it over time.
Consider timing your purchase. This way, you can take advantage of seasonal and holiday price reductions for high-ticket items like cars, electronics and appliances.
Understand and calculate related costs. With homeownership, also remember to factor in property taxes, insurance, maintenance and utilities.
Shop around for the best loan terms and pricing. Interest rates, the length of the loan and any additional fees charged should be included in your financial analysis.
Factor in tax implications. Sales and property taxes could increase costs, while items like mortgage interest could be used to lower your bill by offsetting income on your federal tax return.
Protecting your loved ones, now and in the future
Financial planning also gives you the ability to protect what you cherish most in life, taking into consideration a wide range of possibilities. These might include:
The loss of a spouse's income
Sending children and grandchildren to college
Paying for long-term medical care
Creating secure income streams during your retirement
Creating an insurance plan to build a legacy for your family, no matter your income level
While a financial plan helps you fund the things you want and need, it's also a tool to protect you and your loved ones. With a well-planned investment and savings strategy, you and your family can have a firm financial foundation that stands against life's strongest storms.
Planning ahead for tax implications
Smart tax planning can go a long way toward helping you achieve your goals. This means staying on top of frequently changing tax laws—and the new opportunities they may bring. A comprehensive understanding of how tax laws affect your bottom line can be helpful when making important financial decisions. Here are just a few areas of tax planning to consider.
Credits: If you're looking to purchase a vehicle, you may want to look into tax credits for electric cars.
Write-offs: Small business owners can take advantage of expense tax write-offs, such as business-related travel or a home office deduction.
Contributions: Adding funds to tax-advantaged retirement savings, health savings accounts or college savings accounts will lower your taxable income for the current year.
Decreasing financial risk with insurance
After diligently saving and working toward improved financial health, you don't want to let the threat of one unfortunate event erase your efforts. The right insurance coverage can help decrease the risk of financial loss associated with catastrophic events like fires, floods or accidents.
Part of your financial planning process should include taking stock of your current assets and the risks associated with them. You can then discuss these potential risks with an insurance agent and work with them to customize homeowners or other insurance policies that will protect you from unexpected financial losses in the future.
Slow and steady wins the race
If you're starting a financial plan from scratch, it can feel overwhelming. But working toward one small goal—even in baby steps—can improve your financial habits over time. Plus, your budget and initial goals can be developed further as you make progress. It may take some time before the benefits make an impact, but they'll arrive when backed by determination, discipline and attention.
---
Make the most of your money
Create budgets and track spending for all of your accounts at First Citizens and beyond with Manage My Money℠ in Digital Banking.
Insights
A few financial insights for your life
Links to third-party websites may have a privacy policy different from First Citizens Bank and may provide less security than this website. First Citizens Bank and its affiliates are not responsible for the products, services and content on any third-party website.
This information is provided for educational purposes only and should not be relied on or interpreted as accounting, financial planning, investment, legal or tax advice. First Citizens Bank (or its affiliates) neither endorses nor guarantees this information, and encourages you to consult a professional for advice applicable to your specific situation.