Operations · July 23, 2020
Top Manufacturing Problems That Impact Competitive Advantage
Rapid advances in technology drive the never-ending race for efficiency in manufacturing. Shifts in customer expectations raise the bar for volume, speed and quality of experience. As a result of increasing globalization, emerging competitors might have the advantage of cheaper skilled labor, better local infrastructure, less restrictive regulations or simply a local connection to a desirable customer base.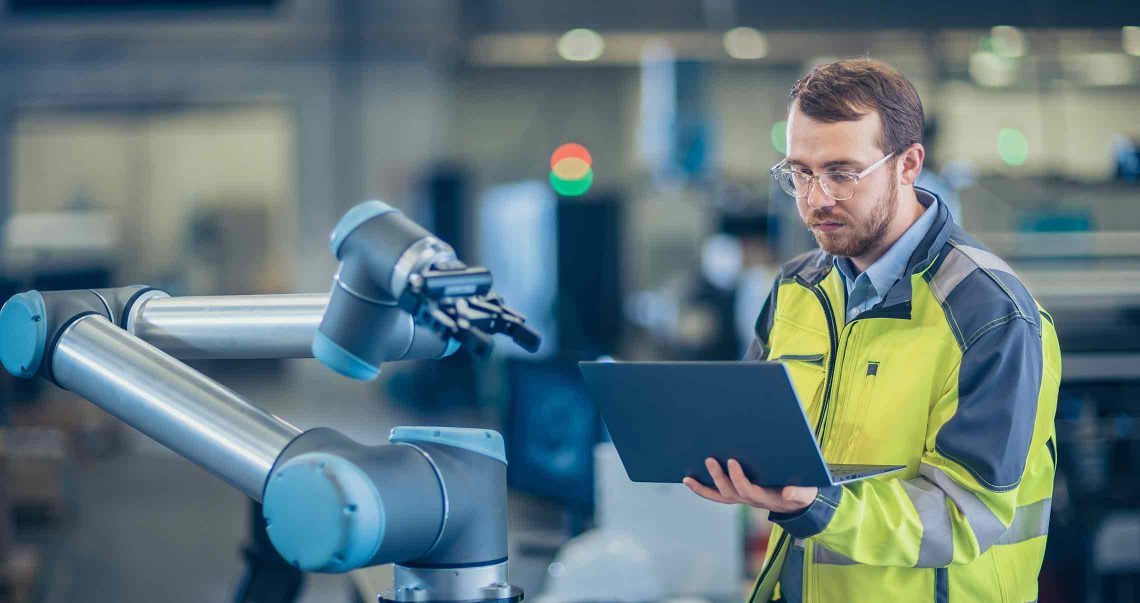 To thrive, companies must tackle some of the common manufacturing problems that impact the ability to maintain a competitive advantage. Digital solutions have an important role to play in this effort, helping companies generate greater customer loyalty, push for increased profitability and drive market share.
---
Digital transformation and automation
To increase efficiency, manufacturers are using digital technologies to create or modify existing business processes. Digital transformation and automation can be an opportunity to pursue real value. You can cut costs while maintaining or improving quality and strengthening relationships with producers, suppliers and customers. Modifying your procedures can also help you respond with more agility to shifts in customer demand or supply chain, identify and penetrate new markets faster, and improve internal workplace culture
Even better, digital transformation is scalable. Small, manageable steps, such as automating data collection, can go a long way toward big wins by enabling real-time, insight-based decision-making.
Data collection and storage can be cheap and flexible. Predictive analytics and artificial intelligence have also become more accessible. These technologies allow allowing manufacturers of all sizes to draw insights from large amounts of data. Using internet-connected devices, your systems can gather meaningful data 24/7 across the value chain without the need for additional labor. Information about customer experience, plant energy consumption, equipment utilization and raw materials can increase overall performance while reducing costs.
Addressing cybersecurity
As these technologies have grown more widespread in the industry, cybersecurity had made its way to the top of the list of manufacturing challenges. All business information is an asset, and potential cyberattackers can target a range of information, including:
Product blueprints and other intellectual property
Internal financial information
Supplier contacts and transactions
Customer financial data
Plant, equipment and operational data
If you imagine your company won't be a likely target, think again. Due to the way common cyberweapons such as ransomware and malware can spread, your business could become collateral damage in attacks on customers or vendors in the supply chain. Manufacturers who choose to ignore cybersecurity risk may find themselves falling behind the competition. Data thefts can cause financial losses but also legal, compliance and reputational damage as well.
To stay on top of the threats, invest in IT staff or consultants that specialize in cybersecurity. Work closely with these experts to develop a robust prevention and recovery plan. Honest human errors can often play a role in breaches. Train all staff in prevention and mitigation measures that are relevant to their role and tasks.
Finding the right team
Competition for talent has become a top concern in manufacturing. Today's employees need to be proficient in several high-technology skill areas. As baby boomers continue to retire over the next decade, attracting multi-skilled labor will be increasingly difficult. Your ideal candidate, whether fresh from school or hailing from another industry, may carry limited perceptions about the nature of the work, growth opportunities and pay available in manufacturing careers.
It's up to you to engage new talent with strategic recruiting tactics. Look outside of manufacturing for candidates with elite but transferable skills. These might include hydraulics, robotics, electrical engineering, laboratory techniques and computer science. Create bridge programs, such as paid on-the-job training for new and experienced workers. Invest in diversity and inclusion initiatives so that workers from traditionally underrepresented backgrounds can see your company as a welcoming workplace.
Manufacturing is a field in transition, with new technologies changing the way operations are handled and increasing competition across the industry. By investing in the right areas, your business can stay a step ahead and tackle some of the emerging manufacturing problems of this new era without falling behind the pack.
Insights
Financial insights for your business
This information is provided for educational purposes only and should not be relied on or interpreted as accounting, financial planning, investment, legal or tax advice. First Citizens Bank (or its affiliates) neither endorses nor guarantees this information, and encourages you to consult a professional for advice applicable to your specific situation.
Links to third-party websites may have a privacy policy different from First Citizens Bank and may provide less security than this website. First Citizens Bank and its affiliates are not responsible for the products, services and content on any third-party website.