Starting a Business · March 03, 2022
The Basics of Starting a Consulting Business
If you're looking for a new challenge in retirement while maintaining the flexibility and freedom of your new independent lifestyle, starting a consulting business can be an attractive choice. Often, the investment required to get started is more in time than money, and helping clients achieve success can be quite rewarding.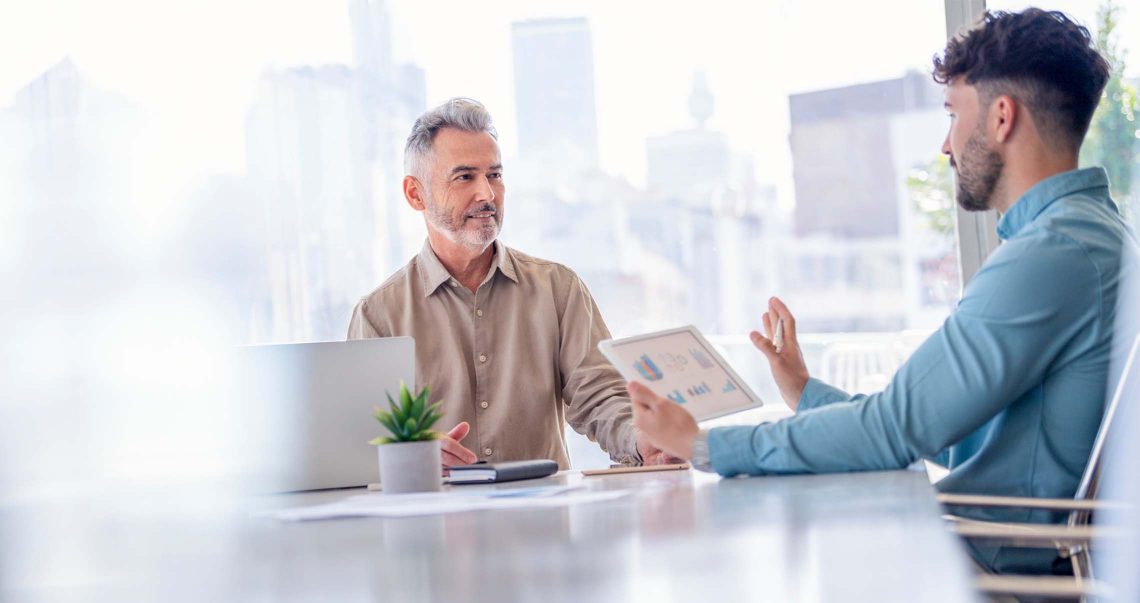 Companies across diverse industries look for experts to help them solve many types of problems, including those related to management, finance, human resources, law, marketing and technology. If getting paid to share your hard-earned expertise sounds like the fresh start you're looking for, here's how to start a consulting business that sets you and your clients up for success.
---
Focus on a niche customer
Companies often seek consultants to help them address specific pain points. They may need assistance safeguarding customer data or making their supply chain more efficient. Some might want to outsource work they're too busy to handle, like human resources tasks. Let your passion, knowledge and familiarity with the marketplace guide you toward a specialization that will offer value.
From here, you can decide which types of clients you're interested in helping. Do you want to work with large or small companies? Will you target firms in a specific location or industry?
Once you've made these decisions, craft a value proposition to describe your offerings to prospective clients. Try to make this as practical and specific as possible. For example, "I help business-to-business startups fill their sales funnels with qualified leads," or "I help restaurants in Southern California create digital campaigns that draw in diners."
Formulate a marketing plan
Having a professional website is essential. Consider hiring a web designer, or create a site yourself with an easy-to-use online template service.
Use your site to highlight your experience and showcase content that demonstrates your expertise. This content could include whitepapers that are only accessible to visitors who submit an email address. Once you build up an email list, create an e-newsletter with additional content to educate your most consistent readers.
Many consultants find projects through networking, which is why getting in touch with former contacts should be high on your list. You could also find opportunities to connect with new people through local associations, conferences and relevant groups on social media. Once you start working with clients, don't be shy about asking for referrals.
It's also important to research whether paid advertising on search engines and social media platforms would be effective in reaching your target audience.
Choose a business structure
Tax requirements and legal protection are among the factors to keep in mind when deciding how your business will operate. If you choose to run it as a sole proprietorship, for instance, you'll report business income or losses on your personal tax return. In addition, your personal assets will be at risk if your company is involved in a lawsuit.
If you form a limited liability company, or LLC, you'll file income or losses the same way, but your personal assets will be better protected if the company is sued or goes bankrupt.
A corporation, meanwhile, operates as a separate tax entity. It offers the most robust legal protection from personal liability and has extensive management requirements. Some business owners opt for an S corporation to potentially reduce tax obligations. An accountant or business lawyer can help you navigate your choices.
Calculate expenses
In addition to your website and marketing budget, your initial expenses when starting a consulting business will likely include state filing fees. You may need to obtain a special license or certificate as well. These might be required in your niche, or you could pursue accreditation simply to improve your skills and outshine your competition.
In addition, clients may require you to carry insurance like a professional liability policy. This would cover you in the case of any negligence, errors, or omissions that injure clients or cause damage to a third party's data. If you're hiring an employee, consider purchasing employment practices liability coverage.
Price your services
Researching competitors' rates can help you determine how much to charge clients. Asking too much or too little can turn off potential customers, so consider which pricing model would work best for you. You could charge by the project, by the hour or on a retainer basis.
It's helpful to create a written business plan incorporating these elements and other foundations of your consulting practice. View your plan as a flexible document that you can adjust as your business grows. While the initial work may feel arduous, starting a consulting business can be a fulfilling, lucrative complement to your retirement.
Insights
Financial insights for your business
This information is provided for educational purposes only and should not be relied on or interpreted as accounting, financial planning, investment, legal or tax advice. First Citizens Bank (or its affiliates) neither endorses nor guarantees this information, and encourages you to consult a professional for advice applicable to your specific situation.
Links to third-party websites may have a privacy policy different from First Citizens Bank and may provide less security than this website. First Citizens Bank and its affiliates are not responsible for the products, services and content on any third-party website.