Security · October 18, 2021
What Are Contactless Payments, and Are They Secure?
Before the pandemic made it necessary to limit our personal interactions, contactless payments were an innovative feature of convenience offered by only a subset of forward-thinking businesses. Now, nearly 80% of consumers say they've used contactless payments, according to a global payments study by Mastercard.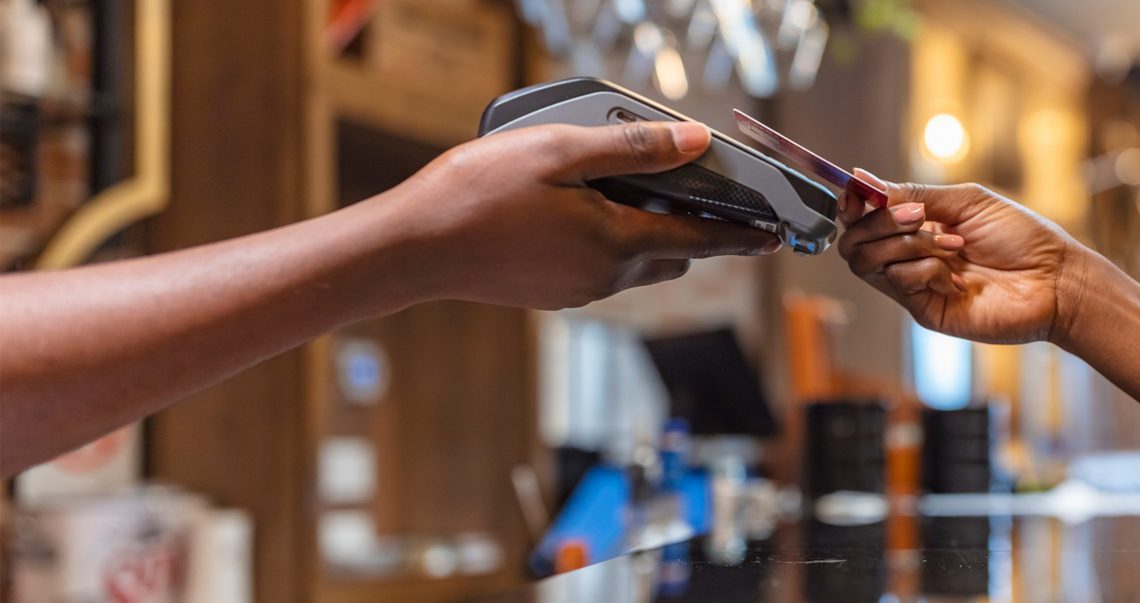 But what are contactless payments? Are they actually a safe and secure way to pay? If you're curious about this touchless technology, learning how it works can help you decide whether to use it yourself.
---
What are contactless payments?
Essentially, contactless payments let you make purchases by holding, waving or tapping your credit card at a checkout terminal that supports them. While contactless often refers to using a card with a contactless chip, you can also use a digital wallet on your phone or smartwatch.
The major benefits of contactless payments include safety, because you aren't touching as many surfaces to pay, and speed, because you don't have to sign or enter your PIN. Contactless payments also help to prevent fraud by generating a unique code for each transaction.
Aside from helping you avoid unnecessary contact in checkout lines and at point-of-sale terminals, contactless payments could theoretically eliminate waiting in checkout lines or even needing a cashier's terminal to pay.
How do I know if my card supports contactless payments?
Not all cards include contactless payment features—and not all terminals can accept contactless cards. But now that most newly issued cards are contactless-enabled, there's a good chance you'll soon have the ability to tap your card to pay. You'll know your card will work with contactless terminals if you see the contactless indicator on the front or back of your card. This symbol looks a bit like a series of parentheses where each one increases in size.
How do contactless payments work?
A few years ago, most cards were reissued to include an EMV chip, designed to offer a more secure way to pay compared to swiping a credit card through a terminal. Cards with EMV chips are inserted into the payment terminal and kept there until the payment has been processed.
Although these chips brought us a step closer to contactless payments, today's technology goes even further. In a contactless-enabled card, the EMV chip includes what is essentially a mini antenna that allows the card to communicate with a contactless card reader, processing payment without requiring the card to touch a terminal.
Are contactless payments secure?
Yes. In fact, contactless payments are more secure than older payment technologies that involve swiping a card, handing a card over to an employee at the point of sale, or signing paper receipts.
When a contactless payment is initiated, a one-time code that's completely unique to that transaction is assigned. It doesn't include any sensitive information about the cardholder such as their name, billing address or zip code. It also doesn't include the 3-digit CVV code, which is typically required to make a purchase online or over the phone. Plus, contactless payments eliminate the need to sign a paper receipt or enter a PIN. This lowers the risk of sensitive information falling into the wrong hands.
Of course, it's still a good idea to track your transactions with card alerts and review your statements regularly for any unusual activity. Learning how to spot and prevent fraud will help you keep your finances safe and ensure peace of mind regardless of how you choose to pay.
Are there drawbacks to contactless payments?
The biggest drawback to contactless payments today is that it's still a relatively unfamiliar technology to many cardholders and employees at the point of sale. Like any technology, user error can be an issue with contactless payments. But given that it's a secure and convenient way to pay that's gaining traction in businesses every day, contactless is a technology worth learning to use.
---
Tap to pay with a First Citizens credit card
Our credit cards support contactless payments, digital wallets and other convenient features.
Insights
A few financial insights for your life
This information is provided for educational purposes only and should not be relied on or interpreted as accounting, financial planning, investment, legal or tax advice. First Citizens Bank (or its affiliates) neither endorses nor guarantees this information, and encourages you to consult a professional for advice applicable to your specific situation.
Links to third-party websites may have a privacy policy different from First Citizens Bank and may provide less security than this website. First Citizens Bank and its affiliates are not responsible for the products, services and content on any third-party website.