Security · July 01, 2021
Prevent Card Fraud With Alerts
We all worry about having one of our debit or credit card numbers fall into the wrong hands, imagining not only headaches and inconveniences but potential damage to our credit and financial wellbeing. Are there easy yet effective ways to lower the risk of fraud and give ourselves peace of mind?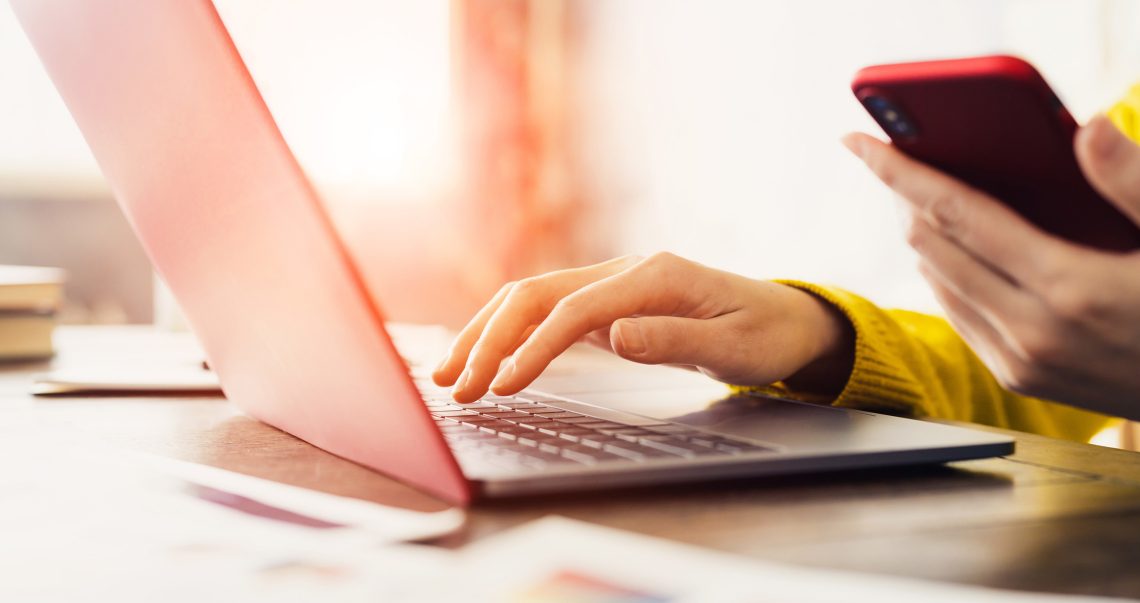 One of the easiest ways to prevent card fraud is by using built-in protections from your bank and credit card issuers. Card alerts can help you keep a watchful eye on your accounts while offering peace of mind for your overall finances.
---
What are card alerts?
Card alerts notify you in a variety of ways when different activities occur on your debit or credit cards. Some of the most common activities you can monitor include:
Spending: Get an alert whenever your card is used or when a transaction exceeds a pre-set limit.
Balance: Some issuers send you notifications when your balance exceeds a certain limit.
Payment Due: Get reminders when your bill is due to avoid missing payments.
Online Security: Be alerted when someone might be trying to log into your online banking account.
The card alerts you can receive will vary by the card issuer. Reach out to your bank or card issuer to explore the options available to protect your cards.
How can alerts help prevent card fraud?
One of the most important features card alerts offer is the ability to monitor your card use. By customizing your alerts, you can set reminders to reinforce your financial goals while keeping watch over your card activity.
Alerts can also help you keep an eye out for spending that looks fraudulent, whether it's the result of outright theft or a child using a card without a parent's permission.
Card alerts can notify you within minutes if there's unauthorized activity on your account. Your bank is familiar with your spending habits and can send you alerts when a transaction seems out of character. They can also flag purchases that occur far from your home address or in unusual locations.
It's always a good idea to review your transactions regularly, but card alerts work to protect you around the clock, providing an extra layer of security and peace of mind.
How to set up card alerts
It's important to choose a card issuer or bank that offers robust protection options. Once you determine the alert types available for your card, you can activate them within your bank's mobile app or online banking platform.
Depending on the card issuer, you can choose one or more delivery methods for each alert, such as text message and email. As you set up your alerts, you can review your contact information to make sure they can reach you. Setting up text message alerts that go straight to your mobile phone is a great way to protect yourself.
It's also free to set up these card alerts on most accounts when you set them up directly with the bank or card issuer. There are third-party paid services which offer similar fraud alert services. However, you might be able to find all the protection you need at no additional cost, directly from your card companies.
You never know when an alert might appear, signaling a transaction you didn't authorize. With card alerts, you'll have a head start if fraudsters ever come calling, and you can likely prevent additional losses before they happen.
Insights
A few financial insights for your life
This information is provided for educational purposes only and should not be relied on or interpreted as accounting, financial planning, investment, legal or tax advice. First Citizens Bank (or its affiliates) neither endorses nor guarantees this information, and encourages you to consult a professional for advice applicable to your specific situation.
Links to third-party websites may have a privacy policy different from First Citizens Bank and may provide less security than this website. First Citizens Bank and its affiliates are not responsible for the products, services and content on any third-party website.