Investing · March 18, 2021
How to Help Black-Owned Businesses: 3 Ways to Start
COVID-19 has caused severe economic hardship for many small businesses, but some business owners have experienced the financial impacts disproportionately.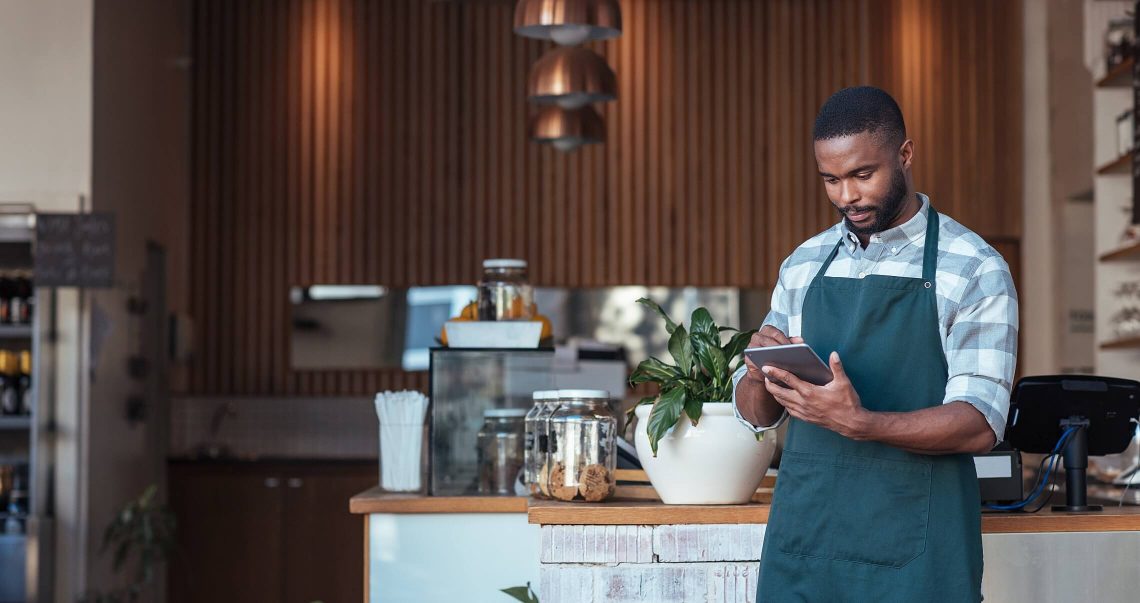 Black-owned businesses have suffered greatly during the pandemic. The number of Black-owned businesses decreased by 41% between February and April 2020—more than any other group.
To be clear, Black-owned businesses face challenges even during good economic times, including unequal access to funding, resources and mentorship. If you're exploring how to help Black-owned businesses in your community, here are three ways to contribute.
---
1

Shop at Black businesses

A recent study found 66% of Black small-business owners worry about permanently closing, compared to 57% of non-minority business owners.

Shopping and purchasing from Black-owned businesses is one of the most effective ways to make an immediate impact. Rather than purchasing your next book or home decor item from Amazon or a big-box retailer, you could find a local or online business to support.

If you like to eat out, some food delivery apps have a section where they highlight and promote Black-owned restaurants or enable you to easily search for these restaurants. A quick Google search or visit to your city's economic development organization can also help you find Black-owned businesses in your area to support.
2

Support local business and economic development organizations

While you can buy directly from Black-owned businesses, you can also support local foundations and organizations that lift up these entrepreneurs. Many of these organizations put on local or virtual events to showcase businesses, provide business development and training opportunities, and may need mentors.

If you have a specific skill set that could benefit these businesses—whether it's marketing expertise or previous experience running your own business—consider working with these organizations to help Black-owned businesses. How you support these businesses doesn't only have to be financial. Your time and knowledge are just as valuable.
3

Make strategic charitable donations

Several organizations, including the Association for Enterprise Opportunity, help facilitate funding for Black-owned businesses through partnerships with community lenders and banks. You can support their efforts by making a direct donation or by participating in its MainStreet RISE initiative, which connects small businesses with others who want to help.

You also can reach out to local philanthropic organizations that provide grants for Black-owned businesses and ask if you can make a donation. If you don't know how to find these organizations, consider crowdsourcing this information from friends and family on Facebook, Twitter or Instagram. You could even put the word out to your connections on LinkedIn that you're looking for a local business to support in the form of a direct grant. Once you get recommendations and do some due diligence, you can reach out to the business owner with funding.

Another option is to identify a GoFundMe campaign you'd like to support. There are currently hundreds of fundraisers on the platform dedicated to Black-owned businesses, so you can likely find a business owner you can help in your local community or nearby.
Making an impact
You can make a positive impact in both big and small ways—the key is to start. Like many small businesses, Black-owned businesses are in need of financial support and other resources that can help them sustain their operations long term. Even if you can't afford to give money, think about how to help in other ways, such as:
Writing a positive online review of a business you've patronized or visited in the past
Posting on social media to encourage others to buy goods or services from different businesses
Volunteering to help a business owner with their annual strategic planning
Making introductions that can help an entrepreneur access funding, land a government contract or expand their customer base
You work hard to earn and save your money, and where you spend it reflects your values. By supporting Black-owned businesses, you'll also support your community's economic growth and contribute to advancing racial, social and economic justice across our society.
Insights
A few financial insights for your life
Links to third-party websites may have a privacy policy different from First Citizens Bank and may provide less security than this website. First Citizens Bank and its affiliates are not responsible for the products, services and content on any third-party website.
This information is provided for educational purposes only and should not be relied on or interpreted as accounting, financial planning, investment, legal or tax advice. First Citizens Bank (or its affiliates) neither endorses nor guarantees this information, and encourages you to consult a professional for advice applicable to your specific situation.