Technology · December 02, 2021
6 Best Small Business Podcasts to Add to Your Playlist
If you're a small business owner looking to accelerate growth or better grasp trends in your industry, the best small business podcasts can offer just what you need. Millions agree, and podcast listenership is skyrocketing. As of early 2021, 62% of the US population, ages 12 and older, are weekly podcast listeners—that's roughly 176 million people. In fact, there are now more weekly podcast listeners than Netflix account owners in the US.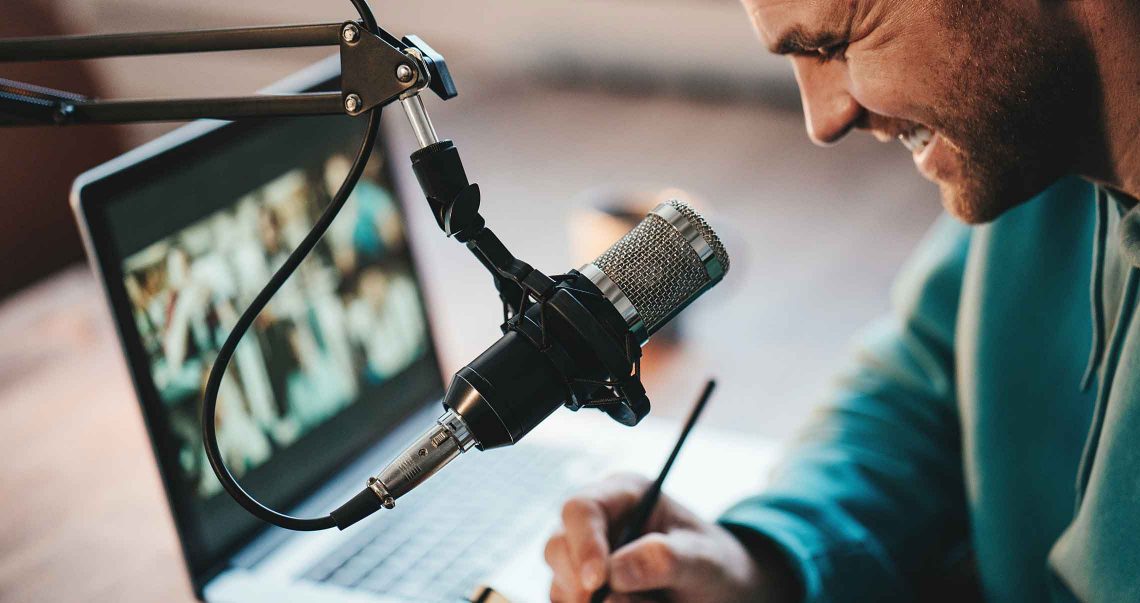 ---
The pandemic is forcing small business owners to seek out new sources of inspiration when homebound. Small business podcasts offer both portability and accessibility, letting listeners sit in on conversations with movers and shakers in the field.
Benefits of small business podcasts
Getting a business off the ground doesn't just take muscle and stamina, it takes brainpower and business savvy. You might not have the financial resources for professional business coaches or an MBA degree, but with the best small business podcasts, you can receive low- or no-cost training on a weekly or daily basis.
Many of the best small business podcasts are hosted by fellow entrepreneurs who understand the unique challenges small business owners face. These hosts look for a competitive edge to keep their podcast relevant to the fast-paced nature of small businesses. By bringing in thought leaders throughout the business landscape, they provide deep insight into your industry, especially regarding business trends and how to find opportunities in them.
Small business podcasts also tend to have a single theme per episode. This makes it easy to tailor the content to your business's most pressing needs—from financial management and social media marketing to starting your small business in challenging times and beyond.
6 top small business podcasts
With so many business podcasts out there, it may take some time to find the ones that best fit you and your business's unique needs. Start with this list of top-ranked podcasts tailored to small business owners.
1

StartUp

The earlier seasons of StartUp tell the story of Gimlet Media founder Alex Blumberg's efforts to get Gimlet off the ground and achieve the success it enjoys today. Listeners can hear first-hand about the chaos and struggles that come with launching a new business. Each season reboots with a different business starting up, so listeners can glean knowledge from a broad array of industries.
2

HBR IdeaCast

For small business owners looking for big ideas, HBR IdeaCast connects you with recognized leaders in business and management. This weekly podcast from the Harvard Business Review features industry leaders, authors, investors and executives who offer a wealth of experience and insight to apply to your business.
3

Talking Squarely

Created by Square, a leader in small business payroll and payments, the Talking Squarely podcast aims to help small business owners get frank insights on the reality of running a business. Through a stream of guests, all of whom are independent business owners, listeners can get regular straight talk on the challenges that come with running a business—from work-life balance to finance and more.
4

Marketing Over Coffee

Hosted by John J. Wall and Christopher S. Penn, Marketing Over Coffee focuses on both classic and new marketing. Each episode offers a quick 20-minutes-or-less blast of insight on topics like social media marketing, SEO and even non-digital marketing. With episodes dating back to 2007, there's a wealth of information to mine.
5

How I Built This

You know the brands, and now you can get to know the journeys behind them. The How I Built This podcast by NPR features the founders of some of the world's leading businesses—all of which started as small businesses. For growth-minded small businesses, this is definitely a podcast to put high on your playlist.
6

Business Schooled

Hosts Alex Ohanian, co-founder of Reddit, and Soraya Darabi, founder of the early-stage venture firm TMV, share the microphone with entrepreneurs who've reached new levels of success. Each episode of Business Schooled offers essential education. It covers adapting to changing times, baking beliefs into your business plan, incorporating new technologies or getting back up after you've been knocked down.

As business changes, so too should your strategy. Through conversations with leaders in your industry, these best small business podcasts can show you the way. At the simple touch of the play button, you just might find the advice you've been looking for and the tools you need to take your business to the next level.
Insights
Financial insights for your business
This information is provided for educational purposes only and should not be relied on or interpreted as accounting, financial planning, investment, legal or tax advice. First Citizens Bank (or its affiliates) neither endorses nor guarantees this information, and encourages you to consult a professional for advice applicable to your specific situation.
Links to third-party websites may have a privacy policy different from First Citizens Bank and may provide less security than this website. First Citizens Bank and its affiliates are not responsible for the products, services and content on any third-party website.