Technology · June 25, 2020
How to Improve Customer Service Through Technology Investments
Providing great service isn't just a nice-to-have—it's an integral component of business success. Many consumers, if not most, will pay more for products from businesses that deliver a great customer experience. If your reputation for customer service sets you apart from the pack, you might find your business steadily pulling ahead of competitors.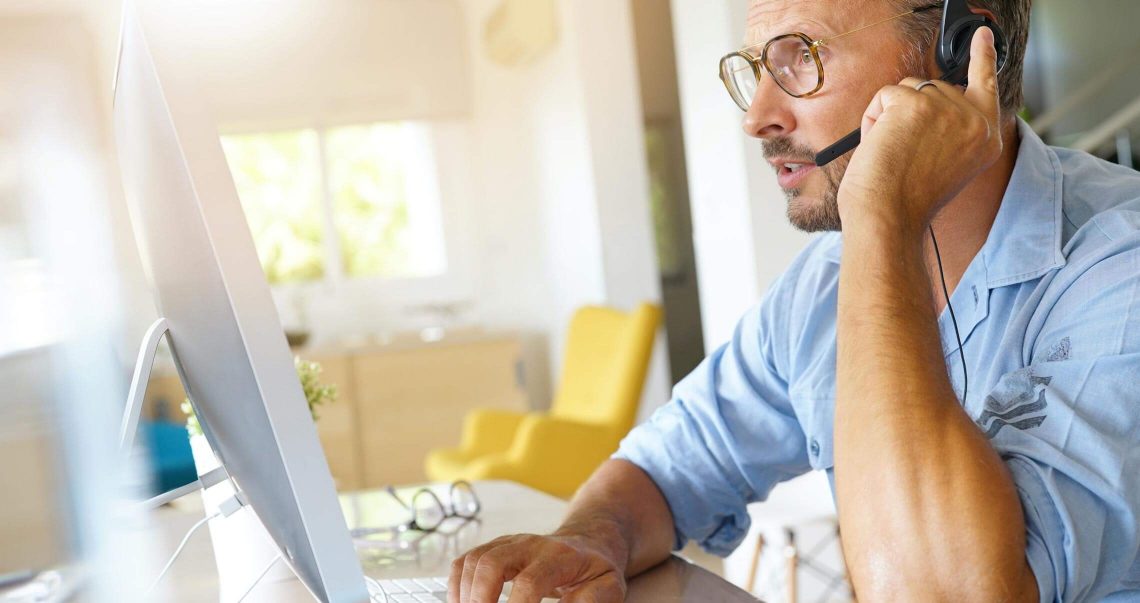 As your business grows, so does the number of customer relationships and touch points you need to nurture and manage, and that can be time-consuming. Fortunately, you can invest in technology to streamline and improve customer service efforts. These four types of software offer innovative capabilities that can help you deliver an experience your customers won't forget.
---
1

CRM software

Customer relationship management, or CRM, software, such as Infusionsoft or Salesforce, helps you keep track of individual customer data based on purchase and browsing history, interests and points of contact—emails, phone calls and the like.

You can use this customer data to personalize the customer experience, offering customized communication, deals and campaigns. Shoppers want to feel valued, especially to the businesses they support, and personalizing your website and marketing efforts will help you deliver an experience that makes them feel seen and heard.
2

Help desk solutions

Another tech investment to consider is a help desk solution, such as Zendesk or Freshdesk. Help desk systems improve the customer experience by providing information to your staff members so they can answer questions and turn interactions into relationships.

When a customer contacts your company with a problem, help desk solutions give your team information about the customer so you can deliver more personalized support. Your staff will have details about a customer's past interactions with your company so that they can deliver a quick resolution to issues and provide the best customer experiences.
3

Live chat

Prospective customers who visit your website want to find answers to their questions right away, but many of them don't want to pick up the phone. Instead, they may prefer to chat with someone online in real time. Instant communication helps companies interact with prospects quickly and efficiently to convert them to customers.

Live chat technology is an instant messaging feature that's built directly into your company's website. Customers who visit the site can speak with a live representative or a chat bot to help them get the answers and support they need. In fact, they may be more likely to return to the site if it provides a streamlined, positive experience in their buying journey. You can set chat windows to pop up at crucial points in the funnel on your website, offering assistance if the customer has questions and potentially speeding their path to conversion.

Live chat also lets agents chat with multiple people at a time, which they can't do via phone. The systems are smart enough to assign weight to specific conversations, they agents don't get overwhelmed and can focus on the most important ones. For instance, if one agent is talking to someone about a potential new sale, that chat would be weighted higher than an agent answering a quick question about their estimated delivery date.

If you're already using some messaging tools, don't worry. Chat systems often integrate with other forms of customer communication, such as Facebook Messenger, so everything is in one place.
4

Social listening tools

Your customers are on social media, and they may be talking about your brand. If they have an issue, most expect to receive an immediate response. Instead of spending time hunting around the many social media sites, enlist the help of social media listening tools, such as Hootsuite or HubSpot, that help you monitor platforms for direct mentions. You can also get alerts on discussions of keywords, competitors or industries that are important to you so you can enter the conversation and engage with potential customers.

In addition to keeping track of social media interactions, social listening tools can provide helpful analysis about which posts and campaigns generate the most engagement. If you know what your audience responds to, you can make better decisions about what types of content improves their opinion of your brand.
Experience impacts your bottom line
A customer's experience is becoming the biggest differentiator when it comes to their buying decision—in some cases, it can be more important than price. Make sure you have the capital necessary to apply the customer service technology improvements that can drive your long-term success, implementing productive and positive customer interactions. When you improve customer service, you improve your business and its reputation.
Insights
Financial insights for your business
This information is provided for educational purposes only and should not be relied on or interpreted as accounting, financial planning, investment, legal or tax advice. First Citizens Bank (or its affiliates) neither endorses nor guarantees this information, and encourages you to consult a professional for advice applicable to your specific situation.
Links to third-party websites may have a privacy policy different from First Citizens Bank and may provide less security than this website. First Citizens Bank and its affiliates are not responsible for the products, services and content on any third-party website.