Security · April 28, 2022
4 Cloud Security Best Practices for Organizations
Cloud adoption continues to accelerate as businesses use cloud collaboration tools to send emails, participate in video calls and share documents across geographic boundaries. Worldwide use of the cloud is forecast to grow 20.4% in 2022 to total $494.7 billion in global spending, up from $410.9 billion in 2021. In 2023, that spending is expected to reach nearly $600 billion.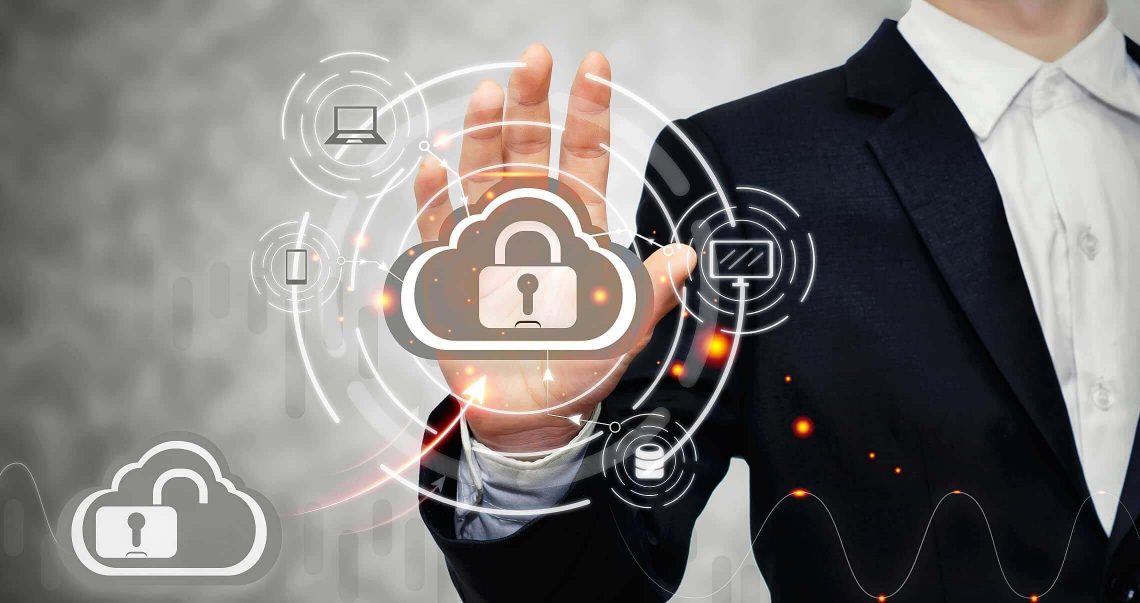 Though cloud-based applications are an invaluable business tool, these technologies can create cybersecurity risks, depending on where and how employees use them. That's why it's crucial for companies to adopt cloud security best practices as they integrate more of these applications into their operations.
---
What are the business benefits of the cloud?
The cloud powers a range of data-intensive technologies, such as customer relationship management platforms, virtual call centers, email and video conferencing platforms, and document sharing tools—all of which offer appealing benefits to nearly all industries.
Cloud technologies, which store and transfer data through virtual servers, drive automation and reduce manual and paper-based processes that consume too much employee time. For example, cloud-based document management and file-sharing systems save time and paper, as employees don't have to print, mail or fax as many documents.
The cloud also fuels real-time collaboration through video conferencing and instant messaging platforms that allow employees to communicate and share ideas across time zones—key for organizations with distributed workforces.
With the cloud, it's easier for organizations to upgrade and extend the life cycle of their technologies because they don't have to replace expensive hardware and instead can make software updates to expand the capabilities of their solutions. This helps companies increase the return on their technology investments.
However, even with all these benefits, the cloud presents significant risks.
Cloud security risks
More cloud-based applications mean more IT complexity. Organizations must work even harder to manage and keep all these applications—and the data they store—as secure as possible. However, if your company doesn't have the financial or staff resources to do this, it can lead to security gaps.
Another risk is that applications connecting to your business's wireless network provide another entry point for hackers to access your company's private data. There's also risk associated with weak password security, lost devices and often poor cybersecurity awareness among employees. The last, particularly, makes it more likely they'll click on a malicious link or download an unauthorized application that they then connect to your company's network, putting your critical data and systems at risk.
As a result, it's essential for businesses establish best practices for cloud security management.
Cloud security best practices
Here are four cloud security best practices to integrate into your cloud management:
1

Keep technologies updated

If your solutions aren't updated with the latest security patches, it's easier for hackers to gain access. Make sure all the cloud applications your organization uses are immediately updated with the latest patches from your software provider, and, if possible, automate this process. If you're using outdated software or hardware, consider purchasing updated equipment with the latest security features.
2

Implement security policies

As more companies adopt remote work, implementing strong security policies is a must. These policies should govern who has access to certain data and systems, institute guidelines for auditing and system monitoring, and stipulate security protocols for employees, such as with passwords, unauthorized applications, company-owned devices and public Wi-Fi.
3

Encourage good cyber habits

Along with strong cybersecurity policies, your company can take steps to build employees' cybersecurity awareness through ongoing training and communications. Employee negligence and poor cyber behavior contribute to many security breaches, so teaching employees to identify what a phishing email looks like, or the different approaches hackers use to infiltrate a network, can strengthen your company's security significantly.
4

Invest in the right tools

Ideally, any cloud solution your company adopts should come with built-in security features. However, it's also crucial to understand your software provider's overall approach to security and the ongoing measures it takes to protect its applications—and your data—from hackers. Your provider should have strong data encryption policies and a multilayered approach to security that makes it easier to detect and combat security threats before a breach happens.

By following these cloud security best practices, your organization can leverage the cloud to reduce your security risks, increase your agility, better serve your customers and build your competitive advantage.
Insights
Financial insights for your business
This information is provided for educational purposes only and should not be relied on or interpreted as accounting, financial planning, investment, legal or tax advice. First Citizens Bank (or its affiliates) neither endorses nor guarantees this information, and encourages you to consult a professional for advice applicable to your specific situation.
Links to third-party websites may have a privacy policy different from First Citizens Bank and may provide less security than this website. First Citizens Bank and its affiliates are not responsible for the products, services and content on any third-party website.