Cash Management · December 17, 2020
How to Accept Business Credit Card Payments
From digital wallets and online payment services like PayPal and Stripe, customers now have several ways to pay businesses for their services—many of which don't involve any physical cash changing hands.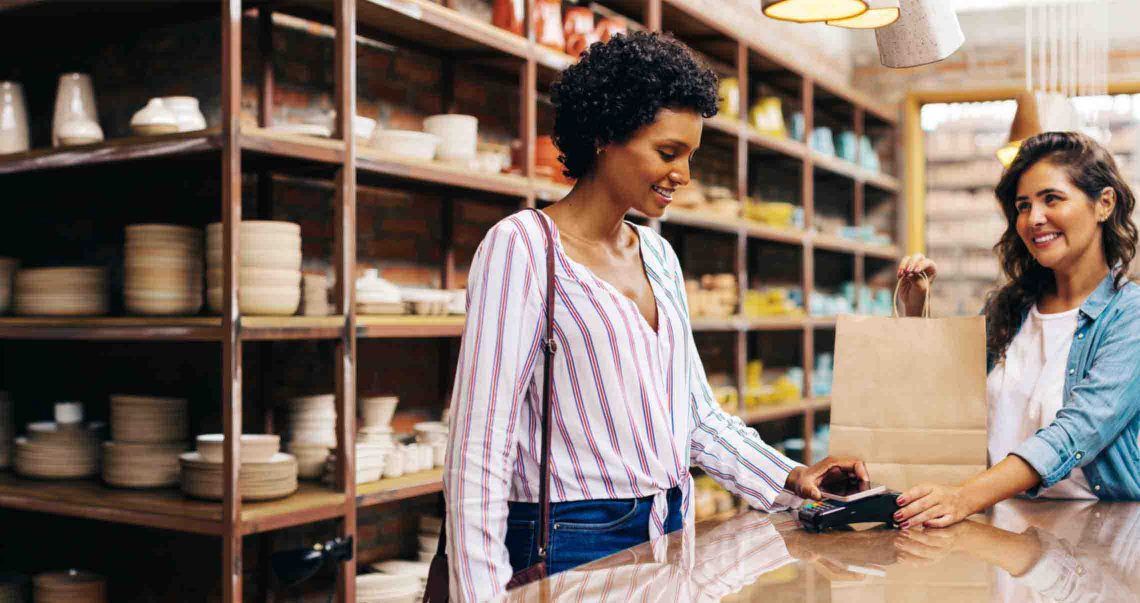 ---
Credit cards fall into this category and are often the anchor of digital payment solutions. Accepting credit card payments is one of the many electronic payment methods that can help your business better serve customers. However, this comes with cost and technology considerations. Here's what you need to weigh as your business figures out how to accept credit card payments.
Getting started with credit card payments
Accepting credit cards involves a complex back-end process that requires sending data between systems to confirm funds are available, transferring them into the right account and ensuring there's no potential fraud. As a business owner, it's likely difficult to manage this process on your own. That's why most businesses either decide to open a merchant account or use a third-party merchant services provider.
The approach you choose depends on the nature of your business. If you handle a large volume of payment transactions or are an online-only business, opening a merchant account may be the most cost-effective option. With this setup, you'll typically pay a flat monthly fee and a lower fee per transaction. A merchant account is a bank account that allows you to accept and process credit card payments. You can then transfer accepted payments into your business bank account because you can't withdraw money directly from a merchant account. You can open a merchant account through your local bank or a merchant services provider.
Using a merchant services provider might be the best option if you're a small business that doesn't have high sales volume. These providers often don't charge a monthly service fee, and the setup costs are typically lower than with merchant accounts. However, in return, you often have to pay a percentage of the transaction costs to the payment processor, along with a higher fee per transaction. For example, Stripe, a leading payment services provider, charges 2.9% plus a $0.30 fee per transaction.
You'll have to weigh the costs of each of these options, plus the features and services they provide, when deciding which approach is best for you.
Creating an omnichannel experience
Once you decide between a merchant account or payment services provider, learn how to accept credit card payments and what systems work best.
If you'll accept in-store payments, you'll need a point-of-sale system or credit card reader, which customers will use to swipe their cards. This system also will handle all the back-end processes required to complete the transaction.
If you'll accept online payments, it's a good idea to use a secure online payment gateway like PayPal, Stripe or Square. You'll also need to integrate these solutions into the user experience on your website—the most common option is a shopping cart that customers can use to check out and purchase their items. Many of these payment gateways also allow you to accept mobile payments. All you need is a physical card reader that attaches to your smartphone and an accompanying mobile app that will handle processing these payments.
One thing to consider with these options is that you'll need to offset the costs. You can do so by integrating merchant and provider fees into the cost of your products or services. You might also consider setting a minimum threshold for credit card payments, such as only for charges $20 and above. Check for any state laws, as well as federal guidelines, regulating how you set these limits.
Questions to ask your bank before accepting credit card payments
If you plan to accept credit card payments—especially if you'll open a merchant account at your bank—be sure to ask the following questions:
What are the costs?
What features come with the account?
What types of payments do you process—online, in person or mobile?
Do you use a third-party provider for payment processing, and how long does it take them to process transactions?
When is customer service available if I have a problem?
Do you offer a mobile app experience?
What are your security and fraud detection capabilities?
Understanding these factors can ensure you do the proper due diligence before accepting credit card payments.
Although card transactions come with increased expenses, using them can benefit your business. Accepting credit cards can reduce manual processes associated with managing cash, help you track business expenses, increase your revenue and provide a better payment experience for customers. Customers want to do business with companies that make it easy to interact with them. Offering credit card payments can give them a compelling reason to spend their hard-earned money with your business.
Insights
Financial insights for your business
This information is provided for educational purposes only and should not be relied on or interpreted as accounting, financial planning, investment, legal or tax advice. First Citizens Bank (or its affiliates) neither endorses nor guarantees this information, and encourages you to consult a professional for advice applicable to your specific situation.
Links to third-party websites may have a privacy policy different from First Citizens Bank and may provide less security than this website. First Citizens Bank and its affiliates are not responsible for the products, services and content on any third-party website.