Cash Management · March 30, 2023
Types of Payment Methods for Your Business
There are more types of payment options for small businesses to consider today than ever before. In-store tablets have arrived at the point of sale, e-commerce continues to thrive and contactless payments are growing in popularity.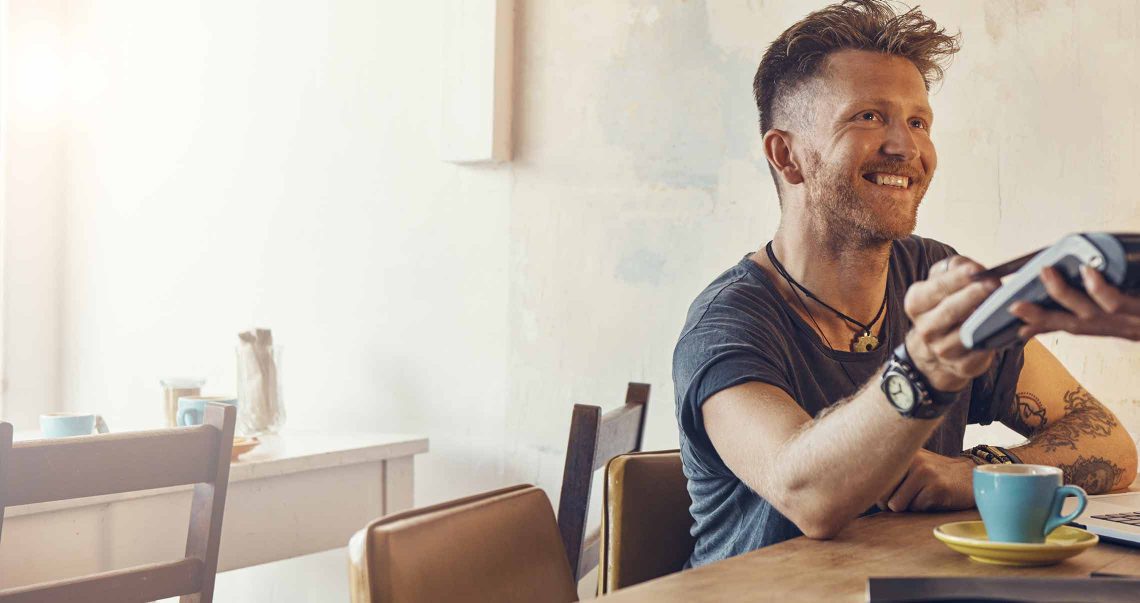 The key to sorting through these options is to find the ones that are convenient for your customers and that work well for your business. More than likely, you'll need a combination of at least a few types of payment options and at least one payment system—especially if you're conducting transactions both in person and online.
---
Types of payment methods
1

Cash

Many consumers still prefer to use coin and currency as a method of payment—especially for low-dollar purchases—and cash is the fastest way to get paid. There's no waiting for a check to clear or for credit or debit cards to be processed and funded.

However, there are some challenges with cash. Large volumes of bills must be stored safely and securely, it's often difficult to monitor chain of custody and there's no paper trail. There's also a high risk of shrinkage due to employee theft. Cash also requires an employee or third-party courier to deposit it at the bank.
2

Checks

Although consumer check usage has declined over the past decade, checks are still widely used to make rent, insurance and utility payments. Many businesses also prefer to use checks to pay vendors and suppliers.

The main disadvantage to checks is the time it takes to collect and deposit them due to mail float. To assist in expediting funds availability, businesses can leverage remote deposit capture and mobile deposit services to make the settlement process faster.
3

Credit cards and debit cards

Credit cards and debit cards are such widely used payment methods for businesses that not accepting these quick payments can impact your bottom line. No matter the size of your business or location of your customers, you'll need a merchant account to accept credit and debit cards. A merchant account is what approves your business to process card transactions and allows the funds to transfer to your business account.

Although there's a minor cost involved, the advantages often outweigh the expense. Accepting cards as a form of payment can expand your customer base, allowing you to reach clients outside of your existing footprint. It can also help improve sales and cash flow because consumers are most likely to spend more when they pay with a credit card over cash.

Card-processing options range from a standard desktop credit card terminal to point-of-sale, or POS, systems, mobile systems and online integrations. While implementation can be seamless depending on the option selected, keep in mind that systems integration or robust POS systems may take a bit longer to set up.
4

ACH direct debit

You can use automated clearing house, or ACH, transfers to pull money directly from a payer's checking account, allowing you to process funds quickly and more securely. All ACH transfers take place directly between financial institutions and are monitored by the National Automated Clearing House Association.

With ACH direct debit, customers input their bank account and routing information for electronic payments, and you can then deduct the purchase price directly from their account. Same-day ACH payment processing ensures clearing and settlement of ACH transactions within the same business day for faster funds availability.
5

Mobile and contactless payments

Accepting mobile and contactless payments can make checkout faster. Additionally, contactless payments tend to be more secure than traditional magnetic strip credit card payments because they rely on layers of secure technology and employ single-use tokens rather than bank account information to complete purchases, thereby helping to reduce payment fraud.

When customers link their credit and debit cards to mobile payments like Apple Pay®, Google Pay™ and Samsung Pay® they can use their mobile devices to make purchases in apps, on websites and contactless in stores without having to re-enter their credit card information for each purchase. The result is often a more seamless and convenient experience.

Most mobile phones and credit and debit cards are already equipped with contactless data transfer systems known as near-field communication, or NFC. Using NFC readers typically takes less time than chip card transactions.
Types of payment systems
Many of the ways people pay for goods and services today ultimately rely on payment systems. There are several types available for businesses to consider, but POS payment systems are among the most common.
1

Point-of-sale payment systems

Today's POS payment systems do more than process credit and debit card transactions. Many act like business hubs, where you can manage inventory, marketing, payroll, human resources and analytics that can help you grow your business.

This all-in-one solution—sold as a package based on your business's needs—is a good choice if you have a physical location. It offers a wide assortment of tools, and your business can be up and running quickly because the hardware and software are packaged together. Many POS systems are also intuitive and easy to use.

There are many options that offer customizable solutions as well. Whether your business accepts payments at a physical location or needs a mobile option for more flexibility, mobile POS systems continue to evolve and assist with payments on a smartphone or tablet.

If you've never used a POS system before, you'll have to upload your inventory and customer information first. Some POS systems come pre-programmed, so you might need to invest in greater customization if your business requires specific features and capabilities.
2

Third-party vendor platforms

You can also accept online payments with a third-party electronic vendor like PayPal or Stripe. Both are easy to use, and most e-commerce platforms allow users to add an integrated buttons to the checkout process.

A disadvantage of third-party vendors is fees. Generally, having a merchant account through your bank will mean lower transaction fees than a third-party vendor, although there might be setup or monthly fees. Check with your bank of financial institution to be sure.
The bottom line
Ultimately, choosing an electronic payment type—or even multiple forms of payment—should be about more than cost and efficiency. It's the last point in the sales process to provide your customers with a great experience.
By selecting a payment system that works best for your business while offering customers the flexibility and convenience of multiple methods of payment, you increase the likelihood of repeat business.
Insights
Financial insights for your business
Apple, the Apple logo and Apple Pay are trademarks of Apple, Inc., registered in the US and other countries.
Google Pay and the Google Pay logo are trademarks of Google, Inc.
Samsung and Samsung Pay are trademarks of Samsung Electronics, Ltd.
This information is provided for educational purposes only and should not be relied on or interpreted as accounting, financial planning, investment, legal or tax advice. First Citizens Bank (or its affiliates) neither endorses nor guarantees this information, and encourages you to consult a professional for advice applicable to your specific situation.
Links to third-party websites may have a privacy policy different from First Citizens Bank and may provide less security than this website. First Citizens Bank and its affiliates are not responsible for the products, services and content on any third-party website.
First Citizens Bank is a Member FDIC and an Equal Housing Lender icon: sys-ehl.