Business Credit Card Benefits
Convenient payments and protection for your business
Quickly find what you need below
Credit card benefits
Benefits for all business credit cardholders
When you open a First Citizens Visa® credit card account for your business, you're auto-enrolled in great benefits to provide added convenience and protection.
Coverage for travel and emergencies
Travel and Emergency Assistance is available for covered First Citizens credit cardholders from anywhere in the world.D
Auto rental collision waiver
Rent a car with your covered First Citizens credit card and get built-in Auto Rental Coverage.D
Purchase security
You'll get protection on new purchase within the first 90 days of buying them.D
Extended warranty
Extended warranty coverage can help you manage, use and extend any warranties you have.D
Expense tracking
Keep your personal and business finances separate.
Cash flow and improved credit
Help your business grow with added working capital.
Spending limit management
Get employee credit cards with spending limits you set at no additional cost.
Cell phone protection
Protect your cell phoneD when you pay your monthly bill with your First Citizens business credit card.
Special deals on dining, entertainment, shopping and more
Premium Rewards
Unique benefits for Premium Rewards cardholders
You're auto-enrolled in Visa Signature benefits when you open a Premium Rewards Business credit card.
Trip interruption coverage
Receive up to $5,000 per insured person for non-refundable tickets you paid for with your Premium Rewards card.D
Lost luggage reimbursement
Get reimbursed for up to $3,000 per trip per bag for any luggage that was lost, stolen or misdirected.D
Travel accident insurance
You're protected against financial hardship caused by an accident that occurred on a trip paid for with your Premium Rewards card.D
Visa concierge services
You'll get personalized information and assistance related to travel, dining and entertainment.D
Convenient ways to pay
From contactless payments to digital wallets, you have more ways than ever to quickly, conveniently pay for your purchases.
Just tap and pay for business on the go
Your credit card has contactless payment technology, which means you can tap to pay for purchases anywhere contactless payments are supported.
It's safe: Contactless helps keep your hands cleaner than exchanging cash or touching the terminal.
It's fast: Tapping your card to pay takes only a few seconds, making it quicker than swiping or inserting.
It's secure: Contactless payments use the same security as chip cards, generating a unique code for each transaction to help prevent fraud.
Look. Tap. Go.
At checkout, check for the contactless symbol
Tap your contactless card on the terminal
Your payment will be processed in seconds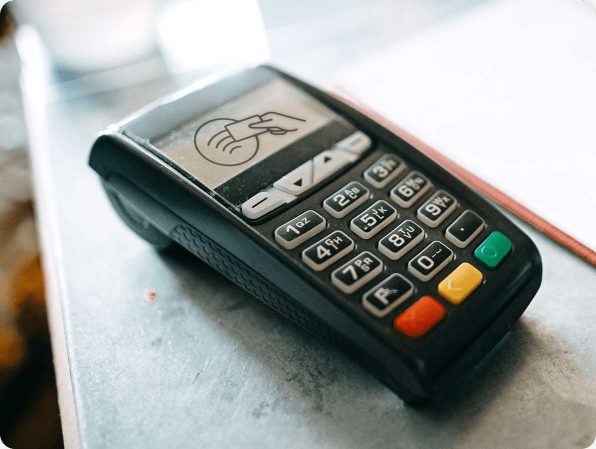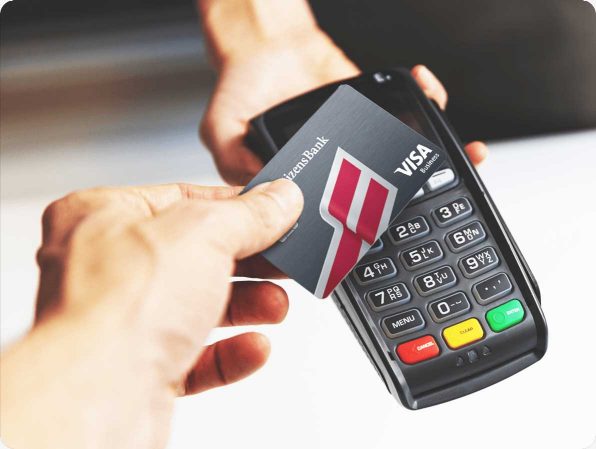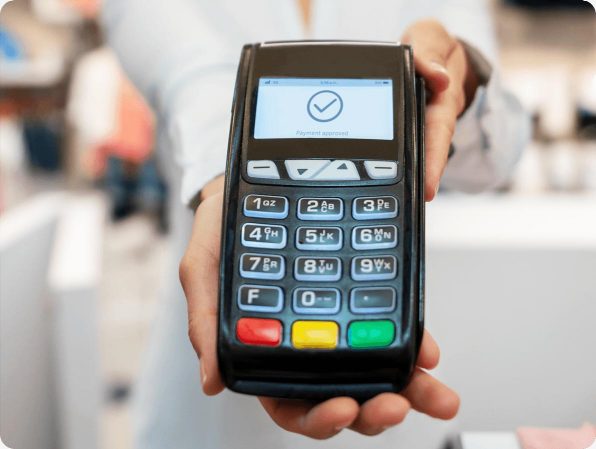 Look. Tap. Go.
At checkout, check for the contactless symbol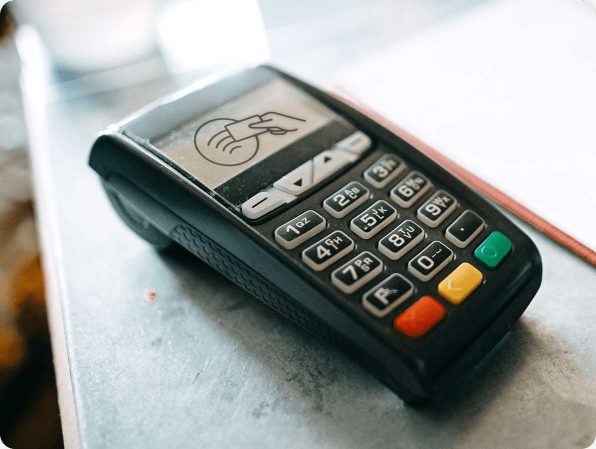 Look. Tap. Go.
Tap your contactless card on the terminal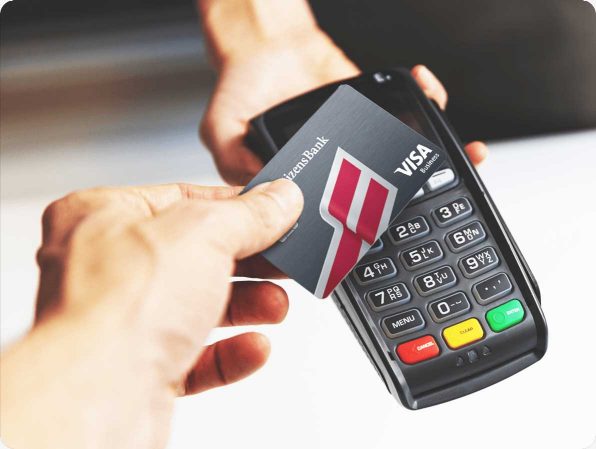 Look. Tap. Go.
Your payment will be processed in seconds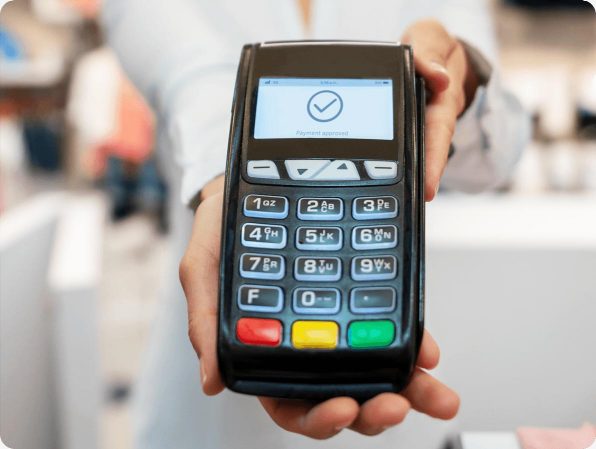 A simple way to pay to go cashless
Your smartphone's Digital Wallet is a fast and secure way to pay—and it works seamlessly with First Citizens Visa business credit cards.
Fraud protection
Along with your credit card benefits, First Citizens offers robust fraud protection services to help keep your cards and information safe.
Visa Zero Liability Policy
Protect your account from unauthorized transactions
The Visa Zero Liability PolicyD is a guarantee that you won't be held responsible for unauthorized charges made with your account or account information. You're protected if your Visa credit card is lost, stolen, or fraudulently used online or offline.
Set card alerts within Digital Banking
Businesses that use Digital Banking gain the added benefit of card alerts.
Get alerts for credit card transactions
Find out when your account number was used without a card present
Get payment due date reminders and balance alerts
Access card security services from your phone
Temporarily lock your credit card
Report a lost or stolen credit card
Notify us if you're traveling
Order a replacement
Manage additional users
Get in touch with us to learn more or apply for a credit card
What kind of business credit card rewards can you earn?
Insights
Grow your business with credit cards
Normal credit approval applies.
Cell Phone Protection is subject to a $100 deductible and maximum benefit limit of $600 per occurrence. Protection covers cell phones billed to your First Citizens Premium Rewards, Rewards or Cash Rewards Business Visa credit card, subject to a maximum of three claims, per rolling 12-month period. This benefit does not cover cell phones that are lost. Please read the Business Visa Credit Card Guide to Benefits: Cell Phone Protection (PDF) for complete details.
Visa's Zero Liability Policy does not apply to certain commercial card transactions or transactions not processed by Visa. First Citizens credit cards automatically protect you from liability for unauthorized transactions when you report them promptly. Please consult our Deposit Account Agreement for information on unauthorized transactions.
Links to third-party websites may have a privacy policy different from First Citizens Bank and may provide less security than this website. First Citizens Bank and its affiliates are not responsible for the products, services and content on any third-party website.
Bank deposit products are offered by First Citizens Bank. Member FDIC and an Equal Housing Lender. icon: sys-ehl.