Security · January 06, 2022
What Is a Digital Wallet?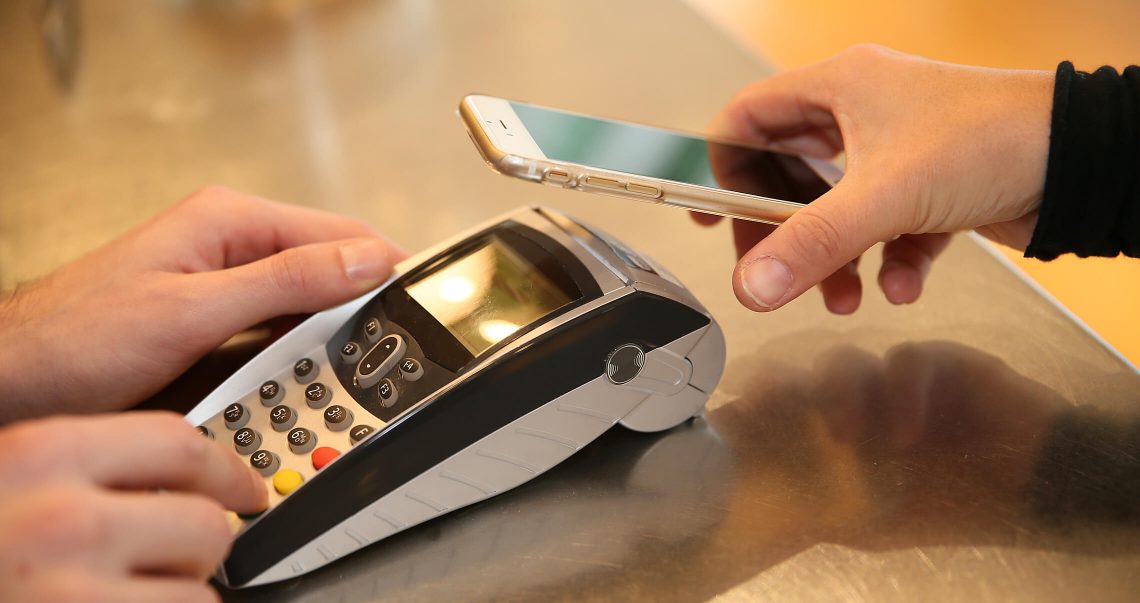 ---
Not only does this payment platform offer a convenient and contactless way to pay, usually through your mobile device, but it can also come with security features that help protect your payment information.
Before you open your own digital wallet, let's break down the basics.
How do digital wallets work?
Just as your actual wallet holds cash and debit and credit cards, a digital wallet carries digital versions of your payment methods in an app on your mobile device. So instead of presenting an actual card in-store or entering in your card number online, you can transmit the required information through your digital wallet, making for a fast, seamless and touchless exchange.
Digital wallets can also store non-financial information, such as airline boarding passes, loyalty reward cards, concert tickets, gift cards and coupons.
How to set up and use a digital wallet
To start using a digital wallet, you'll first need to choose a wallet app. There are dozens now available, but the most popular wallet apps are Apple Pay®, Google Pay® and Samsung Pay®. Some of your favorite merchants, like Starbucks and Dunkin' Donuts, even offer their own in-app digital wallets, too.
When you choose a digital wallet—ideally based on an analysis of your spending habits and security concerns—you'll manually scan or enter your credit card information into the wallet app. The app will then take you through a verification process with your bank or card issuer for security. Once that verification process is complete, you're ready to use your digital wallet at locations that accept mobile payments.
To pay in-store using a digital wallet, you'll hold your mobile device close to the payment terminal so your card information can be transmitted. Online, you'll select the digital wallet from your payment options and then complete the transaction with the stored card of your choice. Although not all merchants accept digital wallets, you can typically identify digital payment-friendly merchants through in-store signage and by looking for the contactless payment symbol, which looks similar to the Wi-Fi symbol, on payment terminals at checkout.
What are the pros and cons?
Now that you know what a digital wallet is and how to use one, it's time to figure out if using a digital wallet fits your financial habits and lifestyle. For that, it helps to know the pros and cons.
Pros of using a digital wallet
Paying with your mobile device. If you grabbed your phone but forgot your wallet on the way out, you can use your digital wallet to complete your transaction.
Less risk than carrying a physical wallet. If your wallet is stolen, you could be stuck freezing and replacing all of your cards. With a digital wallet, your actual card numbers are protected. Plus, your device has its own security system, requiring additional passwords to access your information.
Touch-free transactions. With no money changing hands or cards being passed back and forth, you can pay and go quickly and with less contact—something of particular concern during the pandemic and beyond.
Cons of using a digital wallet
Acceptance. While the number of merchants accepting mobile payments is on the rise, widespread adoption is still a ways away. You'll probably still need your wallet in many places.
Dead battery means no payment. If your phone battery is running low, you could be compromising your ability to pay, especially without a charger at hand.
Payment networks can go down. Your ability to pay with a digital wallet depends on both the payment network and contactless terminal functioning. If the technology isn't working, you'll need a backup payment method.
Digital wallets can offer both convenience and security for users, especially those who already use their mobile device regularly in daily life. If you're ready to give it a try, learn how to add your First Citizens debit or credit card to your digital wallet. It's easy, free and secure.
Insights
A few financial insights for your life
This information is provided for educational purposes only and should not be relied on or interpreted as accounting, financial planning, investment, legal or tax advice. First Citizens Bank (or its affiliates) neither endorses nor guarantees this information, and encourages you to consult a professional for advice applicable to your specific situation.
Links to third-party websites may have a privacy policy different from First Citizens Bank and may provide less security than this website. First Citizens Bank and its affiliates are not responsible for the products, services and content on any third-party website.