Security · January 13, 2022
How to Protect Seniors from Elderly Scams
Every year, scammers steal more than $3 billion from older adults. Elderly people are especially vulnerable to fraud because they may not be familiar with the evolving technologies that scammers exploit, and scammers are adept at telling convincing stories and preying on seniors' fears. Plus, some older adults may feel isolated or be reluctant to reach out for help when swindlers target them.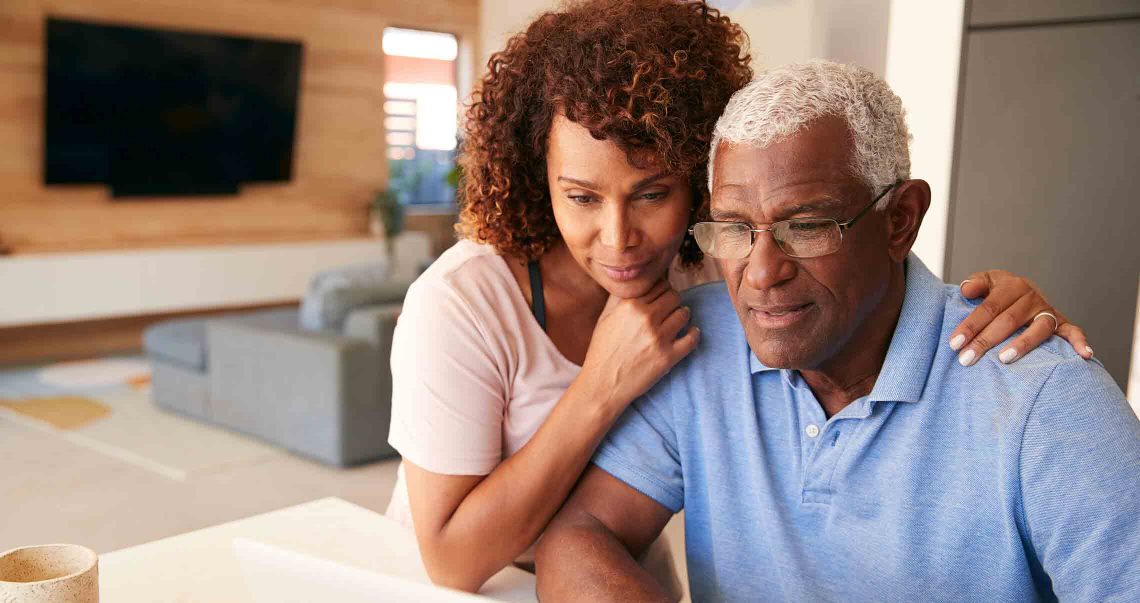 It's essential that people in seniors' support systems stay informed about elderly scams so they can help protect their loved ones.
---
Common types of elderly scams
Be on the lookout for these common financial scams that are frequently aimed at seniors.
Grandparent scams: The caller poses as a grandchild and claims to have been arrested or fallen into legal trouble. The caller tells the victim to send money to pay bail or cover legal fees. In some cases, the caller may even send someone to the victim's door to collect cash in person.
Phishing scams: The scammer sends the victim an email or text that appears to be from a legitimate company, like a bank. It asks the victim to log in to an account or confirm identifying information. The scammer can then use this information to access the victim's account. Being vigilant can help seniors detect and avoid phishing attacks.
Law enforcement impersonation scams: The caller claims that the victim has violated a law and must pay a fine or be arrested. In other forms of a government impersonation scam, the caller pretends to be from the Social Security Administration, the IRS or another government agency, demanding that the victim pay fees to avoid losing benefits or facing charges.
Romance scams: The scammer contacts the victim through a dating or social networking site and pretends to be interested in a romantic relationship. The scammer then claims to be in a crisis and tells the victim to send money. It's also common for romance scammers to ask for reloadable cards or gift cards.
Investment scams: The scammer claims the victim can invest in a startup, real estate deal or other business venture and earn outrageously large, guaranteed returns. Investment fraud often depends on shared affinity, such as religion or ethnicity, to build trust and take advantage of the victim.
Charity scams: The caller pretends to represent a fictitious charity and asks the victim for a donation. To avoid scams like these, it's important to thoroughly research any charity before deciding to donate money.
Bad check or overpayment scams: The scammer sends the victim a check, usually for a large sum of money, then contacts the victim and asks that they return the accidental overpayment. The scammer's check eventually bounces, but if the victim doesn't realize this and sends payment, the victim loses the money.
Common signs of a scam
The details of particular scams may vary, but they typically have a few features in common.
The scammer pressures the victim to pay right away.
The scammer often demands that the victim send money through a specific channel, such as a payment form at a URL the scammer provides.
The scammer may warn the victim not to consult others about the matter.
The scammer's claims can't be independently verified.
Fortunately, there are ways you can help keep your loved ones safe from these types of attacks.
How to keep your loved ones safe
To help older friends or relatives stay safe from elderly scams, let them know that they can come to you if they're ever concerned about a call, text or email. Tell them they shouldn't give money or sensitive information to anyone until they've checked the facts, ideally with the help of a trusted person.
Some seniors may benefit from reminders not to share their bank accounts or credit card numbers with anyone who contacts them. You could suggest taping notes to their phone case and computer to help them remember.
Show your loved ones how to switch between calls and how to forward texts and emails. If they're unsure about someone who's calling them, they can get a trusted person on the line to help, or they can forward texts or emails to that person to look into them further.
You might offer to help your loved ones review their bank statements and check their credit reports regularly to make sure everything is in order. You could ask if they'd like their bank to send account alerts to someone they trust or if they want to set up a credit freeze for extra security.
Many seniors can successfully steer clear of scams with help from supportive relatives or friends. But those who are living with serious cognitive impairments might need a trusted person to provide more oversight of their finances, such as by acting as their power of attorney.
Scammers count on elderly people being alone and vulnerable, and you can prove them wrong by being there for the older adults in your life. By sharing information and offering to help your loved ones stay safe, you can fight fraud and protect the people you care about.
Insights
A few financial insights for your life
This information is provided for educational purposes only and should not be relied on or interpreted as accounting, financial planning, investment, legal or tax advice. First Citizens Bank (or its affiliates) neither endorses nor guarantees this information, and encourages you to consult a professional for advice applicable to your specific situation.
Links to third-party websites may have a privacy policy different from First Citizens Bank and may provide less security than this website. First Citizens Bank and its affiliates are not responsible for the products, services and content on any third-party website.