Home · June 09, 2022
Home Renovation: Pros and Cons
If you're thinking of launching a major renovation on your home, you're not alone. Home improvement and repair spending is expected to reach more than $430 billion by the fourth quarter of 2022, up more than 17% from the fourth quarter of 2021, according to the Joint Center for Housing Studies at Harvard.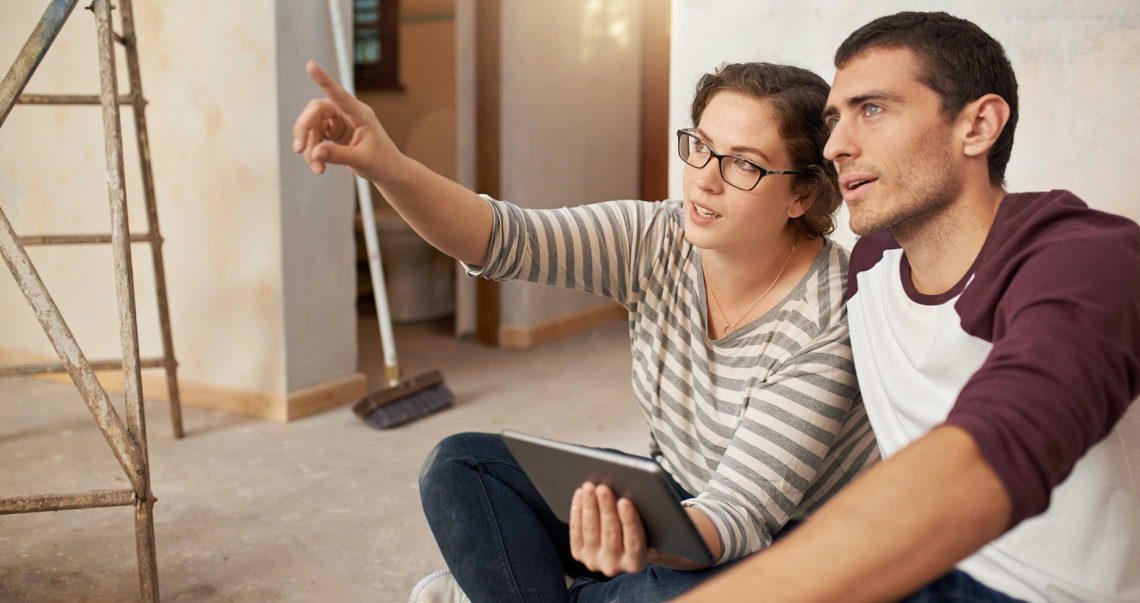 ---
Reasons to renovate
The tight existing housing market has something to do with the drive to renovate. Even though the sales of newly built homes plunged 16.6% in April from the month before, weakened by rising interest rates, the selection of already-built homes remained tight, especially in the nation's hottest markets. So more homeowners than usual have chosen to stay in place and rebuild rather than move out and buy.
There are other good reasons to consider the pros and cons of remodeling a home, including:
Customization. Want your dream kitchen with detailed touches, like a produce sink and built-in wine cooler? Or your dream bathroom with skylights, all the best fixtures and a connected walk-in closet? Or just more room for the kids? You can turn your own house into the house of your dreams. If you buy on the open market, you're often stuck with some of your wish list but not everything.
Energy efficiency. Renovations are a great opportunity to increase your home's insulation efficiency and HVAC efficiency, or maybe to add a sustainable energy source like solar to your mix. Depending on the age of your current house and the efficiency of your new equipment, the upgrades could save you some significant dollars over time. ENERGY STAR®, a federally backed program that promotes energy conservation through smarter technology, estimates that the owner of an average 1970s to 80s-era house in the the Carolinas could save 8% to 12% on their annual utility bills just by upgrading their home sealing and insulation. Further north, the savings are potentially much more.
Updated style. You can bring your whole house up to today's design standards without accepting the now-out-of-fashion cabinets, fixtures, moulding or floor coverings you're likely to find in a house that is a decade or so old.
Reasons for caution
On the other hand, the potential hassles and hidden costs of a renovation aren't for everyone. Here are a few things to consider:
Complexity. Major home renovation and new construction loans are very different from traditional mortgages and can be quite complex. Smaller projects can be handled with simpler forms of home loans, such as an unsecured home improvement loan or home equity line of credit, commonly known as a HELOC. Be sure to find a banker who has experience with all sorts of home loans in your area to guide you through the process, especially if your project is veering closer to a total remodel than a one- or two-room tweak.
Regulatory issues. Depending on the jurisdiction you live in, if your renovation exceeds a certain percentage of the value of your home—say, 50%—you may be required to bring the entire house up to code. This could include replacing the wiring system, upgrading the plumbing or doing structural upgrades to conform to safety standards for such things as earthquake or storm protection.
Expensive surprises. It's important to hire a contractor or licensed home inspector to go through your home before you begin work. You don't want to design and finance grand plans only to find that black mold is growing inside your walls or that the kitchen wall you intend to knock down is actually a crucial structural support.
Supply chain issues. Pandemic-driven shortages of key supplies, such as lumber, can drive up your costs or bring your project to a halt. The price of finished lumber dropped 52% by the end of May 2022 from a spike in March. But futures for June delivery still stood at $695.10 per thousand board feet, more than twice the price from the spring of 2000. Supply fluctuations can't be predicted, so work with a banker who can craft a loan that is flexible enough to accommodate price surprises and completion delays. For one- or two-room projects, you might gain the needed flexibility with a HELOC or a slightly oversized home improvement loan. For much larger projects, look for a construction loan expert.
Inconvenience. If you decide to gut your own house, you may need to be prepared to live without a kitchen, then without one or more bathrooms, then without one or more bedrooms for an extended time. Include provisions for alternative housing in your plans, such as renting an RV for a few weeks, and try to make sure the whole family is prepared for the stress. Living in a brand-new space can be a tarnished joy if it's accompanied by strains in family relations.
Assemble a good team
Renovating your home or building from scratch may be your path to owning the custom home of your dreams, but it's not something you want to tackle on your own. If you're considering a new home construction or a renovation, work with a set of experts. Contacting an experienced banker and a contractor who is familiar with your local building codes, regulations and supply chain issues is a great place to start.
Normal credit approval applies.
One home improvement loan per customer.
Some restrictions apply.
Terms and conditions subject to change.
Not applicable in all states.
This information is provided for educational purposes only and should not be relied on or interpreted as accounting, financial planning, investment, legal or tax advice. First Citizens Bank (or its affiliates) neither endorses nor guarantees this information, and encourages you to consult a professional for advice applicable to your specific situation.
Links to third-party websites may have a privacy policy different from First Citizens Bank and may provide less security than this website. First Citizens Bank and its affiliates are not responsible for the products, services and content on any third-party website.
First Citizens Bank is a Member FDIC and an Equal Housing Lender icon: sys-ehl.