Home · August 11, 2022
How to Create a Home Renovation Budget
Anyone who's been through a home renovation project will likely tell you it can be overwhelming—and that it starts before the first hammer is raised.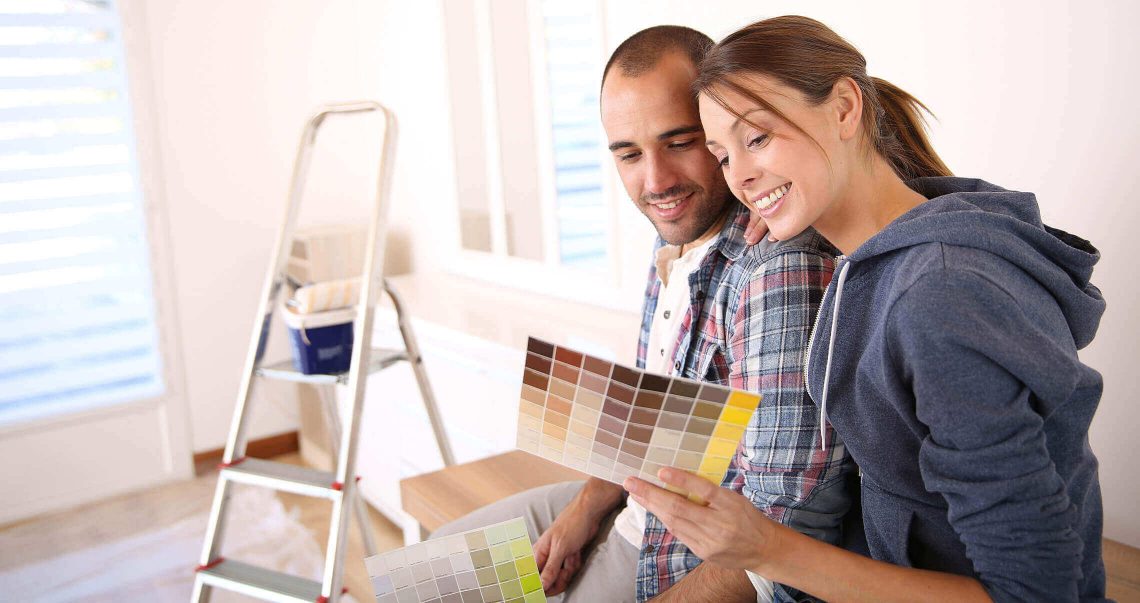 While home renovation costs depend on several factors that are out of a homeowner's control—including room sizes, materials, supply chains, inflation and project scope—it's possible to reduce the stress that comes with a project like this by following these steps to create a solid, effective home renovation budget.
---
Establish priorities
Setting a smart home renovation budget begins with determining the motivation for undertaking a home renovation project. Are you doing it to make your home more functional, comfortable and enjoyable? If so, you can align your budget with the specific renovations that will support this.
According to the 2022 Remodeling Impact Report (PDF) by the National Association of Realtors, or NAR, a complete kitchen renovation nears the top of the satisfaction list. NAR found that 86% of homeowners polled had an increased sense of enjoyment from their completed kitchen renovation. By contrast, only 54% of those polled said they had an increased sense of enjoyment from their new roof.
You also might be thinking about selling your house and want to increase the value of your home. While these home improvement projects aren't particularly flashy or glamorous, the NAR report found that most homeowners were able to recoup 100% or more of their investment on projects like new roofing and wood flooring when selling their homes. A full bathroom or kitchen renovation, on the other hand, only recouped approximately 63% to 75% of the project's value on resale. While repairs won't guarantee a higher selling price, the goal of a pre-sale home improvement project is to get the home sold without spending more than the net value of the investment.
Decide how much you can spend
Once you've decided to undertake a home renovation project, it's time to determine how much of a project you can afford. One good way to estimate your renovation budget is to base it on the total value of your home. No single room renovation should exceed 15% of your home's total value. For example, if your home is worth $400,000, the maximum budget for a bathroom or kitchen renovation should be $60,000.
You can also estimate your budget by square footage. Typically, you can expect to spend at least $10 to $60 per square foot on any renovation. Home renovations and remodels average just under $48,000, with most homes falling roughly between $17,900 and $78,000. This is further influenced by the rooms that will be renovated. Kitchens and bathrooms cost the most, whereas basements, bedrooms and living rooms are the least expensive.
Whatever you decide, experts recommend adding a cushion for the inevitable unexpected or incidental costs that occur on every project. HouseLogic recommends adding a 15% to 20% contingency to your renovation budget.
Outline cost estimates
Now it's time to break out the calculator and spreadsheet to create a project plan, including estimated costs for all labor and materials. Research all the materials and finishes you'd like to include in the project, from flooring to paint to lighting.
Although this project plan won't be the final renovation budget, it can help you be realistic about where you want to splurge and where you want to save. For example, maybe you can repaint rather than replace your existing kitchen cabinets and splurge on upgraded appliances or marble countertops. Just remember that whatever you estimate, you can expect the actual costs to be higher.
Find a good contractor
To find a contractor, get recommendations for at least three professionals from friends, neighbors and others you trust—ideally, those who've gone through a renovation themselves. Give each contractor your project description and specific product lists, and request an itemized bid.
Also be sure to check references, look at comments on online review sites and ask to see examples of recent work. Here are a few other tips to find good help:
Be clear about your budget and priorities.
Be cautious of lowball bids.
Discuss upfront how you want to deal with unforeseen expenses.
Use competing bids to negotiate.
Explore financing options
Most people planning a home renovation will have to work out some degree of financing. There are three basic types of loan options:
Cash-out mortgage refinance: Refinancing your mortgage can let you use the difference between the new mortgage balance and your home's value in cash for home improvements. A cash-out refinance can also lower your interest rates if you have enough equity in your home.
Home equity loan: This is a secured loan that uses your house as collateral. Because a home equity loan is secured against the equity built up in your home, the interest rate is often competitive.
Home equity line of credit, or HELOC: Similar to a home equity loan, a HELOC uses funds dispersed as a line of credit to access as you need instead of getting the entire loan amount at once. HELOCs also tend to have lower interest rates than home equity loans.
Reduce costs further
Establishing your budget—and sticking to it—is essential for any home renovation project. There are several ways to reduce project costs, especially with renovation projects that don't require a building permit from local authorities.
Do it yourself. If you feel comfortable with a sledgehammer and crowbar, remove cabinets and tiles yourself. Just make sure to avoid plumbing and electrical systems, as well as any load-bearing walls.
Shop smart. You can save a lot of money by tracking down and buying floor models or refurbished appliances and fixtures either in stores or online. Contractors typically know the best places to source these.
Use alternative materials. For floors, consider engineered hardwood flooring instead of solid wood. For countertops, use engineered stone instead of real quartz. Only you and your contractor will know the difference.
Pick up the paintbrush. A professionally painted room can cost $300 or more. Painting the room yourself only costs you supplies.
Budgeting for success
Home improvement projects can be time consuming and costly, but the pinch on your pocketbook can be loosened with smart budgeting. The key is to plan ahead, target key priorities, price materials and services, and weigh the best financing options. With a solid budget in place, your renovation will only make home sweet home that much sweeter.
---
Ready to finance your renovation?
A home improvement loan could be just what you need. There's no collateral or home equity required—and you get funds within a day.
Insights
A few financial insights for your life
Normal credit approval applies.
This information is provided for educational purposes only and should not be relied on or interpreted as accounting, financial planning, investment, legal or tax advice. First Citizens Bank (or its affiliates) neither endorses nor guarantees this information, and encourages you to consult a professional for advice applicable to your specific situation.
Links to third-party websites may have a privacy policy different from First Citizens Bank and may provide less security than this website. First Citizens Bank and its affiliates are not responsible for the products, services and content on any third-party website.
First Citizens Bank is a Member FDIC and an Equal Housing Lender icon: sys-ehl.