Family · October 29, 2020
5 Budgeting Tips for New Parents
Raising children will impact your life in ways you never imagined—including financially. Along with the joys of watching your kids grow and thrive come the costs of providing for them as they become young adults. If you're aware of the various expenses that could arise and know some budgeting tips for new parents, you can start saving early and go in prepared for what's to come.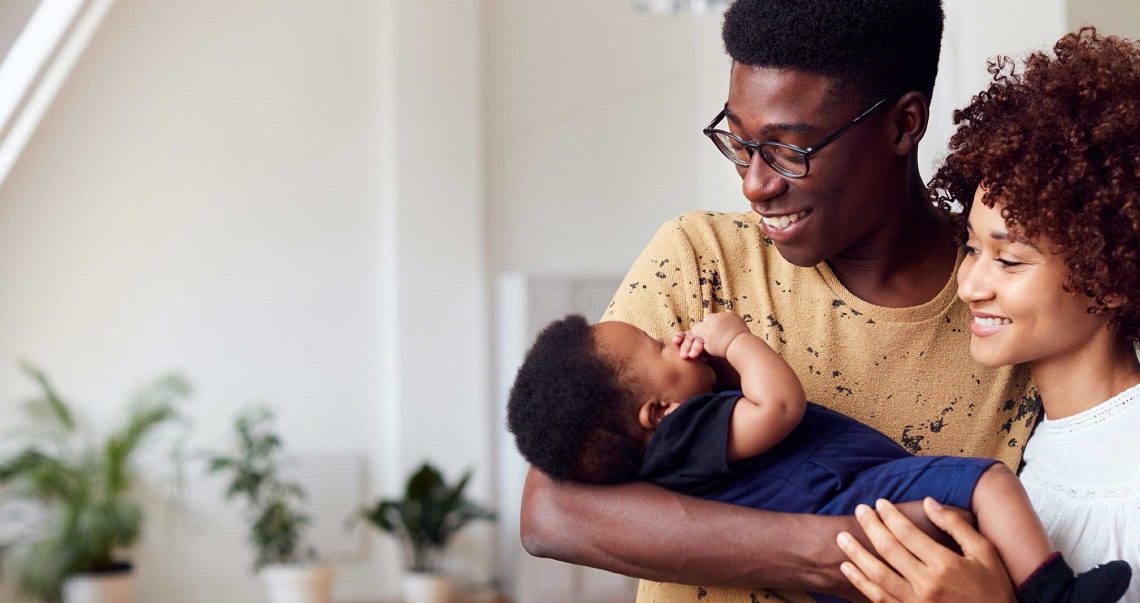 ---
1

Budget for continual clothing purchases

Children grow for many years. This means they're continually outgrowing their outfits and will need clothes in bigger sizes. When you're budgeting for a baby, plan ahead by adding their clothing to your regular household budget.

Keep in mind that shirts, sweaters, pants, skirts, shoes, boots and jackets that are new to your kids don't necessarily need to be brand new with an expensive price tag. Second-hand stores, thrift shops and Facebook swap groups often offer inexpensive, gently used kids' clothing.

Encourage cash gifts from grandparents or gift cards to favorite kids' clothing stores. Swap with your family members and friends who have kids, too. And if you plan on having more than one child, save time and money by storing some of their clothes for your next baby.
2

Start saving for a childcare fund

Infant childcare can put a real dent in your bank account. Start saving toward your kids' childcare fund as soon as possible. As your child gets older, you could see your daycare costs go down a bit, and they'll likely decrease again when they become school-aged. However, many parents might need to budget for before- and after-school care during the elementary school years as well.

Once your childcare costs start going down, you can funnel that savings toward other expenses like summer day camp costs or college savings.
3

Consider extracurricular activity costs

Dance classes, sports, music, swim lessons and other extracurricular activities are an important part of many kids' childhood experience and development. But they can put some strain on your family budget if you don't plan ahead.

Encourage extended family members to gift extracurricular enrollment fees or equipment instead of toys or other items for birthdays and holidays. Keep your costs down by taking advantage of any fee reductions for parent volunteers. And look into local area funds or scholarship programs to help with extracurricular costs.
4

Plan for unforeseen food costs

As children grow, so will your food bill. This is especially true during the teenage years, when young adults' appetites can take a big bite out of your grocery budget. But even when your kids are in the toddler through elementary ages, busy families might find their food costs creeping up through last-minute convenience food purchases or takeout meals.

Help keep food costs down with meal planning, freezer cooking and bulk-buying grocery staples. Meal planning helps save time on busy weeknights and can make the best use of leftover vegetables, meats and other supplies. Cooking double—or triple—amounts of favorite dinners, freezing the extras and scheduling your meals can help cut down on spontaneous takeout. And bulk-buying grocery items at Sam's Club, Costco or another wholesale outlet can help lower your grocery bills even more.
5

Set aside money for birthday celebrations

Chances are you've seen or even attended a lavish birthday party for a child. Whether it's a first-birthday celebration or a sweet 16 party, costs for kids' birthdays can add up quicker than you'd expect.

If these celebrations are important to you and your family, start budgeting for the costs before your baby arrives. Cut back on your restaurant and entertainment activities as a couple. Instead, set this money aside in a savings account for your kids' birthday celebrations now. When the time comes for their first birthday party, your household budget won't take a big hit. Look for low-cost alternatives for food, decorations and venues. Homemade menus and DIY decorations could help you keep your costs down.
Prepare now, relax later
Many new parents find themselves a little surprised at just how many costs there are to having kids. Often, it's the little things that add up. If you plan ahead by implementing some of these budgeting tips for new parents, you can focus more on the joy of your new role. Take action now to adjust your budget for these future expenses and enjoy some financial peace of mind.
Insights
A few financial insights for your life
Account openings and credit are subject to bank approval.
Links to third-party websites may have a privacy policy different from First Citizens Bank and may provide less security than this website. First Citizens Bank and its affiliates are not responsible for the products, services and content on any third-party website.
Bank deposit products are offered by First Citizens Bank. Member FDIC and an Equal Housing Lender. icon: sys-ehl.