Credit · April 14, 2022
Credit Card Fees: Are You Paying Too Much?
How do you know whether your credit card is costing too much? With interest rates rising, it's a good time to make sure your current card is giving you as much value as an alternative might.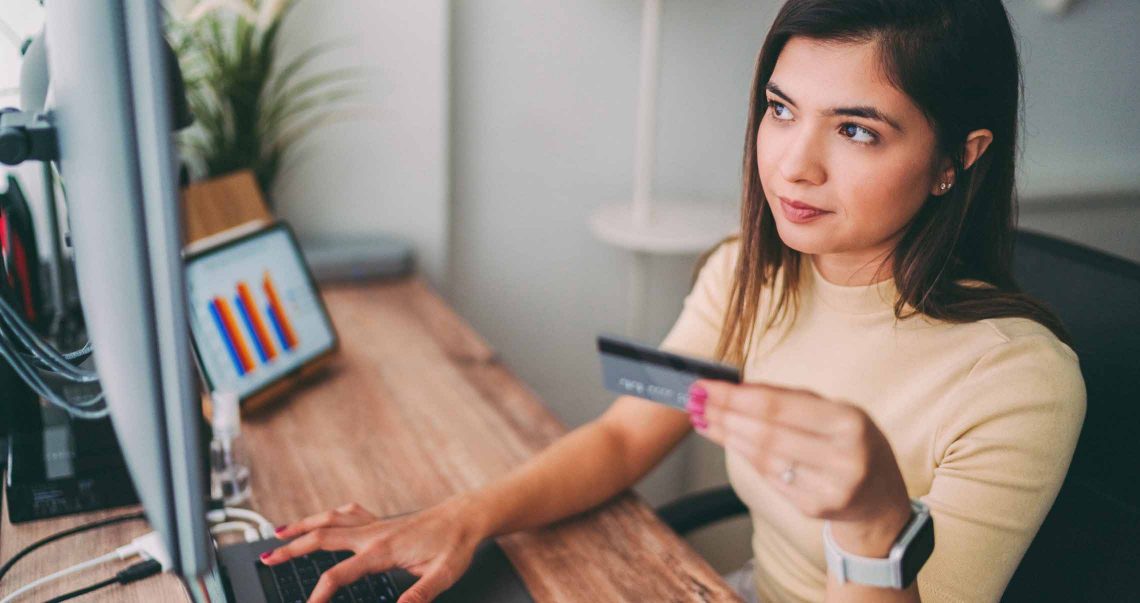 Here are some steps you can take to ensure you're not paying too much for your credit card.
---
Analyze your costs
All credit cards come with some type of cost. Your interest rate is the most obvious one. Some cards—about 30% of all cards on the market—also charge an annual fee.
Compare interest rates
Sites like Bankrate.com can let you know the average credit card rate for today so you can compare your card's rate. It may take some digging through your credit card statement to find your current annual percentage rate, or APR, but it's always in there somewhere—often on the third or fourth page. If your credit is good, you should qualify for a below-average rate. If you feel your rate is too high, contact your credit card provider and ask for a re-evaluation. If they won't lower your rate, shop around.
Also don't forget to check for special deals that may be offered by your bank.
Analyze your costs versus benefits
Credit card fees can seem expensive. Only about 30% of credit cards charge an annual fee, but the average fee is about $110.
The option with the lowest fee isn't always the best deal—you'll need to weigh the card's cost against its benefits. Ask yourself a few simple questions to analyze both the cost and benefits of several types of card rewards.
Do you love to travel? A card that offers airline miles or points for every dollar you charge can net you some virtually free flights that are worth much more than your annual fee. With prices for domestic flights on the rise, even one flight can cover at least the cost of your annual fee.
Do you pay off your balances every month? If so, you could benefit from a card that offers cash rewards or targeted rewards for everyday purchases. These often come with lower annual fees than travel cards or even no annual fees.
Do you carry balances on your card? If so, check the monthly interest charge on your statement and compare it to the value of any rewards your card offers. The value of cash back or regular rewards should also be on your statement, although you may need to do some research in the card's points program catalog to determine the value of goods your points can buy. If the difference is too great, it may be time to shop for a lower-interest card or one with better rewards. Of course, it's always a good idea to keep your balances as low as possible.
Consider other costs
Aside from annual fees, most credit card companies charge late fees if you miss a payment by around 30 days. The average fee is $36, so if you frequently—or even occasionally—miss payments, consider this cost in your calculation as well.
If you want to use your card to pay off another card—possibly to take advantage of a limited-time 0% offer—be careful. You'll likely be charged an average fee of 3% to 5% of the transfer amount or a minimum of $5 to $10, whichever is greater. However, this fee may be well worth it if the balances you're transferring come from cards with higher interest rates.
Consider general benefits
If you keep your spending under control, the use of any credit card can bring some general benefits. These may be harder to quantify than direct spending rewards, but they're still beneficial. They include:
Building credit: Using a credit card responsibly can be an effective way to establish a positive credit history.
Security: Many credit cards offer security features such as chip technology, fraud protection and credit monitoring.
Budgeting: Credit cards can make budgeting easier by tracking your spending.
The bottom line
Interest rates and credit card deals change constantly, so it's a good idea to take the time at least once a year to evaluate the benefits you receive and the fees you're paying to make sure you still have the best possible deal.
Insights
A few financial insights for your life
Account openings and credit are subject to bank approval.
This information is provided for educational purposes only and should not be relied on or interpreted as accounting, financial planning, investment, legal or tax advice. First Citizens Bank (or its affiliates) neither endorses nor guarantees this information, and encourages you to consult a professional for advice applicable to your specific situation.
Links to third-party websites may have a privacy policy different from First Citizens Bank and may provide less security than this website. First Citizens Bank and its affiliates are not responsible for the products, services and content on any third-party website.
Bank deposit products are offered by First Citizens Bank. Member FDIC and an Equal Housing Lender. icon: sys-ehl.