College · August 18, 2022
The Ultimate Guide to Paying for College
Kids grow up fast. And before you know it, university brochures will fill your mailbox. If college is in your child's plan for the future, it's never too soon to start preparing them for it. Central to this is finding the best way to pay for college.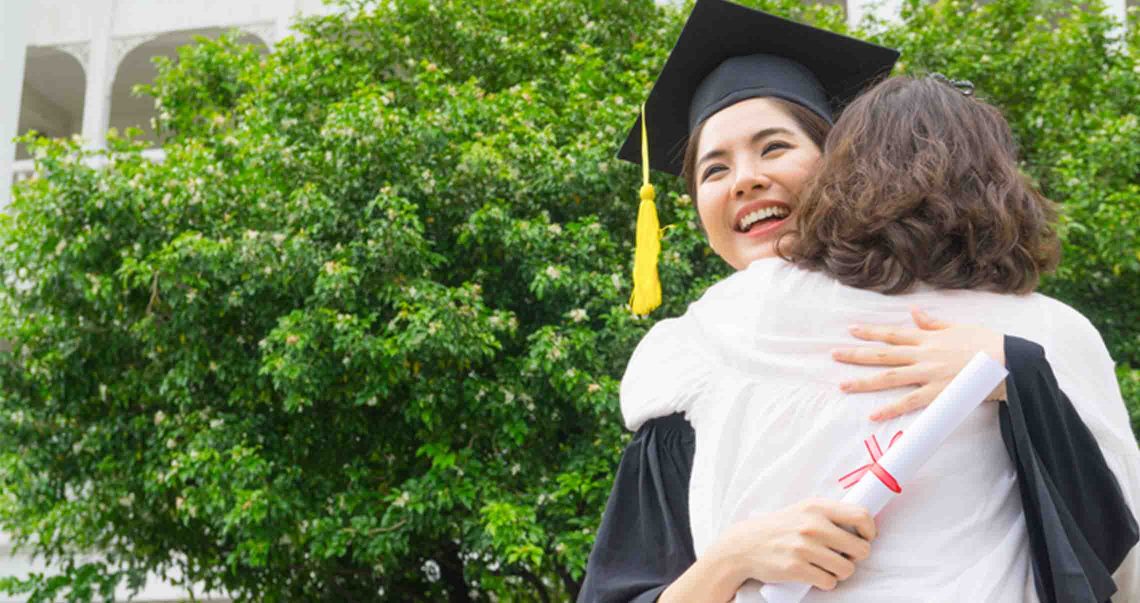 As you help your young adult decide which school to attend, take some time to discuss the reality of financing their education, including how much money will be needed and the options available to them.
---
Understanding the cost of college
Understanding the cost of a college education today will help you and your child make the best choices about paying for tuition. According to the College Board's Trends in College Pricing and Student Aid report, the average tuition for a public, in-state college was $10,740 during the 2020-2021 school year, while the average cost for a private college was $38,070. In addition to the tuition differences between public and private institutions, costs for in-state versus out-of-state students also may not be the same.
Setting a plan for college savings
Before making a plan for college savings, it's important to get a sense of your child's goals. Start your college search by helping them make a list of what's most important to them in a school, and then compare their top choices. If your child isn't sure what they want to study or where they want to go, you may decide to tour colleges in person to get a sense of the type of campus that's most appealing to them—urban or suburban, a large university campus or a small academic setting.
Once you have an idea of the type of college your child hopes to attend, you can start making a financial plan. If your child's heart is set on a private institution, you may need to find the best way to pay for college without dashing their dreams. For example, many private colleges and universities have generous transfer policies and accept up to 2 years' worth of general education credits from other institutions, which may offer one path. It can also point you toward grants, scholarships and other financial support that may be available, which can carry much of the burden.
Applying for financial aid
Because 83.8% of college students benefit from some form of financial aid, it's crucial for you and your child to understand how it works. Colleges typically offer two types of financial aid to students. The first is often referred to as merit aid, which consists of scholarships based on your child's academic performance, proven leadership skills or excellence in an activity like athletics.
The second type of financial aid is typically known as need-based assistance. This amount is calculated based on financial information parents and prospective students provide through a centralized federal student aid website. This information is then used to determine if your child qualifies for need-based financial aid.
After your child receives an acceptance letter from a college or university, the institution will send you a letter with the amount of merit- or need-based financial aid available. You can use this information to help you decide which college is the right fit both financially and academically for your child, as well as determine how much of the cost you'll need to shoulder.
Filling out a FAFSA or CSS profile
If you're applying for financial aid, you'll need to work with your child to create an account on the Federal Student Aid website and complete a Free Application for Student Aid, or FAFSA, form. Some schools also require you to complete a CSS profile with the College Board. Both you and your child will enter demographic and financial information into the FAFSA form and CSS profile. Before inputting this information, gather all of your financial documents, such as tax returns, bank account statements and investment information. You can then elect to send this information to the colleges where your child hopes to apply.
Once the FAFSA form is processed, you'll receive a student aid report with details on your eligibility for financial aid. The report will also include an Expected Family Contribution, or EFC. The EFC gives you some idea of what your family may be able to pay toward college tuition. It's by no means a mandatory amount you must pay, but it helps federal agencies and colleges determine the amount of need-based aid you're eligible to receive.
Applying for grants and scholarships
In addition to financial aid provided directly by colleges, you may want to find additional grants and scholarship opportunities to help ease the cost of tuition. Scholarship websites are a great place to start when you're looking for the best way to pay for college, but there's typically a lot of competition for these funds. You might consider broadening your search to include scholarship and grant opportunities within your local community. Your workplace might also offer scholarships for children of employees or discounts to select universities.
Taking out student loans
Student loans are another option for many families looking to pay for college. Subsidized loans tend to offer the best interest rates among federal student loan options, and there may be flexible, income-based repayment plans available through the federal government after your child graduates. However, you should encourage your child to borrow only what's needed for schooling and help them stick to a budget for living expenses while at college to keep loan amounts manageable. The less debt they'll have to deal with after graduating, the better.
Saving for college
It's never too late to start putting money away for educational expenses. Saving $100 per month from the time your child is born until they're 18 will net you $21,600 plus interest if you open an interest-bearing account. No matter when you start, tax-advantaged plans designed specifically for college savings can give you specific benefits, as long as you use the money for education.
529 college savings plans
A 529 college savings plan is an increasingly popular tax-advantaged option to help save for your children's education. Money is contributed to a 529 college savings plan on an after-tax basis and is invested in mutual funds or other savings options. When withdrawals are made for qualifying educational expenses, the earnings on your investments are tax-free.
These types of savings plans are typically structured in one of two ways.
General investment: Savings can be used to pay for whichever college your child chooses. This more flexible plan has fewer restrictions than a prepaid tuition plan and has become the more popular option for parents.
Prepaid tuition: This allows you to effectively lock in tuition costs at designated universities by saving today for your child's future education.
Beneficiary accounts
Parents or grandparents can open either a Uniform Gift to Minors Act account or a Uniformed Transfer to Minors Act account and name the student as the beneficiary. Income earned in these accounts belongs to the minor and is taxed at their tax rate. Unlike with a 529 college savings plan, the money in the account isn't required to be used for educational purposes, but the balance is reported on FAFSA under the student's section—which may affect their financial aid.
Earmarked investments
Another option is to earmark certain accounts or investments for educational expenses and keep them separate from retirement or other savings funds. A saving for college calculator can help you determine how much to set aside for educational expenses, which you can earmark using one or more of the savings options below.
Targeted mutual fund: Choose a fund with a target date of your child's college entrance, and let the fund assemble a stock or bond portfolio to meet your needs.
US savings bond: This is essentially a risk-free investment.
Automatic savings plan: These help ensure you set money aside for educational expenses. Try setting up a savings account that automatically takes $25 to $50 out of your checking account per week or month. You may be surprised by how far this amount can build over time.
Other ways to fund a college education
Don't panic if you're late to the savings game and feel like you can't catch up. There are additional steps you and your child can take to pay for college and defray some of the costs of higher education. Set realistic expectations of how much you can afford to pay for college, and work with your child to bridge the gap by looking into some or all of the following options.
Work-study program
Based on your determined financial needs, your child may be able to secure a part-time position through the federal work-study program at their college or university. These jobs are designed to work around a school schedule and may even be related to your child's selected course of study. If your child is interested, they can inquire about work-study positions at their university's office of financial aid.
Community college
This is often one of the most affordable options because community colleges typically cost less per year than other types of higher education. Choosing this route may allow your child to complete their first 2 years at a lower cost, transfer their credits and still graduate from a 4-year university. If they attend community college close to home, they could also continue living with you, which saves money on room and board.
Community college may also be an ideal choice if your student isn't sure which field they want to study. They can try out different classes at a more affordable rate to better understand their passions and career goals.
Gifting money
If a grandparent or another family member wants to help your child pay for a college education, there are smart ways to do so. Gifting money into a 529 college savings plan lets them invest in something that will provide their chosen recipient with funds for tuition, books and rent. The downside is that this contribution will count as your child's income when they apply for financial aid.
Another gifting option is for grandparents to pay the tuition bill directly to the college. With this method, the grandparents' payments aren't considered income and therefore don't factor into calculations for financial aid.
Finding the right combination
With so many college savings opportunities available, your best option is typically a combination of methods to finance your child's education. Even nontraditional choices like cryptocurrency may be another route to consider, although only a small number of institutions currently accept this form of payment.
Ultimately, the prospect of paying for college doesn't have to hang heavy over this important time in your family's life. If you research funding options, make a plan and start saving early, your child can graduate and move forward to the next stage of life without debt holding them back.
Insights
A few financial insights for your life
This information is provided for educational purposes only and should not be relied on or interpreted as accounting, financial planning, investment, legal or tax advice. First Citizens Bank (or its affiliates) neither endorses nor guarantees this information, and encourages you to consult a professional for advice applicable to your specific situation.
Links to third-party websites may have a privacy policy different from First Citizens Bank and may provide less security than this website. First Citizens Bank and its affiliates are not responsible for the products, services and content on any third-party website.
Your investments in securities, annuities and insurance are not insured by the FDIC or any other federal government agency and may lose value. They are not a deposit or other obligation of, or guaranteed by any bank or bank affiliate and are subject to investment risks, including possible loss of the principal amount invested. Past performance does not guarantee future results.
First Citizens Wealth Management is a registered trademark of First Citizens BancShares, Inc. First Citizens Wealth Management products and services are offered by First-Citizens Bank & Trust Company, Member FDIC, Equal Housing Lender; First Citizens Investor Services, Inc., Member FINRA and SIPC, an SEC-registered broker-dealer and investment advisor; and First Citizens Asset Management, Inc., an SEC-registered investment advisor.
Brokerage and investment advisory services are offered through First Citizens Investor Services, Inc., Member FINRA and SIPC. First Citizens Asset Management, Inc. provides investment advisory services.
See more about First Citizens Investor Services, Inc. and our investment professionals at FINRA BrokerCheck.