Industry Expertise · January 20, 2022
The Importance of Green Building Benefits for the Future of New Development
If you've ever been to Soldier Field in Chicago or the Empire State Building in New York City, you may have noticed a plaque that touts its LEED certification. But what does this mean beyond meeting certain environmental standards?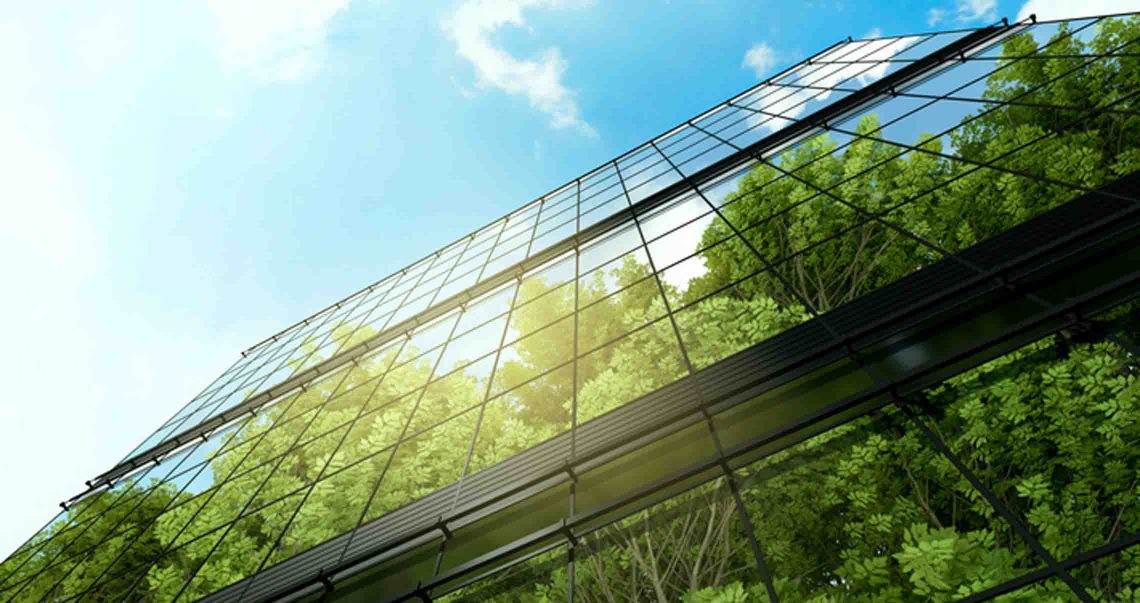 ---
LEED, which stands for Leadership in Energy and Environmental Design, measures the environmental impact of a structure's design, construction, operation and maintenance. For example, LEED certification ensures that materials and the building process are sustainable and that they don't contribute to climate change.
LEED certification is available for virtually any type of building—commercial or residential—and it's considered to be a symbol of leadership and achievement in sustainability. In fact, it is the most widely used green building rating system in the world.

Since the program's inception in 1994, almost 24 billion square feet of space has been LEED registered and certified, according to the US Green Building Council, or USGBC. The USGBC reports that more than 60% of 2020 certifications were for office, healthcare and education projects, while warehouses, distribution centers, multifamily and retail projects represented almost 20%. This type of certification has become an important distinction in construction and development, attracting businesses and residents. Here's why.
Green building benefits for commercial buildings
Because of their environmentally friendly structure and operations, LEED developments provide a healthier environment for inhabitants. More than 2/3 of credits in its rating system include criteria such as ventilation, filtration and low-emitting materials. In commercial buildings, improved air quality can offer several health and safety benefits for employers and employees, including reducing the number of employee sick days.
Sustainable buildings also take advantage of natural lighting, which can boost employee productivity and satisfaction. One study found employees' performance on mental tasks improved by as much as 25% when they worked in a space that offered a view of the outdoors, such as those in green buildings. They can also help companies attract and retain talented employees. A USGBC survey found that 79% of people would choose a job in a LEED-certified building over one without the certification.
Beyond the health and environmental benefits, LEED certification often provides cost savings for employers. For example, these types of buildings consume less water and electricity, which reduces utility costs. Depending on location and line of business, companies may qualify for tax breaks if they lease space in a LEED-certified building.
Residential green building benefits
People living in sustainable residential units can experience the same health and cost benefits as those in commercial buildings. This includes lower water and power usage, improved indoor air quality, and decreased exposure to pollutants and toxins. Energy-efficient homes may also qualify for discounted insurance, tax breaks and other incentives.
"If we are to rebuild an economy that supports our health and our planet, we must lead with changing the way we design and build," said Mahesh Ramanujam, USGBC's president and CEO, in February 2021. "Last year was a stark reminder that the quality of our buildings impacts the quality of our lives. Looking ahead, people want to trust that the spaces they occupy are good for them and their communities, and LEED has always been a tool to support those goals."
If you're interested in pursuing LEED neighborhood development with your next building project, talk to your commercial banker about available financing options.
Insights
Financial insights for your business
This information is provided for educational purposes only and should not be relied on or interpreted as accounting, financial planning, investment, legal or tax advice. First Citizens Bank (or its affiliates) neither endorses nor guarantees this information, and encourages you to consult a professional for advice applicable to your specific situation.
Links to third-party websites may have a privacy policy different from First Citizens Bank and may provide less security than this website. First Citizens Bank and its affiliates are not responsible for the products, services and content on any third-party website.