Industry Expertise · February 10, 2022
Age-Related Macular Degeneration Treatment: Helping Your Aging Clients
When do you broach age-related macular degeneration treatment with your patients? As it's a condition that affects more than 15 million Americans each year, there's no time like the present. In fact, because February is Age-Related Macular Degeneration and Low Vision Awareness Month, your practice has the perfect opportunity to educate patients on the topic today and help them take steps to reduce its impact.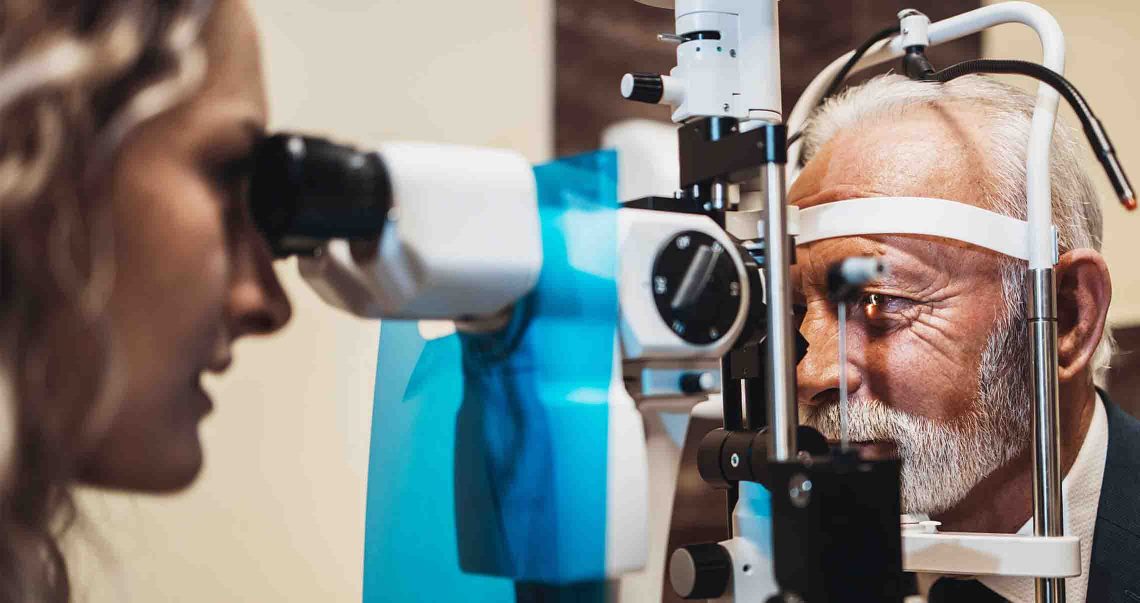 That also means you'll want to create a plan for your practice to incorporate more testing to diagnose this problem. Here are some key questions to keep in mind as you do so.
---
What is age-related macular degeneration?
As a progressive disease with few treatments, age-related macular degeneration, or AMD, is the leading cause of low vision and blindness in Americans age 60 or older. Those living with AMD might not even realize it, as oftentimes those in the early stages of the disease don't show symptoms.
As the disease progresses, patients experience a blurring or the appearance of wavy areas in their central field of vision. As these effects have a strong influence on someone's ability to perform up-close tasks, read and drive, which can have a significant impact on quality of life.
Why should you incorporate more testing for AMD?
Because AMD often isn't detected until symptoms are more severe, age-related macular degeneration treatment options are limited, and patients usually suffer a permanent degree of vision loss. Testing is key for early detection, as the sooner the condition is diagnosed, the earlier you can start patients on age-related macular degeneration treatment and help limit any further vision loss.
Testing can also be seamlessly integrated into annual eye exams for age-appropriate patients. February's awareness month can help you launch an education campaign about AMD and what your practice is doing to help patients who may be vulnerable. It also provides your patients an opportunity to keep tabs on their eye health. You can start asking screening questions during regular exams to help identify patients at higher risk for developing AMD. Some of those risks include:
Patients who are Caucasian
Patients aged 55 or older
Patients with a family history of AMD
Patients with high blood pressure or cholesterol
Patients who smoke
Testing can help you take better care of your patients and help prevent unwelcome lifestyle disruptions when AMD isn't detected early.
How can your practice expand to include AMD testing?
You can't start to discuss age-related macular degeneration treatments until you have a proper diagnosis. If your practice doesn't already have the necessary diagnostic equipment, you can consider making an investment in:
Optical coherence tomography. This non-invasive equipment is able to image the retina so you can review individual layers for thickness.
Confocal scanning laser ophthalmoscope. Also non-invasive, this equipment can image the retina through various methods, including indocyanine green angiography, fundus autofluorescence, and fluorescein angiography.
As the cost of this technology can be high, you can explore both equipment financing and leasing. A specialty equipment purchasing or leasing calculator can help you compare financing options that best fit your practice.
Always consider how each option affects your cash flow and cash reserves and how you'll incorporate testing into routine eye exams to make the most of your investment. By completing a thorough financial analysis and considering the marketing opportunities for optometrists, you can see what options work best for your practice while building out a program to help your patients see well into their futures.
Insights
Financial insights for your business
This information is provided for educational purposes only and should not be relied on or interpreted as accounting, financial planning, investment, legal or tax advice. First Citizens Bank (or its affiliates) neither endorses nor guarantees this information, and encourages you to consult a professional for advice applicable to your specific situation.
Links to third-party websites may have a privacy policy different from First Citizens Bank and may provide less security than this website. First Citizens Bank and its affiliates are not responsible for the products, services and content on any third-party website.