Skilled Trades · February 24, 2022
Electrical Contractor Software Helps Streamline Business
Electrical contracting is a hands-on field. Many electrical business owners continue to use hands-on systems for their operations, like paper forms and phone calls. When your company expands, these systems take up more and more time, limiting your future growth potential. With electrical contractor software, you can streamline these functions to create a more effective business in several areas.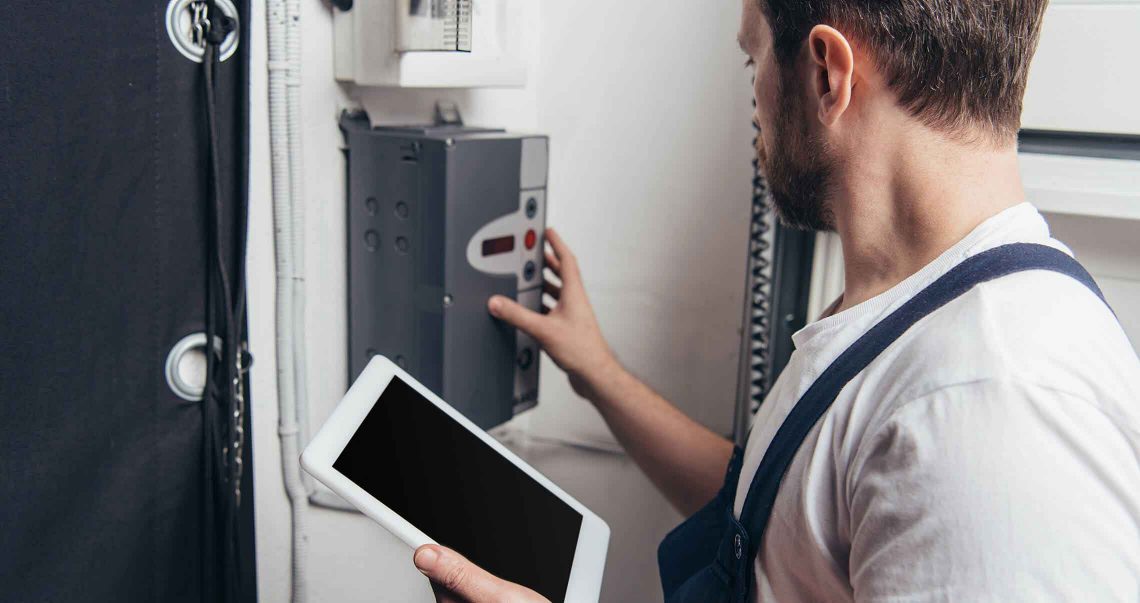 ---
Electrical contractor project management software
Taking on more jobs makes it difficult to keep track of everything, increasing the chance of oversights. This leads to project delays, costly reworks and wasted time. Electrical contractor project management software can provide critical support on these issues by tracking everything for you.
It shows what projects you have going on, their completion status, their budget and ongoing costs, and the contractors assigned to each one. The software helps you catch problems and fix them more quickly. For example, you might notice a project is getting behind schedule as soon as it happens, rather than seeing it in the foreman's paper report days later.
Employee communication and job dispatching
When your contractors move from job to job, it's important to stay in contact, both to communicate updates on current projects in real time and to dispatch them to the next one. If you rely on calls, it can turn into a time-wasting game of phone tag.
Through electrical contractor software, you can set each employee up with a mobile app with live updates on their work, cutting out lengthy phone conversations. You can also schedule their next job through the app, including directions, so they immediately know where to go upon project completion. This can reduce downtime and increase the amount of work completed throughout the day.
Project estimates, invoices and payments
The typical project payment cycle follows these steps:
You create an estimate.
The customer makes a deposit.
You complete the work.
You send out a final invoice.
The customer sends in payment.
If you rely on using paper contracts sent by mail, every step involves several days worth of delays. With electrical contractor software, your employees can create an on-site estimate on their phones without returning to your office. The software would email the estimate to the client on the spot, who can then pay immediately by credit card or bank transfer.
Then, when the work is done, the software could automatically generate the final invoice, email it to the client and send them payment reminders as needed. It speeds up the whole process and improves your day-to-day cash flow, as you aren't stuck waiting on checks in the mail.
Sales and marketing
For sales and marketing, you should be tracking every single lead, following up on a regular basis and keeping notes on each conversation. However, as the leads pile up, this just isn't possible to do manually—unless you hire more sales staff.
Investing in business technology could be a lower-cost alternative. Through software, you can create automated email campaigns that reach out to leads on a regular basis using templates you design. That can move potential clients through the sales cycle without you having to spend hours on emails.
In addition, you could set up a sales customer relationship management program, which tracks how often a lead has been contacted and records any notes, while giving your sales team reminders for when to reach out again.
Customer service
Software can improve customer service, too. For example, you could set up an online portal where customers can schedule their own visits, approve quotes and pay invoices without having to call during normal business hours. If a client has a recurring job, the software could schedule it automatically for them.
This can help with your own sales efforts, as the software can track customer history to see who needs work and when, including sending out reminders to customers when they're due for service.
Payroll and time tracking
Employee time tracking is necessary both for payroll and to see how your employees spend their day. If you're using spreadsheets or paper time cards, the amount of information can get overwhelming quickly. Plus it's easy to make a costly mistake, such as miscalculating payroll taxes—which can lead to a government fine.
With time-tracking software, you give employees an easier way to input their hours—by phone or on the computer—while also setting up a system that automatically handles your payroll responsibilities as the employer. That way, you don't have to spend long nights at your desk with a calculator, crunching the numbers yourself.
Your time is limited and will only be more so as your business keeps growing. By using electrical contractor software, you can better streamline operations as you prepare for this next level.
Insights
Financial insights for your business
This information is provided for educational purposes only and should not be relied on or interpreted as accounting, financial planning, investment, legal or tax advice. First Citizens Bank (or its affiliates) neither endorses nor guarantees this information, and encourages you to consult a professional for advice applicable to your specific situation.
Links to third-party websites may have a privacy policy different from First Citizens Bank and may provide less security than this website. First Citizens Bank and its affiliates are not responsible for the products, services and content on any third-party website.