Management · October 28, 2021
How Much Should a Small Business Invest in Digital Marketing?
As you begin to look at digital marketing for small business and the many ways you can potentially reach customers, you might be overwhelmed with questions. From the true benefits of digital marketing for your specific business to how much to invest, there are several options to consider. However, by taking a methodical approach, you can quickly navigate big decisions and begin taking action to help the right customers find—and grow to love—your business.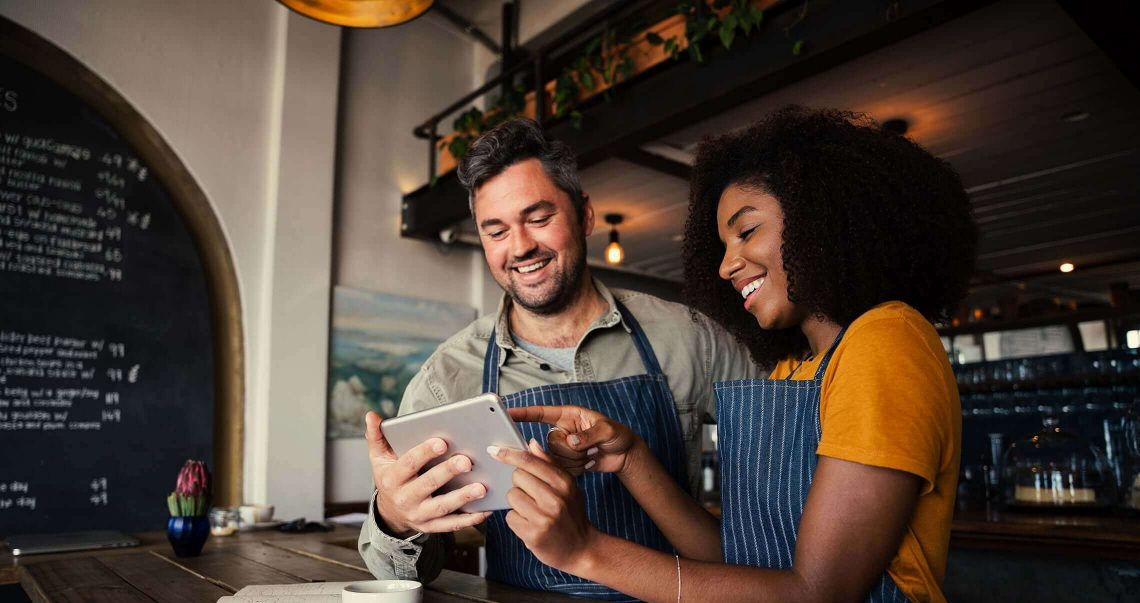 ---
Determine your marketing budget
According to the US Small Business Administration, businesses with $5 million or less in revenue should allocate roughly 7% to 8% toward marketing. Although this isn't a hard-and-fast rule, it can give your business a marketing budget starting point.
Depending on your industry and market saturation, your overall marketing budget might be higher or lower. If you're a local business competing against other well-established local businesses in the same sector—think coffee shops, restaurants and dry cleaners—you might need to increase your budget. For businesses in less saturated industries, you might be able to decrease your budget over time once you have brand recognition.
Three ways to develop a digital marketing plan and budget
Regardless of your overall budget, you'll need to carve out a portion of your budget for digital marketing. If you're new to digital marketing, your best bet might be to engage with a digital marketing agency that specializes in or has experience working with small businesses. Specialization and expertise are important because small businesses have to be much smarter with their cash and generally don't have the funds on hand to endure campaigns that perform poorly.
There are three ways you could engage with a digital marketing agency: full-service, a la carte or self-service. To help your company realize all the benefits of digital marketing for small businesses, a plan is imperative, regardless of the strategy you pursue. A plan will help you understand the costs of different digital marketing methods that are of the most benefit to your business, how much budget to allocate and the most desirable places to spend your digital marketing dollars.
For example, different types of brands perform well on visual social media outlets like Instagram, while others generate higher conversion rates from paid search, such as marketing through Google. A plan can help you determine which safe social media platforms to advertise on, as well as target keywords for paid search advertising campaigns.
Once you pay an agency to help you develop a plan to reap the benefits of digital marketing for your small business, you can choose which way to engage:
1

Full-service

You'll hire the agency to implement and execute your digital marketing plan and provide you with regular performance reports. For companies with the cash, the full-service option can save you time and money if you aren't confident or don't have the time to implement the plan yourself.
2

A la carte

With a plan in hand, you can work with the agency on selected parts of your digital marketing strategy—perhaps the parts that are most essential to garnering new customers. Through this strategy, you can engage in a way that fits your budget and still benefit from the expert implementation.
3

Self-service

If you're a marketing whiz or have the time to dedicate to implementing your own plan, you can use the agency's plan as a road map. Even if you choose this method, it's wise to schedule a quarterly check-in with the agency to assess your progress and get suggestions for improving your campaign performance.

The bottom line for digital marketing for small business is that your budget should be reasonable, not put the health of your balance sheet at risk and be enough to generate meaningful results for your business's unique goals.
Implement, assess and adjust
While you'll have a plan, digital marketing for small business isn't a set-it-and-forget-it strategy. For the most success, you'll need to assess your plan once it's in action and adjust periodically to ensure your dollars are working hard instead of hardly working.
Be sure to run reports periodically and review your plan performance. By continuing to assess your results, you'll likely save money in the long run because you're able to identify digital advertising outlets that aren't performing well. You can then re-allocate funds from poorly performing outlets to those bringing you the greatest return on investment.
And remember to enjoy all the benefits of digital marketing for small business and remain flexible. Today's top-performing outlets may not prove to be tomorrow's. Staying flexible will help ensure every dollar you spend on digital marketing is truly working for your business.
Insights
Financial insights for your business
Links to third-party websites may have a privacy policy different from First Citizens Bank and may provide less security than this website. First Citizens Bank and its affiliates are not responsible for the products, services and content on any third-party website.