Home Mortgage Loans
Find the right mortgage to purchase or refinance a home
When you're ready to make your next move, we're here to help
There's no one-size-fits-all when it comes to the perfect house, and the same goes for your mortgage. Our mortgage bankers will work closely with you to understand your unique situation and help your family get into a new home.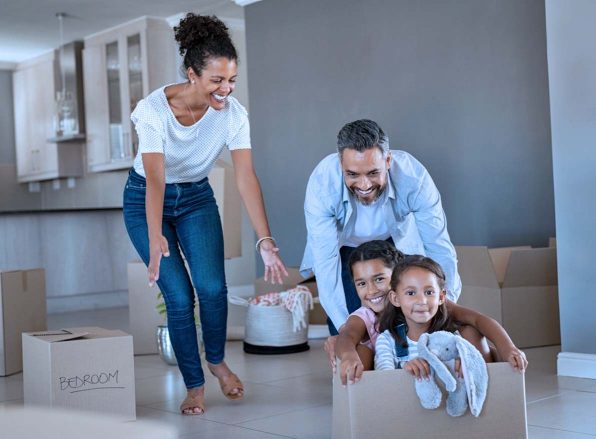 Adjustable-Rate Mortgages
Make lower payments now and stay protected from high rates later with this type of mortgage loan.
Lower initial monthly payment
Lower initial interest rate
Rate ceilings protect you from major swings
Fixed-Rate Mortgages
Ensure your monthly payments and interest rate don't change with a fixed-rate mortgage loan.
Lock in your principal and interest payments
Easily apply online
Jumbo Loans
If you need a big house or you're in a competitive market, this mortgage loan lets you exceed the limit.
Borrow more than traditional mortgages allow
Qualify for a loan of up to $3 million
Choose a fixed- or adjustable-rate mortgage
Home Construction Loans
Build your dream house with a home construction loan.
Finance the build and the long-term mortgage
Apply for loans up to $3 million
Make interest-only payments throughout the construction phase
Renovation Loans
Remodel, repair and upgrade your living space with a home renovation loan.
Fixed and variable interest rate options
Use on a primary or secondary residence
We'll pay your builder as renovation progresses
VA, FHA and USDA Loans
Government-backed home loans can help put home ownership within reach.
Qualify for lower rates
You must be an eligible veteran, first-time homebuyer or purchasing a home on USDA-eligible rural land
Get guidance through the homebuying process. We're here to help.
Looking to buy a home? See how much you'll pay monthly.
Our mortgage bankers are here, every step of the way
Buying a home is no small achievement, and the process can look different from family to family. Whether in person or online, mortgage bankers are here to help take care of the details—big and small—so you can focus on celebrating the moments that matter most.
Buying a Home? Learn How a First Citizens Mortgage Banker Can Help
Man: [Taking a video with his phone] And go.

Woman: [Laughing and turning on the faucet] What do you think?
Man: It's good.
Woman: You didn't feel rushed?
[Sees daughter taking waffle out of toaster, proceeds to also pull out her phone] Hold on one second, let's get a shot of your first waffle in the new house.
[Daughter rolls her eyes, proceeds to put waffle back in toaster as parents look on and film]
[Voice-over with music] The first time we did anything in our new home was special, and it all began with finding a mortgage partner who understood what a new home meant for us.
First, we created an online account in a few quick steps. We personalized all of our information, added details about the property and were able to log in at any time to check the status of our application.
From there, we selected a First Citizens mortgage expert to help sort through the details and find the best financing for our situation.
If we ever need to relocate or downsize, we know they'll be there for that too. And that means spending less time feeling stressed over financing and more time building memories with loved ones.
Member FDIC. Equal Housing Lender.

How to get started
You can begin your journey to homeownership right here, online.
Get pre-qualified
Save time when you get pre-qualified for a mortgage loan. It will help you estimate how much you can borrow so you can shop homes with confidence.
Connect with a mortgage banker
After you've applied for pre-approval, a mortgage banker will reach out to discuss your options. Feel free to ask anything about the mortgage loan process—your banker is here to be your guide.
Apply for a mortgage loan
Found the house you want to purchase? Then it's time to apply for financing and turn your dream of buying a home into a reality.
Keep your home and your family safe
Get the right homeowners insurance to meet your family's needs.
Home Equity Line of Credit
Put your home's equity to work
Tap into your home's equity for your next big purchase or renovation project.
A mortgage is a type of loan used to buy or refinance a house, plot of land or other real estate property. Most homebuyers get a mortgage to finance the purchase of their home.
With a mortgage, the borrower—or homebuyer—agrees to pay back the lender over a specified period of time with interest. The period of time, which is called a mortgage term, can vary from a few years to a few decades. The most common mortgage term is 30 years.
Interest is the cost for borrowing money, and interest rates vary depending on a number of factors ranging from the larger economic environment to the individual borrower's financial situation.
Most people don't have enough cash to purchase a home outright, which is why mortgages are designed to be paid off over time. Using an amortization schedule, lenders divide the loan balance and the expected interest into a series of regular monthly payments. Part of each mortgage payment goes toward the principal—the original loan balance—and another part goes toward interest. Depending on the loan, these monthly payments may include property tax and home insurance as well.
A mortgage is a secured loan, meaning the home is collateral for the loan. If the borrower defaults on their loan, the lender may take the collateral as payment. Once the mortgage is paid off, the lender no longer has any secured interest in the property and the homeowner owns it outright.
When you apply for a mortgage loan, the lender will pull your credit score. Your credit score measures your credit risk relative to the rest of consumers, based on your credit usage history. Higher credit risk scores can mean lower rates and better loan terms.
When you receive a mortgage loan, you'll also receive an escrow account. The lender will deposit part of your monthly mortgage payment into this escrow account. That payment covers taxes and insurance premiums that are typically assessed annually, but with a mortgage are paid monthly so that the lender can reduce the risk that you'll fall behind on your obligations.
A mortgage loan payment is made up of two things—a payment toward the principal amount, and a payment toward the interest. Paying these two things off in equal installments over a set time period is called mortgage amortization. When you first start paying off your mortgage, most of the payment is applied to the interest. Over time, your principal payments catch up until your loan is paid off.
Choosing the right mortgage is just as important as choosing the right house. That's why we offer a variety of products, each with different features and advantages. Plus, our dedicated team of mortgage bankers is here to help you find the right loan for where you are in your life.
Yes. You'll just need to enroll in Online Bill Pay. You can also have your payments drafted each month from your checking or savings account.
Insights
A few financial insights for your life
Normal credit approval applies.
Not applicable in all states.
Links to third-party websites may have a privacy policy different from First Citizens Bank and may provide less security than this website. First Citizens Bank and its affiliates are not responsible for the products, services and content on any third-party website.
Bank deposit products are offered by First Citizens Bank. Member FDIC and an Equal Housing Lender. icon: sys-ehl.