Investing · August 04, 2022
Don't Wait: 5 Things to Cover in a Midyear Financial Checkup
With inflation boosting the cost of living, interest rates on the rise and talk of a recession in the headlines, it's more important than ever to pause and assess your finances. Whether you're thriving or you feel like you need to improve your bottom line, a midyear financial checkup can keep you on track with your long-term goals.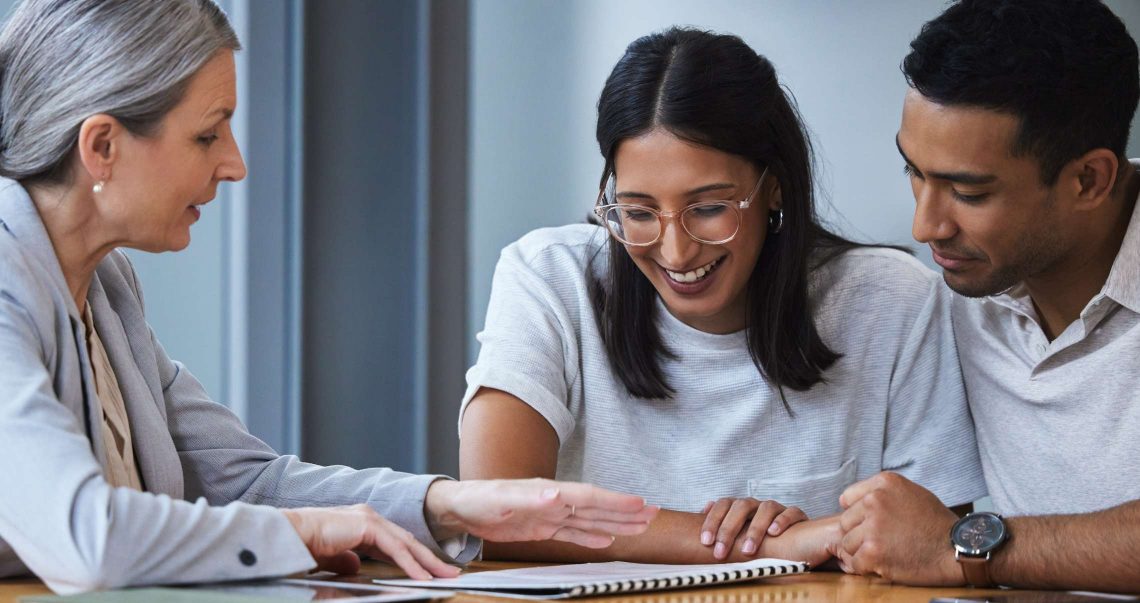 Now is a great time for a financial checkup so you can review your financial goals and see if there's anything else you need to update before the end of the year. Brandie Fintchre, CFP, Premier Banking Program Manager at First Citizens Bank, recommends covering these five major themes when conducting a midyear financial checkup.
---
1

Manage your cash flow

First, review your spending and savings and make sure you're following your budget. While this may sound basic, it's easy for your budget to become inaccurate when costs or your income are changing.

"Are my inflows greater than my outflows?" Fintchre and her team of relationship bankers tell their clients to ask themselves. "The budget is the road map. It helps you to control where your spending goes."

The goal is to spend less than you earn while saving for long-term priorities—such as retirement and college costs for children—as well as short-term goals like vacations. Interest on debt is one important expense to watch. With rising interest rates and economic uncertainty, it's a good idea to try eliminating your high-interest and variable-rate debts.

For example, let's say you're carrying a balance on your credit card. You could transfer the balance to a card with a 0% interest rate offer or refinance it to a lower fixed rate through a home equity line of credit or cash-out mortgage refinance. Use a credit card payoff calculator to determine how long it'll take to pay off the debt. And remember to pay it off before the 0% introductory rate expires or you'll be charged interest for the entire balance.

"We don't want you to continue to carry revolving debt in perpetuity," Fintchre says. "Let's free up your cash flow so you've got more to use to build savings."
2

Check savings goals

Saving for important goals like retirement is critical to your financial success. At your midyear financial checkup, you should review how much progress you're making toward building your savings.

You can't control the ups and downs of the market, so the balance in your investment accounts isn't necessarily what to focus on in this checkup. Rather, the question is whether you're continuing to put money away and make progress toward retirement, college savings and other key goals.

Taking your best shot at achieving your goals requires having a written financial plan, but only 23% of respondents to wealth advisor Schroders' US Retirement Survey for 2022 reported that they have written plans.

"This means more than seven out of 10 individuals have no idea if their current actions to save, invest, protect and manage their cash flow are really working to their advantage," Fintchre notes. "We want to make sure everyone has that financial road map for success."

If you don't have a plan, building one can start with a simple conversation with your banker. If you need other experts involved, your banker can call them in for you as needed.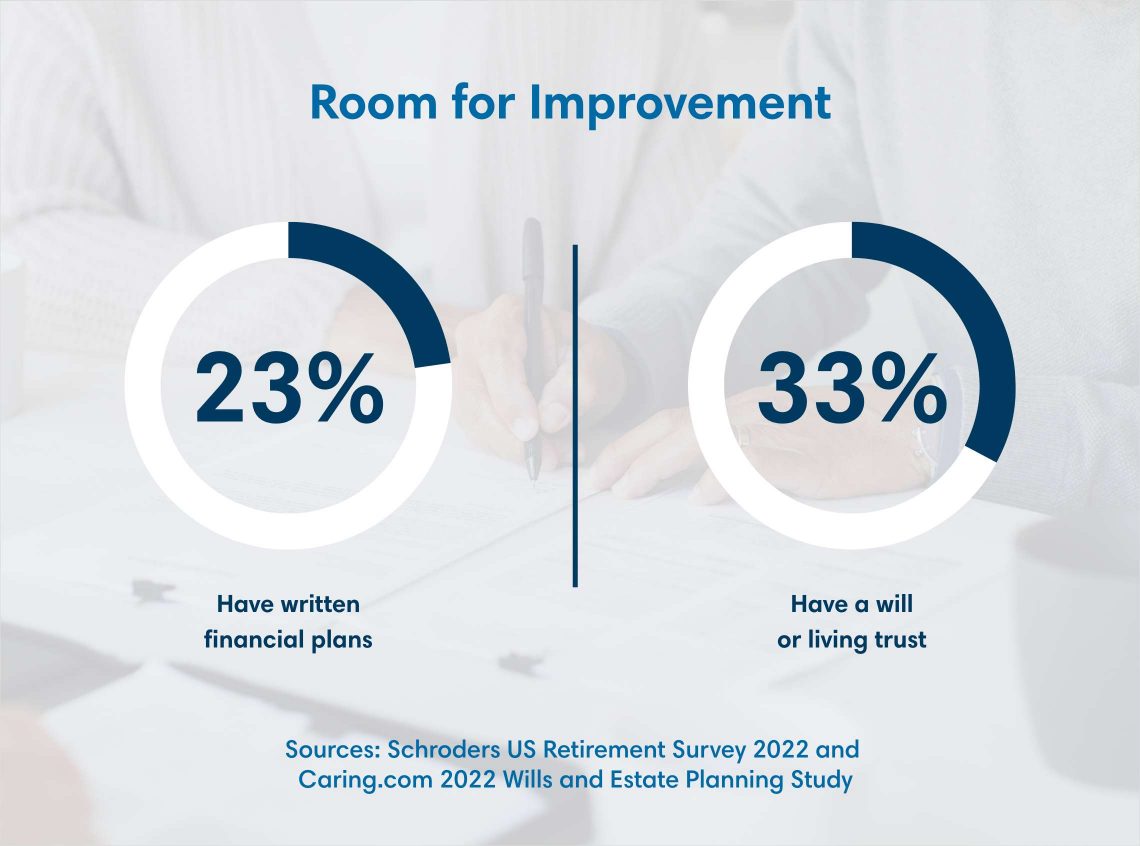 The chances that you'll need a detailed plan are high. While only 23% of people have a financial plan, just 33% of people have a will or living trust, according to Schroders and results from Caring.com's 2022 Wills and Estate Planning Study.
3

Protect your wealth

No matter how much planning you've done, life happens. People lose jobs or get sick. Your roof can spring a leak unexpectedly, or an elderly parent can require extra care.

"Having protection strategies as a part of your financial plan is a must," Fintchre says. While you can't predict exactly what might happen and when, you can take steps to protect yourself financially.

First, check your emergency fund. A good guideline is to have 3 to 6 months of living expenses available to protect against large, unexpected costs or job loss.

Insurance is also critical to protect you and your family. A disability insurance policy that will replace 60% to 70% of the primary earner's income can provide financial protection and peace of mind.

A midyear financial checkup is also a good time to ensure your estate planning documents—a will, power of attorney and healthcare power of attorney—are up to date. It's also important to ensure that the beneficiary designations on your bank accounts, investment accounts and insurance policies are current.

"If COVID has taught us anything, it's that we need to prepare for the worst-case scenario," Fintchre notes.

A 2020 LegalZoom survey found that the pandemic changed some people's attitudes toward estate planning, with 32% of 18- to 34-year-olds saying they created a will as a result.

It's also important to protect your major assets. Home prices have soared, as has the value of used cars. Do your homeowners and auto insurance policies reflect the actual value of your assets? If not, consider increasing coverage.

Although no one likes thinking about it, life insurance is also vital. A life insurance policy should replace the primary earner's income, as well as future college costs for children, funeral expenses and anything related to legacy planning, such as important charitable contributions.
4

Max out employee benefits

Your midyear financial checkup is a good time to pull out your employee benefits handbook and make sure you're taking advantage of all relevant company benefits.

On the financial planning side, this could include things like contributing enough to a 401(k) plan to maximize your employer's matching contribution. Even when times are tight, this is bonus money that's added to your retirement savings.

Your employer may also offer benefits that can help you manage your family's health and overall well-being. Some companies, for example, offer free gym memberships and provide mental health counseling. You may not be able to make immediate changes to your benefit choices now, but it's still worth reviewing them.

"When you get to your employee benefits open enrollment period, you can start implementing what you've uncovered during your midyear checkup," Fintchre says.
5

Live, give and dream

Let's say your midyear financial checkup reveals that your financial health is strong: Your income is healthy, expenses are under control, you're making good progress toward your long-term financial goals and your family's assets are protected.

If you have extra income available, Fintchre says, maybe it's time to think about how you "live, give and dream."

"We're not getting any younger," she says. "Let's prioritize vacations. Let's prioritize living while you're young and healthy and able to enjoy travel."

Giving also allows you to improve the lives of others in a way that aligns with your values.

"There's joy in giving," Fintchre notes. "Giving is one of the ways you can use that cash flow to make your life and the lives of others better."

Finally, dreaming is an opportunity to take a second look at your financial plan and ask yourself if there's a way to accelerate it.

"I may want to retire at age 60," Fintchre says. "If you've got extra cash flow, you may want to dream about retiring even earlier by investing while the market is a little lower. You're buying on discount, and you're able to take advantage of that upside.''
---
Plan for all of life's events
Learn how life planning can help build your dreams, whatever they may be.
Insights
A few financial insights for your life
Account openings are subject to bank approval.
This information is provided for educational purposes only and should not be relied on or interpreted as accounting, financial planning, investment, legal or tax advice. First Citizens Bank (or its affiliates) neither endorses nor guarantees this information, and encourages you to consult a professional for advice applicable to your specific situation.
Links to third-party websites may have a privacy policy different from First Citizens Bank and may provide less security than this website. First Citizens Bank and its affiliates are not responsible for the products, services and content on any third-party website.
Your investments in securities, annuities and insurance are not insured by the FDIC or any other federal government agency and may lose value. They are not a deposit or other obligation of, or guaranteed by any bank or bank affiliate and are subject to investment risks, including possible loss of the principal amount invested. Past performance does not guarantee future results.
First Citizens Wealth Management is a registered trademark of First Citizens BancShares, Inc. First Citizens Wealth Management products and services are offered by First-Citizens Bank & Trust Company, Member FDIC; First Citizens Investor Services, Inc., Member FINRA and SIPC, an SEC-registered broker-dealer and investment advisor; and First Citizens Asset Management, Inc., an SEC-registered investment advisor.
Brokerage and investment advisory services are offered through First Citizens Investor Services, Inc., Member FINRA and SIPC. First Citizens Asset Management, Inc. provides investment advisory services.
Bank deposit products are offered by First Citizens Bank, Member FDIC.