Skilled Trades · June 30, 2022
Boost Your HVAC Energy Efficiency: A Holistic Business Model Can Help
Your HVAC company likely has more business than it can handle, keeping customers cool in the summer and warm in the winter. But what if you could increase revenue per customer, build deeper relationships and boost your HVAC energy efficiency with only a slight tweak to your business model?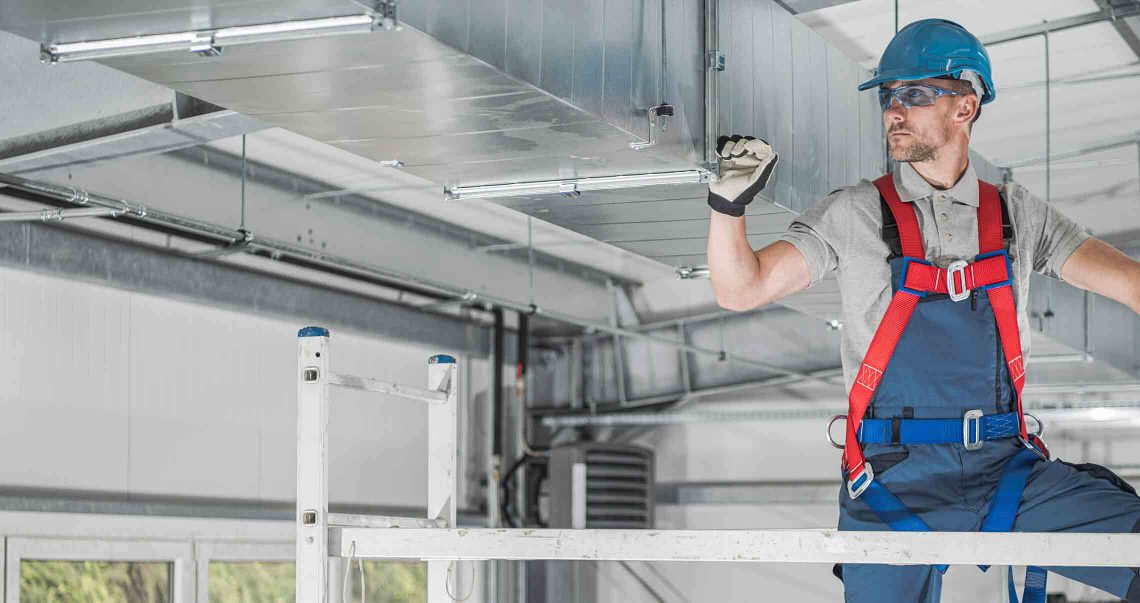 Instead of focusing solely on HVAC systems, your business may find more long-term success in a holistic approach that takes the entire building into account. And when that happens, you open up the door to a higher level of customer service, deeper customer relationships and new revenue opportunities that'll keep your customers close and put your competitors at a disadvantage.
---
What does a holistic approach for HVAC companies look like?
When customers reach out, curious how to improve HVAC efficiency in their homes and buildings, they're likely seeking a combination of benefits.
Cost savings. More efficient units and units operating at their peak can lower energy usage, especially during peak hours when per-kWh costs are highest.
Comfort. Inefficient HVAC systems can lead to lower office productivity, insomnia and higher levels of frustration.
Improved air quality. Dirty ductwork and inefficient systems can spike allergies and trigger health concerns like mold that accompany areas with poor airflow.
A holistic approach to your HVAC business can help you address all three of these benefits by taking into account every feature of a building, from insulation and design to equipment and use. For example, installing the most energy-efficient AC unit won't have as much impact on cost savings and comfort if the windows in a home are single-paned and 30 years old.
As well, a more comprehensive perspective can help shift your customers from a reactive mindset, which only kicks in when something breaks, to a proactive mindset. Customers would likely much rather plan for improvements to prevent future issues than keep having to call you because the same inefficient system keeps hitting snags. This helps you make the case for an HVAC upgrade.
What kind of opportunities can this business model create?
Being able to address the energy efficiency of a home or building as a whole, instead of merely by a few parts, can create multiple opportunities for your business to profit—financially and through goodwill.
The ability to create a plan. Assessing a structure's energy efficiency allows your company to create a custom plan for a building manager or homeowner. A plan can provide a road map for improving the structure's energy efficiency over time and help triage projects so those with the most impact can be prioritized.
Budgeting. Having a plan in place can also help your customers budget for improvements or even explore financing to implement larger-scale projects.
Tax benefits. Imagine helping your customers save money through tax credits for energy-saving recommendations. Helping customers save money isn't always about the numbers on your invoice.
Referrals. People love to be the hero and are often happy to share their positive experiences. Imagine the referrals from happy customers when they share their cost savings and lower energy bills with neighbors and colleagues.
Alliances. While your HVAC company might not be interested in expanding services beyond your bailiwick, you can build relationships with complementary service providers like general contractors, solar power providers, plumbers and window manufacturers. These service providers will also likely become sources for new customer referrals, too.
How can my company implement a holistic approach?
To move away from the piecemeal approach and begin teaching customers how to improve HVAC efficiency from a holistic perspective, consider these ideas to jumpstart your efforts:
Start small. Whether it's a pack of LED light bulbs your techs give your customers after a trade call or a leave-behind pamphlet with energy-saving tips, it's easy to take small steps toward being the company that thinks about a customer's entire building.
Energy audits. Whether commercial or residential, every customer can tell you what vexes them about their current HVAC system. Offering energy audits can be a great way to identify concerns and areas for improvement, as well as assess current energy usage. Without an audit, you can't craft a plan.
Leverage existing trade relationships. The goodwill you've built with complementary companies you already refer business to is an excellent place to start conversations about a more holistic business model. Start conversations about how your services complement one another from an energy efficiency point of view. From those conversations, you can both make plans for what your more holistic service offerings look like.
However you want to approach your shift to a more holistic business model for your HVAC business and boost your HVAC energy efficiency, the benefits await. From lower bills and quieter equipment to fewer allergies and increased comfort, the results underscore that it's time to think beyond the HVAC unit to a broader perspective that can benefit everyone.
Insights
Financial insights for your business
This information is provided for educational purposes only and should not be relied on or interpreted as accounting, financial planning, investment, legal or tax advice. First Citizens Bank (or its affiliates) neither endorses nor guarantees this information, and encourages you to consult a professional for advice applicable to your specific situation.
Links to third-party websites may have a privacy policy different from First Citizens Bank and may provide less security than this website. First Citizens Bank and its affiliates are not responsible for the products, services and content on any third-party website.