Management · January 13, 2023
Small Business Guidelines: Creating a Workplace Safety Policy
To help keep customers and employees safe, it's key for business owners to take a multi-pronged approach toward establishing a workplace safety policy detailing measures to control the spread of illness in their communities.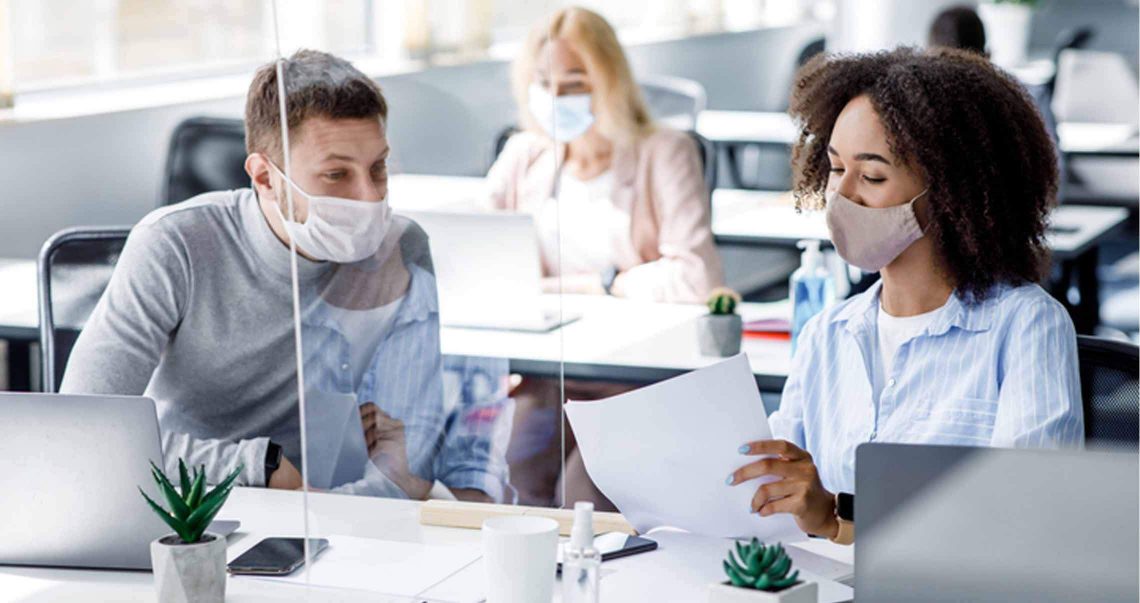 If a common physical workspace has become viable for your organization—or if you're already back in the office but are looking to create a more sustainable workplace health and safety policy for your business moving forward—it's important to take some time to understand the small business guidelines and regulations involved. Here's how.
---
Review local small business guidelines
Depending on where you live, your choice might already be made for you. Some states still have restrictions on the number of people allowed in a building, so check with your state and local government laws.
Regardless of state guidelines, the Centers for Disease Control and Prevention, or CDC, recommends creating a workplace health and safety policy for all small business owners and employees. The National Institute for Occupational Safety and Health, or NIOSH, offers free resources for small business owners to help create these plans. And the Occupational Safety and Health Administration, or OSHA, has put together a document to help small businesses prevent the spread of illness in the workplace.
Develop a sample workplace safety policy
Once you understand the regulations and your own existing guidelines, you can start planning ahead. Here are a few steps you can take as you work your way through the process.
Review your current plan
How have things been working? What opportunities exist for improvement? Transitioning back into the office permanently could be bumpy—bur ironing out potential concerns beforehand can help smooth the process. This is also a good time to review any operations or procedures that may be out of date.
Address safety concerns
Employees have different risk levels when it comes to illness. You'll want to be empathetic with these concerns and predetermine some guidelines on how you plan to ensure you've made the workspace as safe as possible for all returning and new employees.
It's also important to lay out a clear plan that details any social distancing and mask guidelines, as well as any cleaning procedures and best practices you're implementing to help ensure a safer working environment.
Get feedback
Your employees are a vital part of any plan, so you'll want to hear from them. Send out a survey to get their thoughts and feedback, and incorporate common concerns into your new plan.
Consider the timing
If you can, opt for a more gradual transition back into the office. This way, you can bring in a few shifts a few days a week to start, then expand the pool if everything is going well.
The bottom line
Once you've considered these elements and incorporated necessary ones into your plan, develop a timeline for execution and communicate it to employees—and don't expect all pieces to fall into place automatically. Ultimately, every business is different, and there's no one-size-fits-all plan for transitioning back to the office for any situation. As COVID-19 taught us, there's no better time than right now to start planning.
Insights
Financial insights for your business
This information is provided for educational purposes only and should not be relied on or interpreted as accounting, financial planning, investment, legal or tax advice. First Citizens Bank (or its affiliates) neither endorses nor guarantees this information, and encourages you to consult a professional for advice applicable to your specific situation.
Links to third-party websites may have a privacy policy different from First Citizens Bank and may provide less security than this website. First Citizens Bank and its affiliates are not responsible for the products, services and content on any third-party website.
First Citizens Bank is a Member FDIC and an Equal Housing Lender icon: sys-ehl.