Credit · November 04, 2021
How to Get a Small Business Loan for the First Time
Making the right strategic decisions for your business involves investing time, effort and money. Whether you're looking for the right space, trying to expand into a new market or growing your staff, you may find you need more money to fund these moves than your operations currently provide.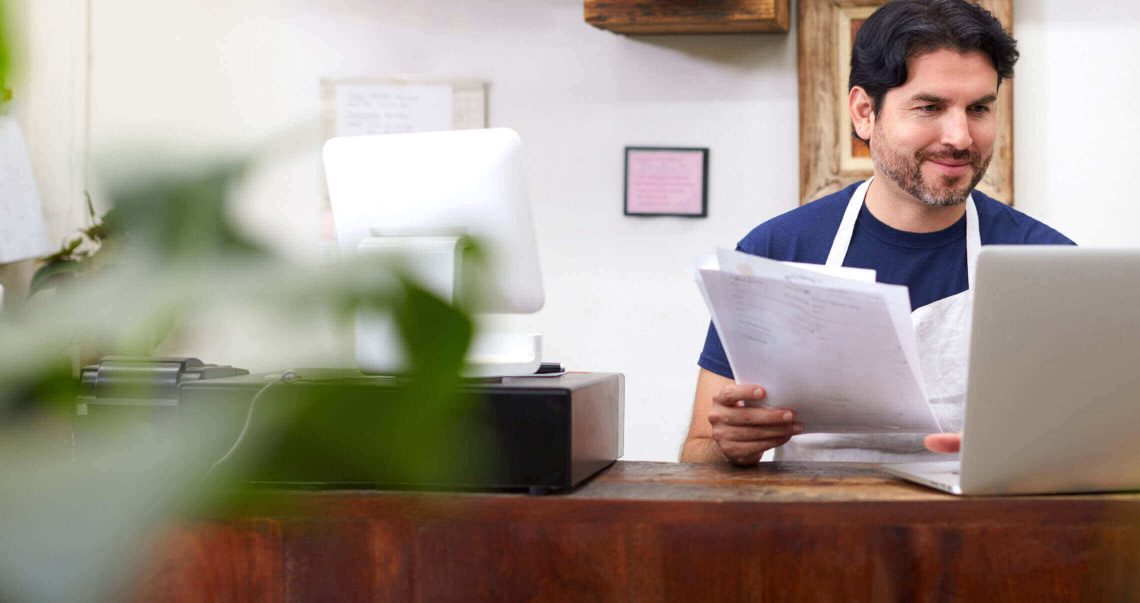 Knowing the basics of how to get a small business loan will prepare you to find the capital you need to fund your growth and make your goals a reality.
---
Determine how much you need and when
The first step is to write down exactly what your needs are, your estimate of these costs and when you'll need the funds. For example, to expand your distribution firm you might need two trucks, additional inventory and more working capital. Talk to your finance manager or accountant about the working capital shortfall, which is the difference in cash coming in and going out. From here, you can get quotes for the cost of the trucks and inventory.
Financing can help you cover a full range of business needs, from launching a new marketing campaign to building a new location. Obtain quotes from relevant vendors—like channels where you want your advertisements to run or contractors in your area who do buildouts like the one you're planning. This will help you create an average estimate based on real information.
Flexible small business loan options
A Small Business Administration loan, or SBA loan, may offer the flexibility to meet a broad set of needs. For example, SBA 7(a) loans typically have reduced down payment options, a broad range of allowable uses, longer repayment terms and enhanced financing options. Obtaining this type of loan can remove hurdles and make the loan application process even easier.
What type of collateral is needed for a business loan?
If you're a relatively new business owner, you might be concerned about the best credit scores for getting small business loans and what type of collateral you have to secure your loan. The answers to these depend on the type of loan you're looking for, the amount and the length of the terms.
Lines of credit have shorter terms—typically 12 months or less—and are often used to finance working capital gaps, inventory purchases and other short-term needs. For a line of credit less than $50,000, good credit and some personal or business assets may suffice. For larger amounts, your business's revenue, profit history and cash flow will matter more.
Term loans typically have longer terms of 3 to 5 years, and secured term loans do require some form of collateral. This could include paper assets like cash, stocks and corporate bonds. Businesses often use property and future earnings as collateral as well. The longest-term loans are typically reserved for and collateralized by buildings, land and very large equipment, such as manufacturing systems with useful lives of at least 10 years. Shorter-term loans of lower overall value require correspondingly smaller forms of collateral.
Create an executive summary to get a business loan
When it comes time for you to have a conversation with a bank about how to get a small business loan, an executive summary is an important item to have on hand. This is a physical or virtual document where you clearly articulate your needs, the costs, the timing and the project's relevance to your business's success. Being specific and well-organized—and understanding your business's financials—may make the bank see your business as a lower risk.
The executive summary should be about three to five pages and provide a brief overview of your business, the market dynamics, your competitive differentiators and your growth plan. Give your most recent revenue and profit numbers, and briefly discuss your past performance.
If your business is doing well and the outlook is great, add it to the summary—and if there are risks ahead, add them as well. Then address your plan to mitigate these risks. Project your revenue and profit for the next year if you want a short-term loan and for the next 3 years if you want a longer loan term.
How to apply for a business loan
You'll likely need to provide audited or reviewed financial statements for your business or your most recent tax returns, depending on the loan size. You may also need the year-to-date income statement and current balance sheet from your accountant or firm's accounting software program. The balance sheet should include lists of your assets, liabilities and any shareholder equity, if applicable.
You'll also need the accounts receivable and payable aging reports, which show how quickly your customers pay you and you pay your bills, respectively. For businesses with little operating history or minimal credit or for larger loans, be sure to have a personal financial statement and personal tax returns on hand because the bank may require a personal guarantee.
Taking the steps to prepare to get a business loan can reduce the stress of finding financing when starting a business. If you have the right documentation in line and scale the amount of the loan you're seeking to your business's situation and needs, you can enter conversations with banks with much more confidence.
Insights
Financial insights for your business
This information is provided for educational purposes only and should not be relied on or interpreted as accounting, financial planning, investment, legal or tax advice. First Citizens Bank (or its affiliates) neither endorses nor guarantees this information, and encourages you to consult a professional for advice applicable to your specific situation.
Links to third-party websites may have a privacy policy different from First Citizens Bank and may provide less security than this website. First Citizens Bank and its affiliates are not responsible for the products, services and content on any third-party website.
First Citizens Bank is a Member FDIC and an Equal Housing Lender icon: sys-ehl.